I distinctly remember the first time I tried mochi. I was adorned in a kimono that was provided by the kindergarten I attended on the island of Oahu, and we were celebrating Hinamatsuri, or Girls' Day, a spring festival that takes place every March 3 to celebrate the health and well-being of young girls. The tender, sweet, and gooey-textured mochi cake had me hooked from the very first nibble. Mochi is a traditional rice flour cake consumed year-round in Japan, but often is reserved for special occasions and holidays.
With several varieties of mochi available (varying in textures, fillings, and toppings), my all-time favorite variety growing up in the islands was far and away butter mochi. Often found at potlucks and birthdays (and, in my family, also after soccer games), butter mochi is not a traditional Japanese variety, but a product of the diverse melting pot of cultures that make up Hawaii; it's a combination of a traditional Japanese mochi cake made with matcha tea, and a Filipino coconut milk dessert cake called bibingka.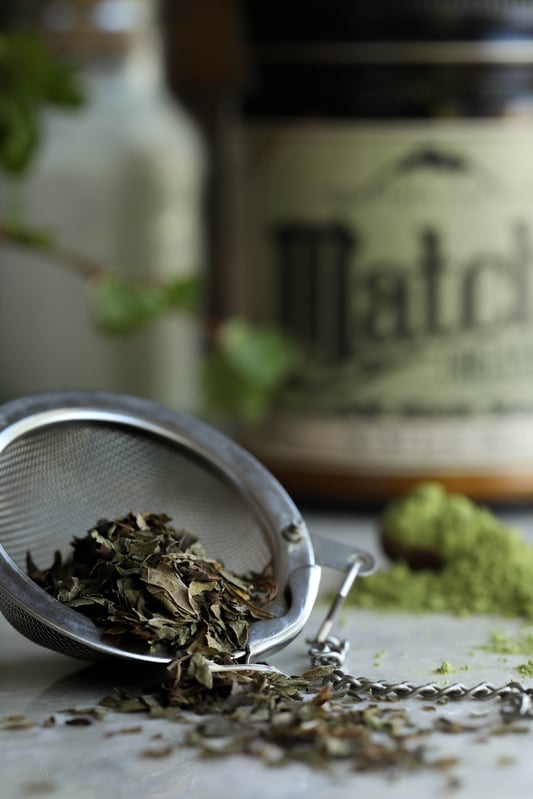 When my husband and I miss our family in the islands, I like to make some of our favorite Hawaiian foods, and coming up with new versions of the beloved standards is always a fun adventure. With spring in the air, and the cherry blossom festivals of Japan in mind, I want to share my version of a butter mochi that incorporates bright herby flavors to complement the richness found in its buttery and decadent texture (and which also happen to give it just the right spring-green hue). Enjoy!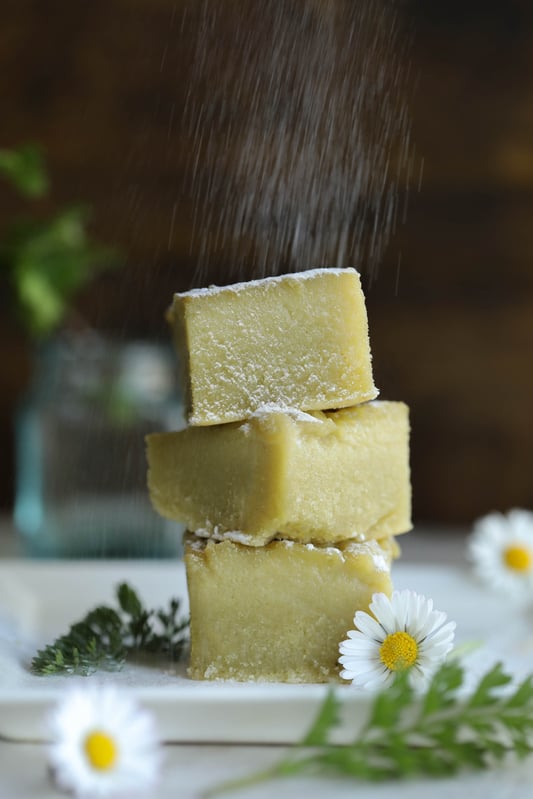 Minty Matcha Butter Mochi Cake
Makes about 2 dozen small to medium squares.
Ingredients
14 oz. organic coconut milk

1/2 cup unsalted butter or coconut oil, melted

1 1/2 cups organic superfine sugar

4 large organic, cruelty-free, free-range chicken eggs, or 1/2 cup unsweetened applesauce (for vegan version)

2 tsp.

organic matcha tea powder

1 tsp vanilla extract, store-bought or

homemade

1/2 tsp.

fine sea salt

1 1/2 cups rice flour

2 tsp. baking powder

12 oz. organic evaporated milk, almond milk, or cashew milk

2 Tbsp.

organic arrowroot powder

or powdered sugar for dusting mochi squares
Directions
Preheat oven to 350° F.

Pour coconut milk into a pot over medium heat. Heat through, whisking occasionally, until just before milk comes to a simmer (don

'

t bring to a full simmer). Remove from heat.

Put mint tea, peppermint leaf, or spearmint leaf in a

tea bag

or

diffuser

. Drop into the hot coconut milk and set aside to steep for about 15 minutes.

Meanwhile, using a handheld mixer, stand mixer, or food processor, mix melted butter or coconut oil with sugar until thoroughly combined and creamy in appearance.

Add eggs (one at a time) or applesauce, and blend until thoroughly incorporated and smooth.

Blend in matcha powder, vanilla extract, and fine sea salt.

On low speed, slowly incorporate rice flour and baking powder.

Remove mint from coconut milk and discard. Slowly blend coconut milk infusion into the mochi batter.

Slowly blend in evaporated milk or almond/cashew milk until creamy and smooth.

Pour into an ungreased glass 9 x 13-inch

pan

. Tap pan on counter to clear batter of any possible air bubbles.

Bake on middle rack of oven 35 to 45 minutes, just until the edges appear golden in color. Immediately remove from oven and place on a cooling rack. It will continue to cook in the pan and will solidify.

Cool completely before cutting into squares.

Lightly dust cut squares with arrowroot powder or powdered sugar before serving.
Pro Tip
Superfine sugar is often called for in recipes that require a faster dissolving granule. Unfortunately, the organic version can be difficult to find in some places, but it's easy to make at home!
Measure out the amount of regular organic granulated sugar called for in the recipe (in this case 1 1/2 cups) and add a couple of tablespoons.

Put into a food processor, and process 1 to 2 minutes.

Let the sugar dust settle before you open the top to check consistency. You want the sugar to feel like fine sand.

When you have achieved the right consistency, remeasure to make sure you still have the right amount.
Want to try other sweet delights using matcha?
You May Also Like