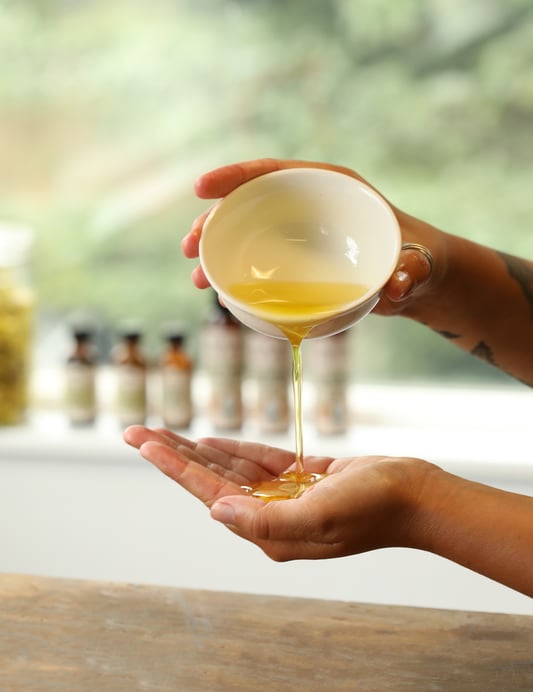 Who doesn't love a good massage? Whether it's performed by the hands of a skilled professional or the one you love (both, if you're lucky!), a little added massage oil can help work out the tension. Another bonus is that a natural, nourishing massage oil can also act as a skin-supporting moisturizer for your back—an area which we sometimes neglect due to the flexibility required to reach it on our own! Each of our classic massage oil recipes uses a base of nourishing, organic carrier oils including olive, sweet almond and jojoba, and our hand-made organic calendula herbal oil. Created in small batches, each massage oil is infused in-house with our own botanicals and blended with organic essential oils. A touch of vitamin E oil acts as an antioxidant and helps preserve the qualities of our blends as well as providing extra nourishment for the skin.
The applications for these oils don't stop at massage! You can also use them as daily moisturizers, or add a couple spoonfuls to a warm bath for an aromatic end to the day.

Guide to Our Organic Herbal Massage Oils
A heady combination of organic chamomile flowers, organic lavender flowers, and organic roses makes up the sweet-smelling floral infusion in this blend. The organic essential oil blend of cinnamon, lavender, vetiver, geranium, and ylang ylang rounds out its aromatherapeutic profile with a warming, crisp, and slightly spicy layer, making this massage oil perfect for evoking the colorful qualities of fall.
An elegant blend for awakening sensuality and divine inspiration, this sublime massage oil is infused with our organic calendula flowers, organic lavender flowers, organic roses, organic damiana leaf, and organic rosemary leaf. A blend of clary sage, lavender, neroli, and palmarosa essential oils enhances this blend with a supremely enchanting aroma.
For all of us that adore the sultry scent of roses, this massage oil blend is perfection in a bottle! Organic calendula flowers, organic rose petals, organic lavender, and organic chamomile flowers are infused in-house in our skin-loving oil blend. The organic essential oils of geranium, Bulgarian rose, mandarin, and palmarosa come together in perfect harmony fit for a beautiful massage or everyday moisturizing oil.
This slightly spiced oil blend adds a combination of stimulating (though not overpowering) essential oils to our skin-softening carrier oil base that also includes our house-made organic calendula infused herbal oil. The 100% organic oil blend features ginger, Roman chamomile, sage, and black pepper to comfort occasionally tired or achy muscles.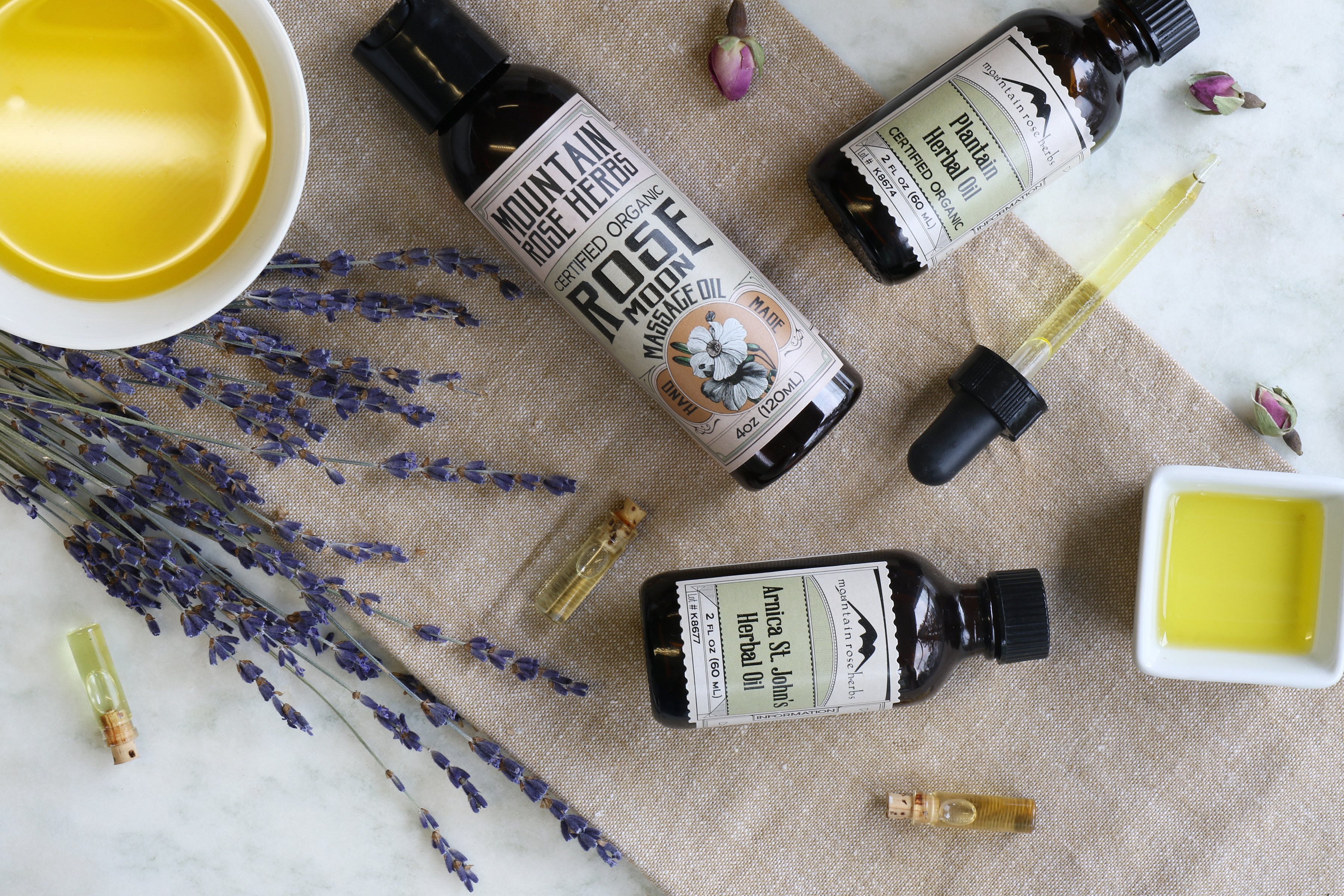 Herbal Oils for Massage
For those looking for a simple massage offering without essential oils, our line of small-batch infused herbal oils (made in-house by our talented kitchen staff), are excellent options! This line includes our organic olive oil infused with herbs such as arnica, calendula, plantain, and more. Used plain or as ingredients in your own DIY blends, these offerings make wonderful stand-alone oils for body massage and general skin care!
Want to know which oil works best with your skin?
You might also enjoy: