My son and I have been studying permaculture, and one of permaculture's primary principles is called "stacking function," a concept whereby you're getting many yields from one element. As a busy mom, simplicity and stacking function have become guiding principles in my own life—"fill two needs with one deed" is my motto, and this also applies to my herbal medicine endeavors. There are many ways to prepare herbs, but few herbal preparations stack function in the way that herbal vinegars do!
Watch herbalist and author Kami McBride demonstrate how to make a simple and versatile lavender and rosemary herbal vinegar!
I love a good herbal vinegar because they truly take the cake when it comes to simplicity and versatility in your journey through herbal preparations.
This easy-to-make lavender rosemary vinegar is a great herbal remedy for supporting healthy skin, is a delicious addition to steamed greens and salads, and can also be used to degrease your counter-tops and many other surfaces! See what I mean? Eat it, bathe in it, or tidy up with it—now that is one versatile herbal preparation!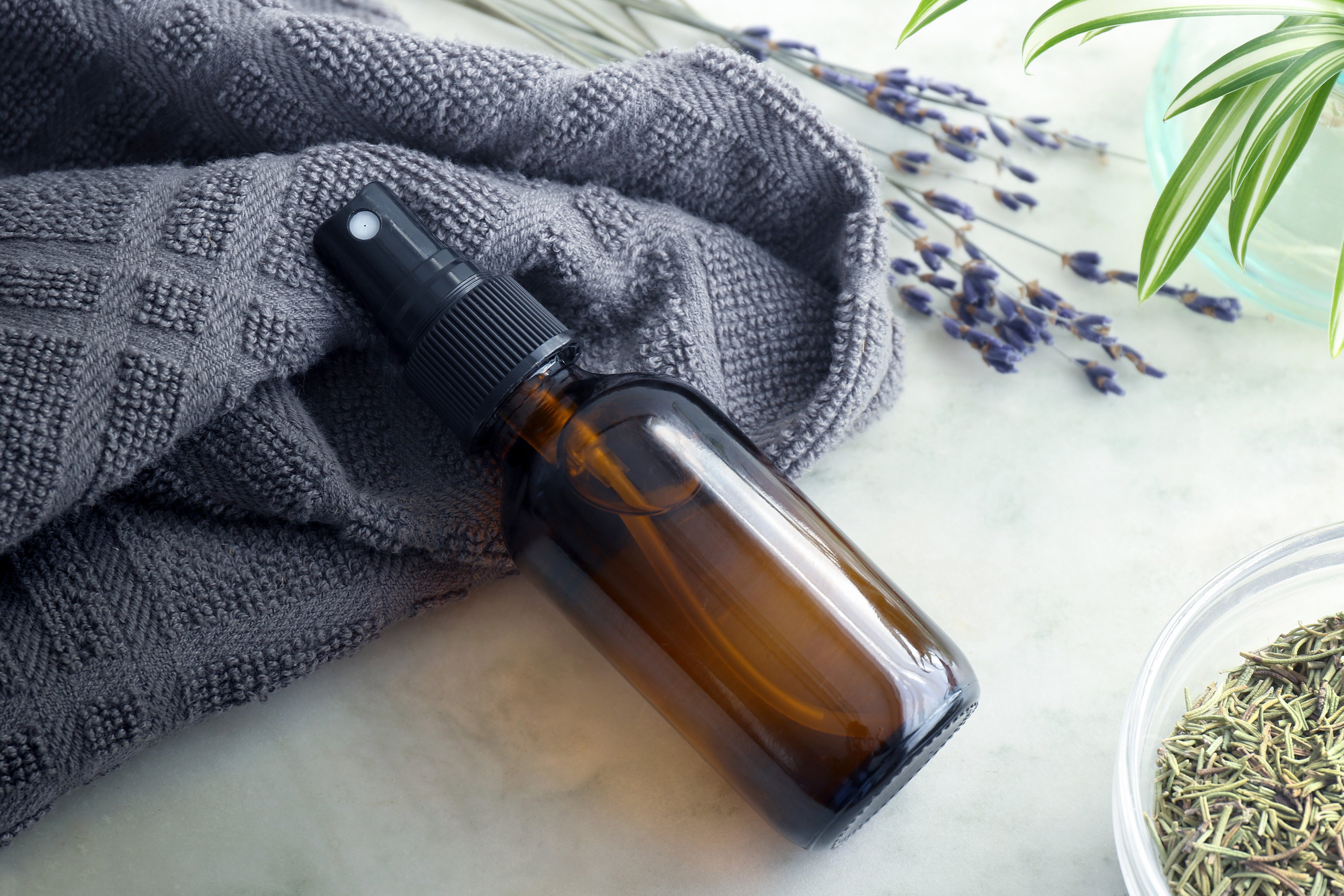 USING HERB-INFUSED VINEGAR FOR SKINCARE
This vinegar makes a wonderful spot treatment for red and irritated skin. For use as an everyday toner, you may also opt for a diluted version made up of half herbal vinegar and half organic lavender hydrosol or witch hazel extract.
I also like to add a cup of it to my evening bath. It helps soothe my muscles, makes my skin feel soft and reduces the redness of any scrapes or scratches that I picked up while working in the garden. Always remember to do a spot test on your skin before introducing new herbs into your skincare regimen, and note any discomfort, reddening, or negative reactions.
USING HERB-INFUSED VINEGAR FOR CLEANING
NOTE: While vinegar has been shown to have germ-fighting properties, it is NOT EPA-approved as a disinfectant, so opt for regular cleaning with soap and water plus an approved disinfectant product when thorough sanitization is required.
I put lavender rosemary vinegar into a spray bottles and keep one in the kitchen and one in the bathroom to use whenever I am cleaning up. It is great for kitchen counters, sinks, bathtubs, and even for washing windows.
USING HERB-INFUSED VINEGAR FOR CULINARY RECIPES
The culinary uses of this vinegar just go on and on…
You can slip it into your salad dressing, sauces, or marinades. Try adding a dash to juices or carbonated water to make a shrub. You can even brighten up your pesto or humus by adding a splash of herbal vinegar just before eating.

Whisk together 3/4 cup of organic olive oil and 1/4 cup of lavender rosemary vinegar and taste the difference when drizzled on rice and quinoa dishes, cooked greens, and sandwiches.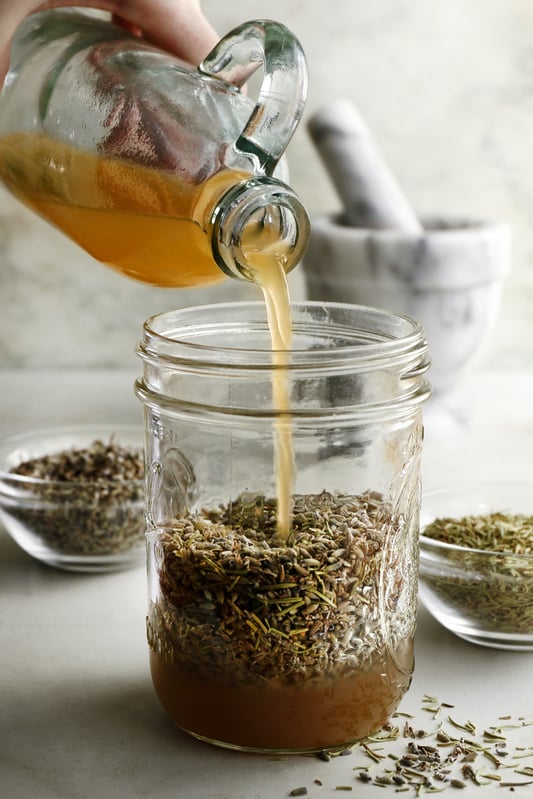 Lavender Rosemary Vinegar from The Herbal Kitchen
Makes about 1 cup.
Ingredients
Directions
Coarsely grind lavender and rosemary with a mortar and pestle.
Place ground herbs into a glass pantry jar or mason jar.
Pour vinegar over the top of the herbs to cover. Secure pantry jar with lid, or if using a mason jar, secure with food-safe plastic lid (vinegar reacts with metal, so most metal lids, even when lined with wax paper, tend to corrode over time).
Shake well.
Let herbs infuse into vinegar for 2 to 4 weeks, remembering to agitate daily.
Strain herbs from vinegar using a funnel with strainer, or organic cotton muslin cloth.
Return to jar and store for a year or more in a cool, dark place.
What is your favorite way to use herbal vinegar? Share in the comments below!
Want More Vinegar Inspiration?
You might also enjoy: