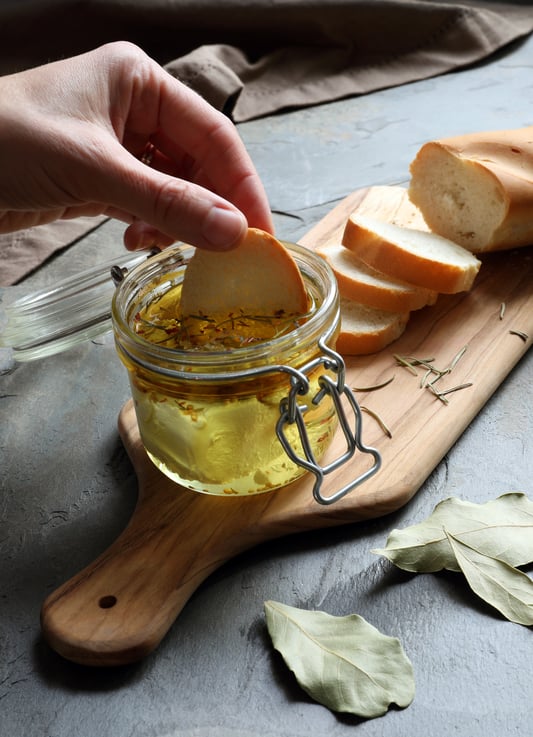 Needing a quick appetizer using items already in your pantry? A nice drizzle of homemade infused oil makes for an easy and flavorful starter in no time flat! Whether used as a tasty marinade for your favorite soft chevre or served up in a dipping bowl alongside a fresh baguette, this beautiful and flavorful creation is a true crowd-pleaser. While herbalists know solar-infused herbal oils are a lovely way to extract botanical goodness for an array of herbal preparations, an infused oil made on the stovetop works well in a pinch.
Below are some combos that were absolutely delicious when married with our lusciously smooth organic extra virgin olive oil. Feel free to experiment with whatever spices you have on hand!

Marinated Goat Cheese & Dipping Oil Recipes
INSPIRED BY INDIA
Ingredients
INSPIRED BY ITALY
Ingredients
Directions
Lightly crush spices with a mortar and pestle.
Put spices in a frying pan on very low heat with the olive oil and stir.
Heat for 15-30 minutes, checking regularly to ensure spices are not burning.
When oil is infused with herby flavor, remove spices with a strainer or cheesecloth and compost.
If serving with chevre, pour warm oil over goat cheese and let sit until cool, about 30 minutes.
Sprinkle with flake salt and serve with a crusty bread.
Looking for More Ways to Infuse Oils?