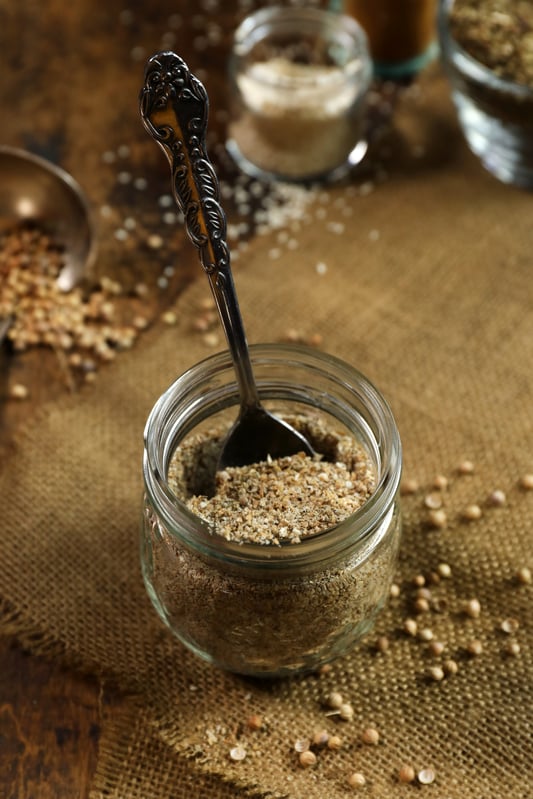 You know that moment when you try something for the first time and you have a "where-have-you-been-all-my-life" experience? Discovering dukkah (sometimes spelled duqqa, du'ah, or do'a) was one of those culinary moments for me. Since that dukkah eureka moment, I've made a point of keeping a container around all the time, in case I need a quick, healthy boost of energy or a punch of amazing sprinkle-on flavor to finish a dish.
Dukkah, pronounced "doo-kah," is an Egyptian "textural seasoning"—or maybe we could call it a "crumble condiment"—made from delicious nuts,
herbs, and spices
. Traditionally, it is served with hummus or as a dip with
olive oil
and fresh bread or vegetables. It is also fantastic used as a dredge, or as a sprinkle on salads, pastas, cheeses, roasted vegetables, and more. This nutty, herby blend is so easy, you can enjoy it in its purest savory form or sweeten it to make a dessert.
Typically, dukkah has a base of nuts (traditionally hazelnuts), sesame seeds, coriander seeds, cumin seeds, and salt. But there are dozens of good recipes out there, so I've included some popular ways to switch up your blend after the basic recipe below.
Basic Dukkah Blend Recipe
Makes about 1 cup.
Ingredients
1/2 cup organic nuts of choice

3 Tbsp.

organic sesame seeds

6 Tbsp. other

organic seeds

of choice (cumin, coriander, fennel, sunflower, etc.)

1 tsp. organic

herbs and spices

of choice (paprika, mint, cayenne, cinnamon, pepper, etc.)

1/4-1/2 tsp.

kosher or fine sea salt

Up to 3 Tbsp. optional additions and/or sweeteners (maple syrup, fruit zest, coconut, cereals, etc.)
Hazelnut Hemp Dukkah Recipe
Makes about 2 cups.
This one is a favorite at Mountain Rose Herbs! It's a nut-heavy mix that not only brings the healthful properties of hemp seeds into play, but also adds a pop of flavor with caraway and mint.
Ingredients
Directions
In a small, dry skillet over low heat, toast nuts, stirring often, until fragrant and lightly browned (about 3 to 5 minutes).
Pour into the bowl of a food processor and set aside.
In the same skillet, toast seeds by size for 2 to 3 minutes, just until fragrant (careful, seeds burn easily!).
Pour seeds into the food processor bowl with nuts.
Pulse nut/seed mixture a few times in the food processor, making sure not to overdo it—you want a nicely chopped, nutty mix, not a nut butter.
Pour into a bowl.
Add remaining ingredients and stir together until well blended.
Store in an airtight container. Depending on the additions you make, dukkah will keep at room temperature for a couple weeks, and longer in the refrigerator.
Pro Tip
When I have the time for a completely mindful experience, I make dukkah in a mortar with a pestle. If you go this route, crush each ingredient separately and mix together at the end.
Dukkah Spice Variations
Trade out hazelnuts for almonds, pistachios, cashews, macadamia nuts, pine nuts, pecans, peanuts, walnuts, or a mix. Or use no nuts at all! We have friends who have nut allergies, so we make them a more seedy, nut-free version that

'

s heavy on sunflower kernels.

Explore seeds! Hemp, cardamom, caraway, chia, fennel, fenugreek, Grains of Paradise, pepitas, poppy, sunflower, and black seed are all excellent options.

Play with the spice combination to suit your palate or meal—

thyme

,

marjoram

,

peppercorns

,

rosehips

,

cinnamon

,

lavender

, and

mint

can be wonderful additions. In the winter, I love to add extra

fennel seeds

and

paprika

to add warmth to the belly.

You can sweeten dukkah with maple syrup, honey, or organic brown sugar. Dukkah with maple syrup or honey poured over pancakes is extraordinarily good. Or, for a dinner side dish, I sometimes sweeten a batch of dukkah with just a little maple syrup, then saut

é

red cabbage and toss it with a vinaigrette and sprinkle the mapley dukkah on top (insert drooling, happy emoji here).

You can also kick dukkah up a level by stirring in optional additions after the nut and seed mix is made. For instance, adding

shredded organic coconut

to dukkah makes a pretty wonderful ice cream topping! I also love citrus zest, minced dried fruit, puffed millet, and

cacao nibs

(when I

'

m looking for a little caffeine).
Want More Ways to Spice Up Your Table?
You might also enjoy: