I love chocolate. I read that Trisha Yearwood once remarked, "I'm not saying I don't enjoy the days that I'm not eating chocolate cake. But I do particularly like those days when I am eating chocolate cake." This quote stuck in my mind, because that's it exactly — that's my relationship with all things chocolate!
This lifelong romance has followed an interesting trajectory. It began back in the '70s with the kinds of mainstream chocolate treats that you can buy at any market or gas station: candy bars, hot cocoa mix, chocolate syrup … I know, awful stuff, but I was a kid! As I grew up and learned about food science and health, I realized that the chocolate I was eating was so packed with added sugars, oils, and milk fats that you could hardly call it chocolate at all. This revelation inspired me to seek out the story behind my chocolate, to better understand how it is grown, sourced, and used, all of which eventually led me to the queen of beans:
cacao
.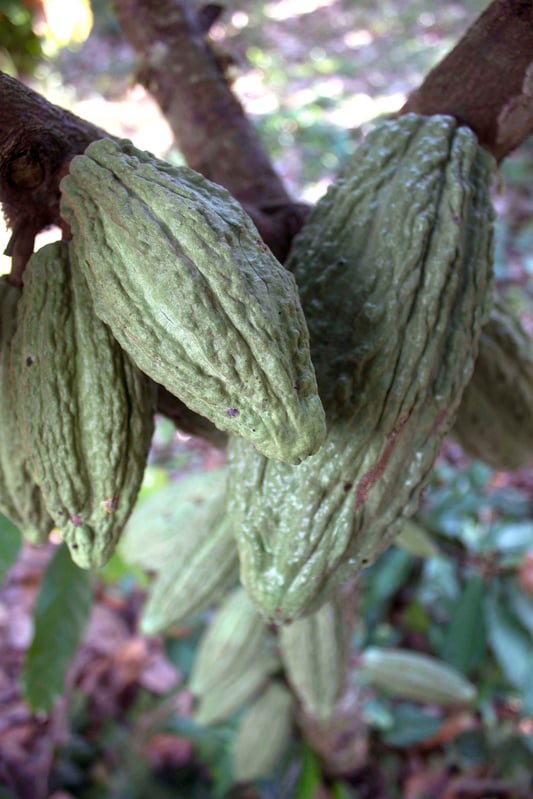 Cacao vs. Cocoa
All of the chocolate that we eat comes from cacao beans/seeds, which are nestled inside beautiful pods on small evergreen trees (Theobroma cacao) that grow in parts of Africa and Central and South America. Cacao is the purest form of chocolate, essentially the "mother" of every chocolate that comes to mind. The plant name is derived from the ancient Greek words θεός (theos or "god") and βρῶμα (broma or "food"): food of the gods. Theobromine is a mild stimulant, similar to caffeine.
Humans have been using and eating cacao for thousands of years. Ancient Americans consumed it as a beverage and used the entire fruit medicinally. The Aztecs also used cacao beans as currency. Archeologists working on sites dating as far back as 2000 BCE have found ceramic vessels with cacao residue. After the Spanish conquest of Central and South America in the 1500s, the conquistadors brought cacao back to Europe, and from there, its popularity spread around the world.
Which brings us to cocoa. To make cocoa, cacao seeds (beans) are roasted at high temperatures, resulting in highly heated cacao nibs. The nibs are then further processed by being ground into cocoa liquor, the base ingredient for manufacturing chocolate. This process destroys many of the healthful nutrients in cacao but develops the flavor we've grown to love. The cocoa liquor can be processed into a number of forms, including a "press-cake", which is subsequently used to manufacture the cocoa powders you might buy at the supermarket.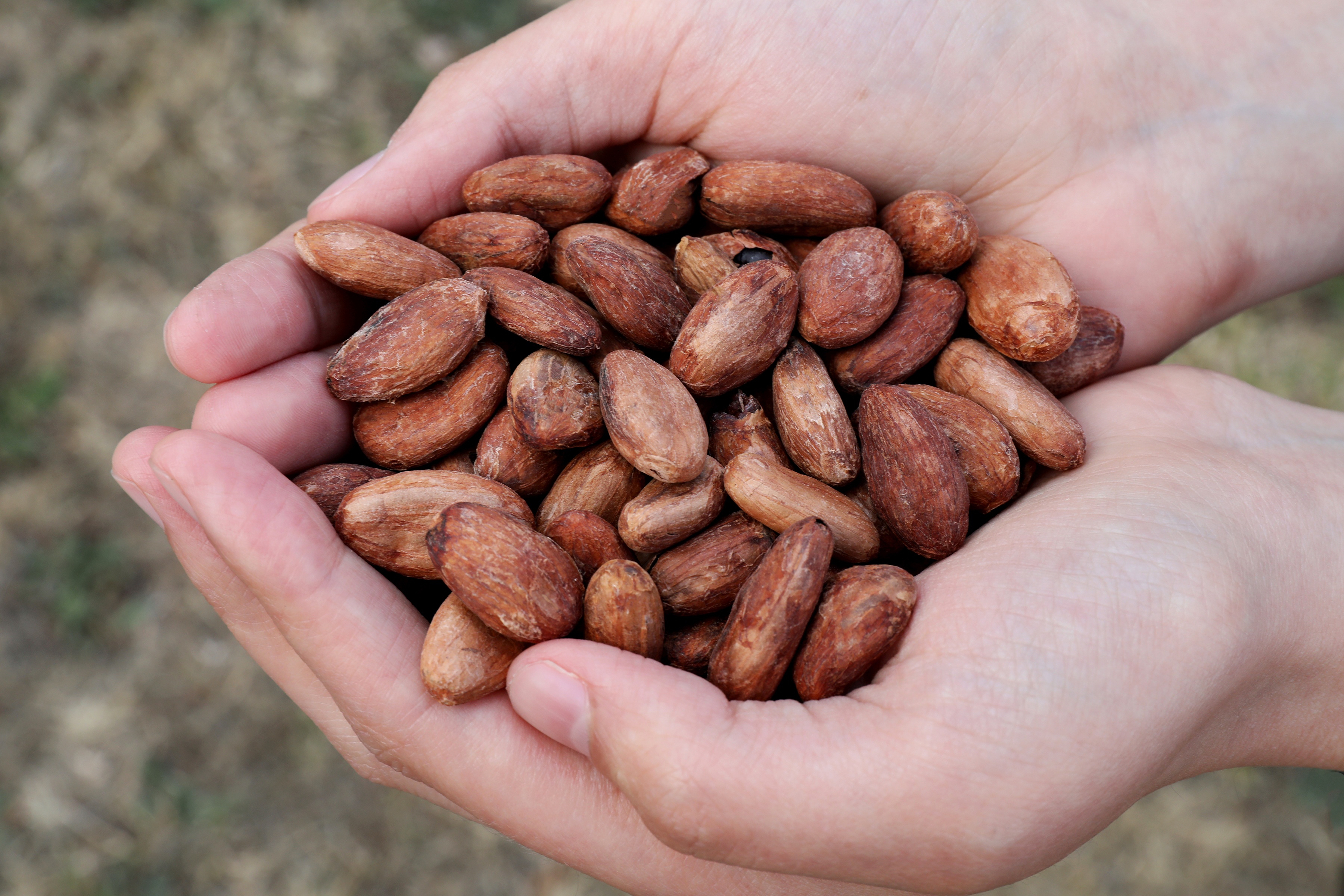 Cacao in All Its Forms
Cacao comes in a variety of forms, making it a versatile ingredient that can be used in place of many conventional, highly-processed chocolate products.
As noted above, a whole, raw cacao seed is truly the queen of beans. If you are interested in eating cacao for its health benefits, unprocessed beans and minimally-processed nibs are the way to go. Plus, since cacao contains caffeine, eating a couple of raw beans mid-afternoon is a great way to get a late-in-the-day boost without having to turn to the coffee pot.
Unlike cocoa, which is processed at extremely high temperatures that destroy most healthful nutrients, the raw cacao powder that we offer at Mountain Rose Herbs is made from beans that are dried using a forced air dehydrator at temperatures that never exceed 104 degrees Fahrenheit. The dried, whole beans are then processed into smaller pieces and are cold pressed to separate the raw cacao butter and the dry "cake". The cake is then milled into a fine powder.
Raw cacao powder has a very rich flavor but is subtler than roasted cacao. You can really taste the chocolate in the undertones. It's great in smoothies or as a base for homemade hot chocolate mixes.
Our roasted cacao powder is made from beans roasted at 248 degrees Fahrenheit. The roasted beans are processed into smaller pieces and expeller-pressed to separate the cacao butter and cake, and the cake is then milled into a fine powder.
Want to use cacao instead of cocoa for baking? Roasted cacao powder is a great way to go (although you may want to use a bit less than the recipe calls for). Compared to raw cacao powder, the roasted powder has an earthier flavor and a slight bitterness. As with the raw powder, roasted powder is a good addition to smoothies and homemade hot chocolate blends.
Roasted cacao powder also makes an excellent coffee substitute that we like to call "cacao-ffee", is great in cookies or in a chipotle cacao grilling glaze, and can even be used in body care products like this cacao and vanilla body scrub.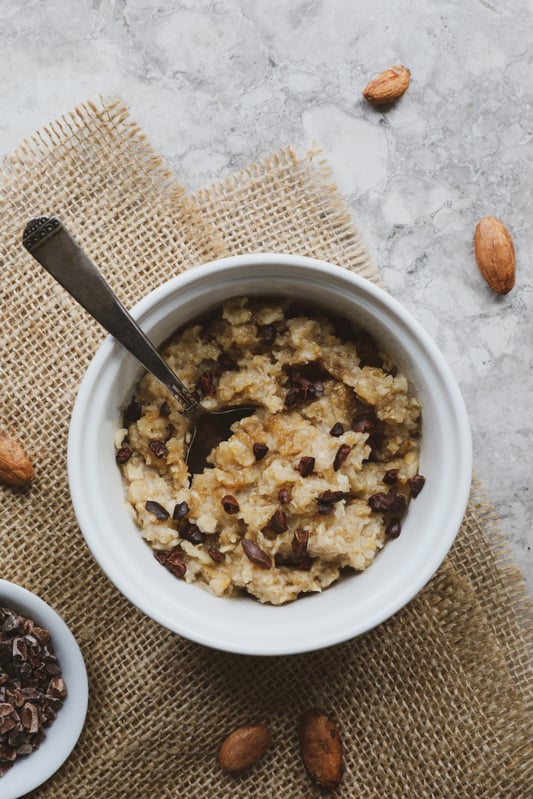 Cacao nibs are a great way to store cacao for later use, as you can use them as-is, or process them further as needed for smoothies, nut butters, Mexican mole sauce, etc.
I love cacao nibs as a sprinkled topping on any number of foods, from oatmeal and other hot cereals to ice cream. They give a little wilderness pick-me-up when added to trail mix and are a jazzy addition to your morning granola. They're also amazing in homemade bitters.
The roasted husk, or shell, of the whole cacao bean is gaining popularity as a tea ingredient, thanks to its earthy aroma and cocoa flavor when brewed. You can brew the roasted shells as a simple infusion — it will smell like you've just baked brownies in your kitchen, but the taste is superbly delicate. You can use the shells alone or add them to a blend to create a chocolate-infused herbal tea.
At Mountain Rose Herbs, we work closely with our Peruvian cacao farmers, processing facilities, and warehouses to ensure that our organic, fair trade cacao is of the highest quality and that our supply chain is equitable and ethical.
Whether you're interested in old-new flavors, the healthful qualities of this ancient "food of the gods", or the versatility of the processed chocolate and coffee alternative, cacao really is a supreme bean worthy of our adoration!
Craving more chocolatey goodness?
You may also be interested in: