Healthy snacks are a staple in any herbal tinkerer's toolkit. One of my all-time favorites snacks has always been caramel apples! While they get the most hype around Halloween, I've created an oh-so-perfect vegan version that is too good to only enjoy for one season per year. This date-based alternative offers the sweetness and consistency of caramel with earthy undertones of mesquite and maca powders. And if there is a way that I like to get my herbs in, it's blended perfectly in a sweet-treat like this!
This is a recipe that I've made for many occasions, and no occasions at all. Don't let the number of steps scare you, as there are lots of variations included that you COULD choose to try. Once you get the recipe down, you'll be able to whip these up in a pinch for some last-minute company, an impromptu hike, or a romantic picnic in the park. One of my favorite parts of this recipe (besides the caramel) is how much you can make it your own with the toppings that you choose. Goji berries will add some extra chew and texture while rose petals will offer a spring-like floral experience. I can honestly say I've never made this recipe exactly the same way twice!
To make this recipe, you'll want to gather the below kitchen tools:
Medium-large size bowl
Several small bowls for toppings
Melon scoop
Food processor
Toothpicks
Parchment paper
Spoon or spatula

Gourmet Caramel Apple Bites
Optional Topping Ideas
Optional Drizzle

Gourmet Caramel Apple Recipe
Makes 3 apples.
Ingredients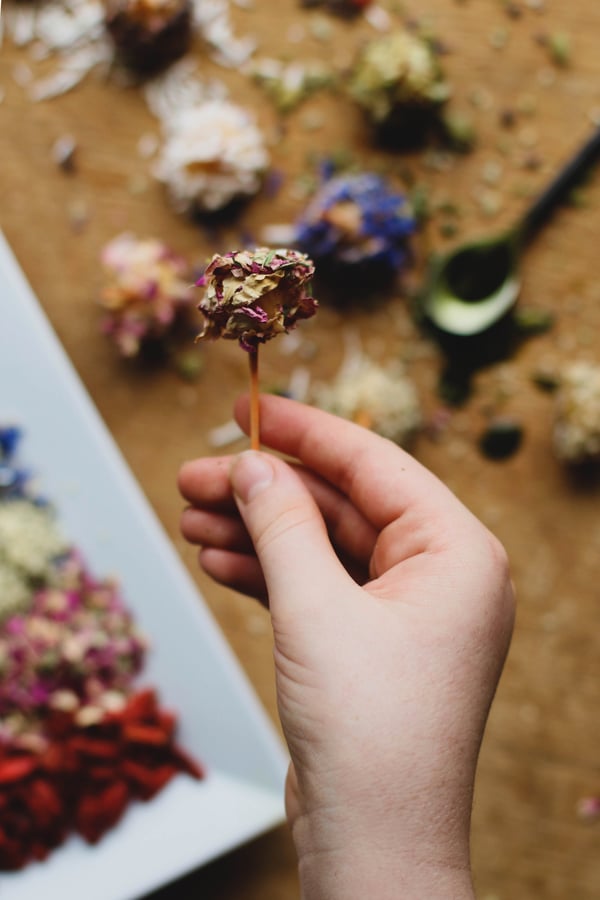 Directions
Prepare your optional topping(s) of choice and set aside in bowls.
If making optional drizzle, melt cocoa butter wafers in a double boiler and whisk in matcha or cranberry powder. Set aside on a very low burner to keep warm.
Line a baking sheet with parchment paper. Set aside.
Squeeze juice from 1/2 lemon into a bowl and fill with about 2 cups of water. Set aside.
Using a melon scooper, create apple bite pieces.
Immediately place in bowl of water with lemon juice to prevent browning.
Place half the dates into the food processor. Pulse until you make a paste.
Add maple syrup, lemon juice and water and pulse to combine.
While pulsing, add mesquite powder, maca powder, and vanilla bean powder.
Continue until the paste has a gooey caramel-like texture.
To test, dip a spoon or fork into the paste. Once it starts to drip nicely off the silverware just like caramel would, you have the right texture.
If still too thick, add another 1-2 tablespoons of maple syrup until you reach desired consistency.
Remove apple pieces from bowl of water and dry with a tea towel or paper towel. This will help the caramel stick better.
Push a toothpick into each apple piece and dip in caramel.
To help fully coat, use a spatula to "fold" the caramel over the apples.
Dip caramel apple piece right away into optional topping of choice and set onto parchment-lined pan.
When all apple pieces are coated and on parchment sheet, you

can

add your optional drizzle of choice.
These apples are best to enjoy right away but will last in the fridge for a day or two!
Pro Tip
Dates can vary in their consistency and moisture content, so you may have to adjust the recipe for the materials you are working with.

Want other herb-inspired creations by Stephanie?
You may also enjoy:
Maqui Berry Protein Bites
Golden Milk Energy Balls
Paleo Ashwagandha Energy Bites