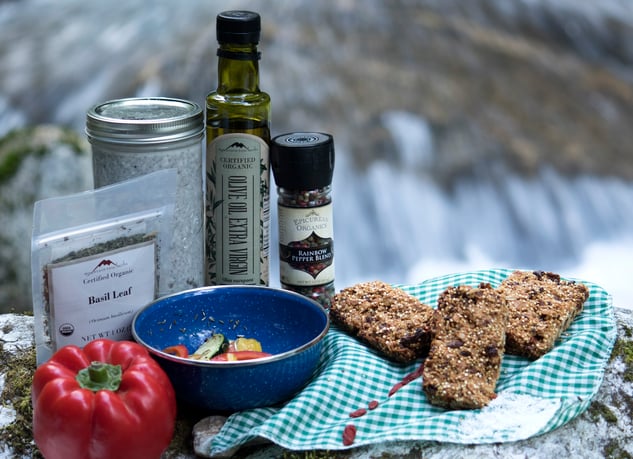 Summer is in full swing, and one of the things we here at Mountain Rose Herbs love to do on the weekends is take our families into the Cascadia backcountry. To start our weekend off right, we like to pack in delicious fresh food to prepare on the first evening of the trip. This allows us to enjoy the flavors of the season and get everyone excited about the wilderness adventure that lies ahead.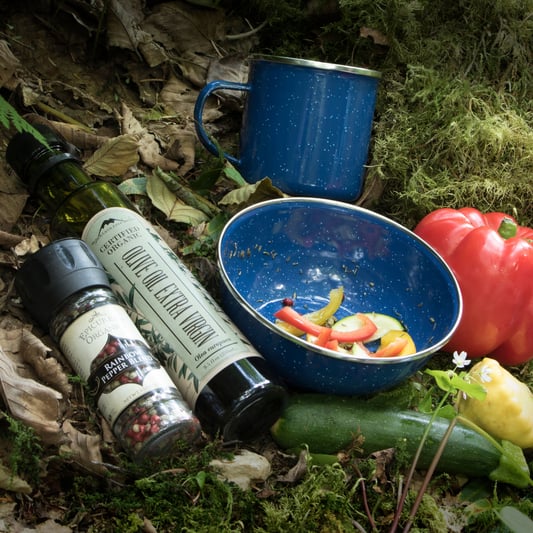 Herb Marinated Vegetables
Marinating vegetables ahead of time is a wonderful way to eat well in the woods and bring your late-summer bounty with you. If you are backpacking, this recipe would need to be enjoyed on the first evening out. If you are car camping, you'll have a bit more flexibility in being able to keep fresh food cold. Reusing plastic bags from the farmers market allows the veggies to soak up the delicious marinade until they are ready to be prepared. Truth be told, double-bagging is a good idea to be safe, keeping all those veggie juices from leaking into your pack. Then, simply reuse one bag to pack out your trash. This recipe is delicious on its own, added to beans and rice, or as a complement to your other backcountry dishes.
Ingredients:
Directions:
Combine all ingredients but the veggies in a large bowl.
Cut bell peppers into large pieces, discarding seeds and membranes. Cut summer squash and onions to a size similar to the peppers.
Add vegetables to marinade; toss to coat.
Cover and chill for two hours.
Remove vegetables from marinade and place them in a plastic bag tied tightly. It never hurts to double bag when dealing with oils!
To prepare, simply sauté the vegetables in a camp pan until done, or wrap in foil packs and cook over the coals of your campfire for a few minutes.
If you want to spice it up a little, you can omit the herbs in the recipe and replace with one of our seasoning blends.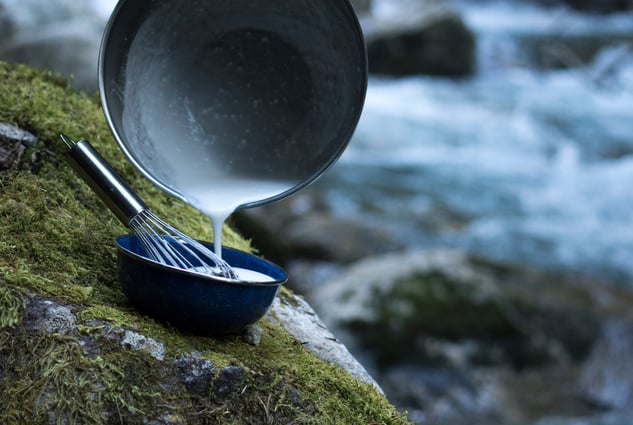 Chocolate Chia Pudding
Chia pudding is perfect for eating in a still place as you soak in the great outdoors. Prepare it the night before your trip so that you can enjoy it as a sweet treat for your first night's dessert! Or bring the ingredients with you to camp and prepare when you arrive for a tasty breakfast the next morning.
Ingredients:
1 13.5 oz. can of organic coconut milk (not low fat)
1/2 cup water or organic coconut water
1/2 cup organic chia seeds
3-5 Tbsp organic agave syrup
Handful of organic coconut flakes
Sliced almonds (optional)
Fresh fruit (optional)
Directions:
Whisk coconut milk, water, chia seeds, spice blend, cacao powder, and sweetener in a bowl or shake vigorously in a jar with lid.
Let sit at least four hours or overnight if possible, ideally in a refrigerator (if not camping).
You'll know it's ready when it acheives a pudding-like consistency.
Top with coconut flakes, nuts, and fresh fruit.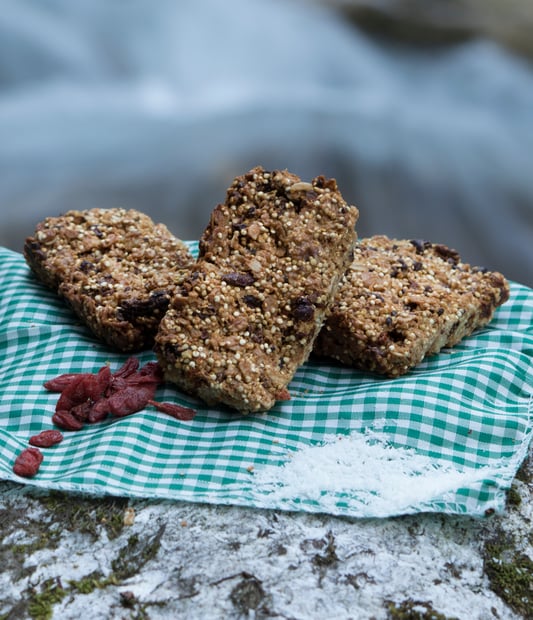 Goji Berry Energy Bars
Energy bars are handy to have on hand during a long hike, but the ones at your grocery store can be heavily processed and chock-full of preservatives. Swap a homemade recipe featuring ingredients you can trust to power you from trail to campsite. After lots of trial and error, we discovered this scrumptious combination that won't crumble in your pack, especially if each bar is individually wrapped in foil.
Ingredients:
Directions:
Preheat oven to 350 degrees F.
Spread oats and quinoa on cookie sheet and bake for 8 minutes, or until golden brown.
Place oats and quinoa mixture in large bowl with goji berries, nuts, coconut, hemp seeds, oat flour, and cacao nibs. Stir until combined.
Put remaining ingredients in saucepan on medium heat and stir just until melted and creamy; about one minute. Be careful not to leave unattended, as the mixture can easily burn!
Pour almond butter mixture over oat mixture and toss to coat.
Line 8-inch square glass or metal baking dish with parchment paper and pour mixture on top. Bake at 350 degrees F for 12 to 20 minutes, until lightly browned.
Cool completely in dish on cooling rack. Cut into desired pieces and wrap each piece in foil for extra protection in your pack.
Looking for another salty and satisfying snack to bring along?