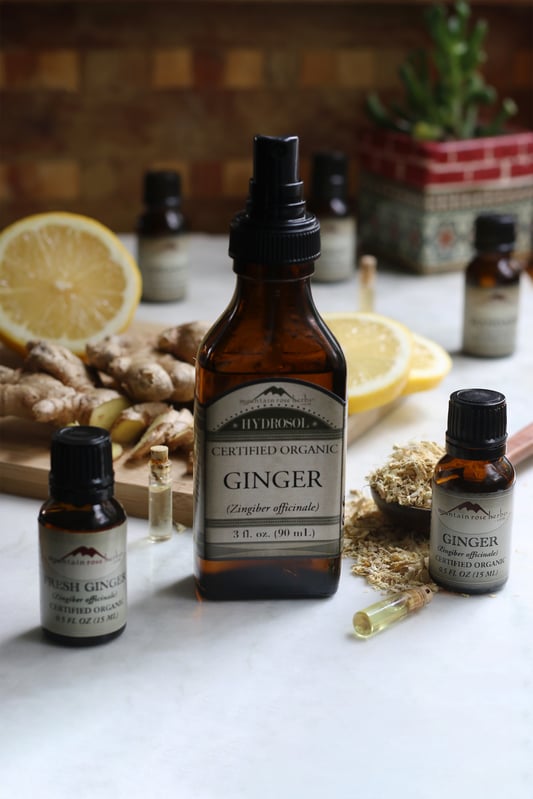 From the experienced herbalist to the casual home cook, most folks have some experience with the common ginger root. While this spicy yellow rhizome has its origins in Southeast Asia, it has been cultivated for millennia and is now widely available across the world. Ginger is an indispensable ingredient in culinary pursuits and folk medicine, traditionally used to support concentration, ease nausea, and soothe occasional stress, fatigue, and anxiety. Here, I am going to focus on the aroma-therapeutic aspects of this alluring plant.
What is Ginger?
First, some ginger basics. While it is typically referred to as a root, the part of the ginger plant we use is technically a rhizome. A rhizome is a larger, usually underground stem that helps to nourish the plant and propagate growth, while the plant's roots are much smaller offshoots that grow from the rhizome. For the sake of consistency with common terminology, we use the term ginger "root" in our online shop and on our blog.
Blending with Ginger Essential Oil
Mountain Rose Herbs offers two different options for ginger essential oil: "fresh ginger" and "ginger." While they are both steam-distilled, one variety draws from fresh ginger roots, and the other is distilled from dried material.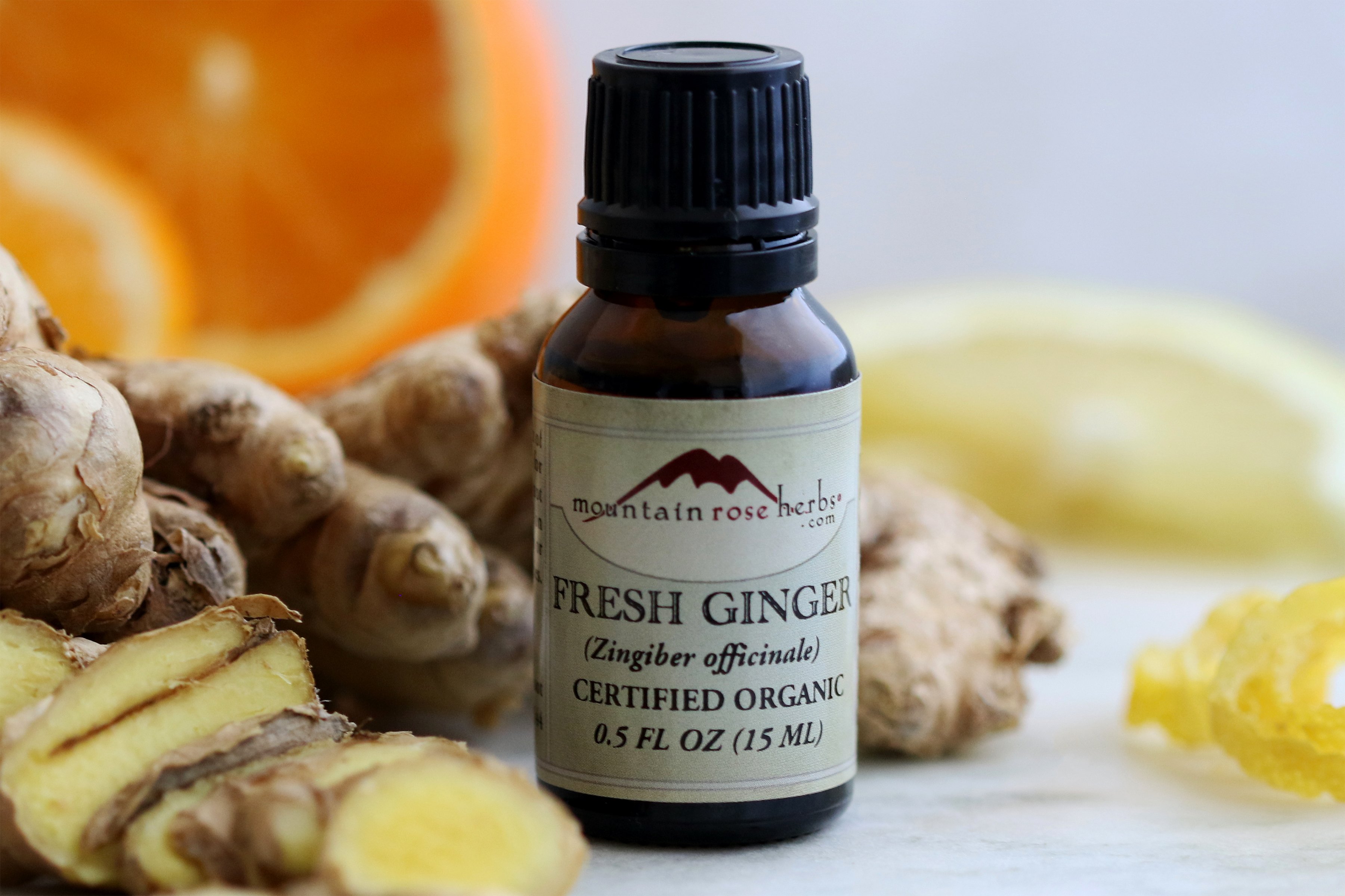 Fresh Ginger Root Essential Oil
Essential oil distilled from fresh ginger root makes for a juicy and bright top or middle note in fragrance blends. To me, this essential oil smells like I've just sliced into a fresh piece of ginger! Use this essential oil in zesty aroma combinations that include citrus oils (such as mandarin or lemon) and floral oils (like rose absolute or geranium).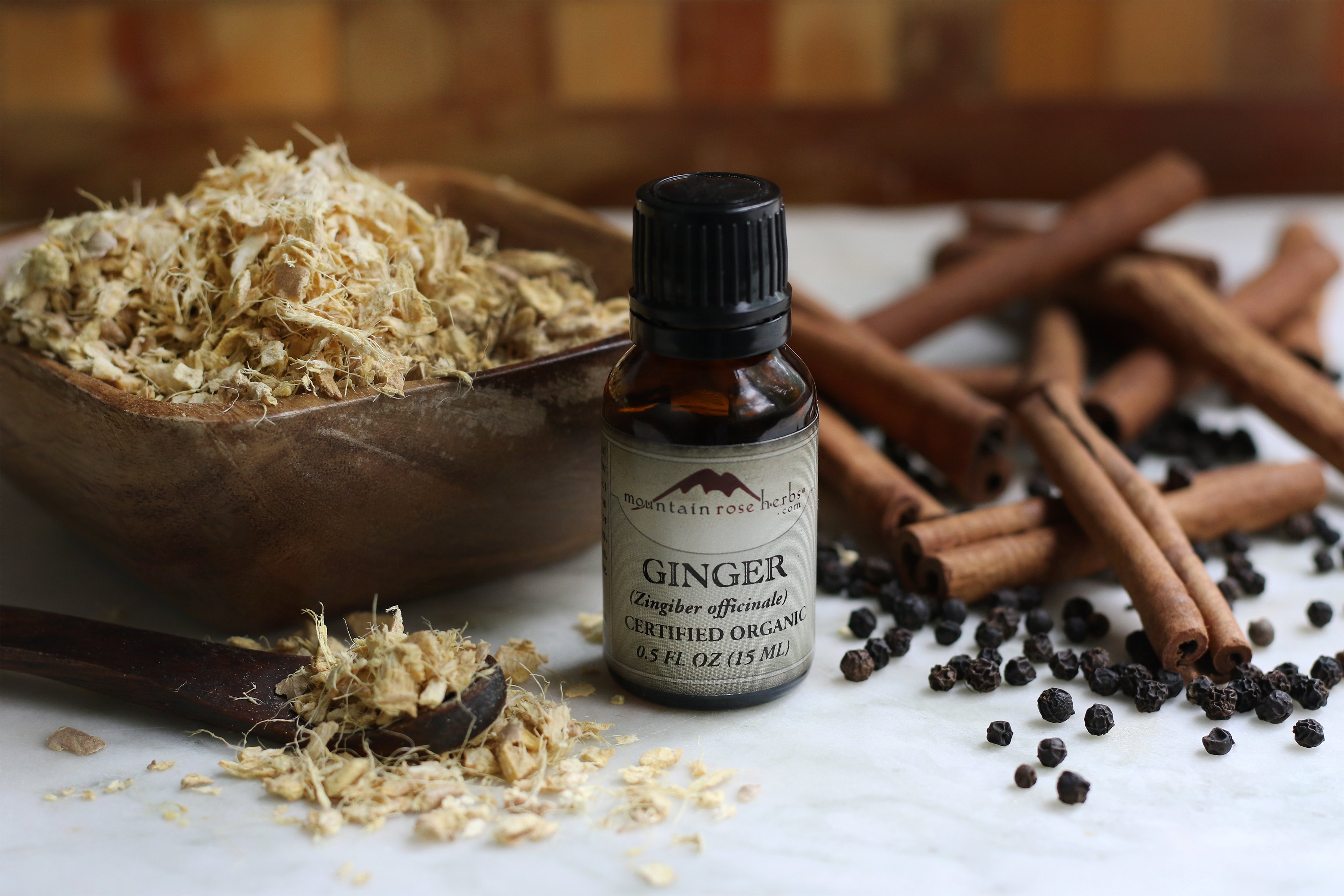 Dried Ginger Root Essential Oil
Essential oil distilled from dried ginger root is a middle note oil with a much spicier and woodier aroma. This warm and earthy essential oil will blend beautifully with many others, particularly the resinous oils (like frankincense or sandalwood) and woodsy oils (such as Atlas cedarwood or Western red cedar).
Blend either ginger essential oil with other spicy oils such as cinnamon bark or leaf, cardamom, or black pepper to enhance the more robust notes. Both varieties of ginger oil work well in warming massage oil blends, hence the dried ginger essential oil in our organic Warming Ginger massage oil. Be sure to check out our blog links below for more inspiration!
Ginger Hydrosol
In addition to our essential oils, we also carry a beautiful organic ginger hydrosol distilled in the Pacific Northwest. This botanical water has the light and fresh aroma of ginger (though it does not provide the warming qualities of ginger essential oils). It can be used as a base for DIY skin toners, body sprays, or room sprays for an underlying kick of fresh, juicy ginger root. Our hydrosols are not created to have strong or long-lasting aromas and will mostly benefit skin health. They are also very gentle and safer to use for children, pets, or those who are sensitive to essential oils. If you have a water-based diffuser at home, you may use hydrosol in place of water, and you don't even need to add essential oils!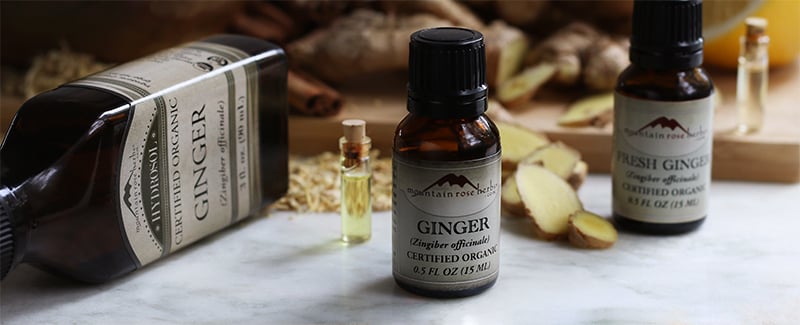 How to Use Ginger in Aromatherapy
Plant essences distilled from roots tend to have stable, earthy notes and are often characterized as being grounding—but what does that really mean from an aromatherapy perspective? When applied to scents, this kind of emotional terminology can help us identify fragrance tools that may move us towards a different state of mind. Not everyone will respond to a given aroma in the same way of course, so it may take a little time and practice to find what works best for you.
If you like to meditate, a good practice while diffusing ginger is to think of yourself as a slowly growing root (perhaps a tree root, or a ginger root!). Be aware of the slow flow of energy through your body as you breathe deeply. Let thoughts and worries pass without focusing on them too much, and try to think about your roots digging deep into fertile soil so that you might stretch towards the sun with a beautiful blossom. Practice this for as long as you like, and feel free to play a little soft, instrumental music if you find that helpful. With time, you should be able to tap into ginger's unique mix of calming and energetic qualities for a focused and productive state of mind!
Want More Tips on how to blend with ginger essential oil?