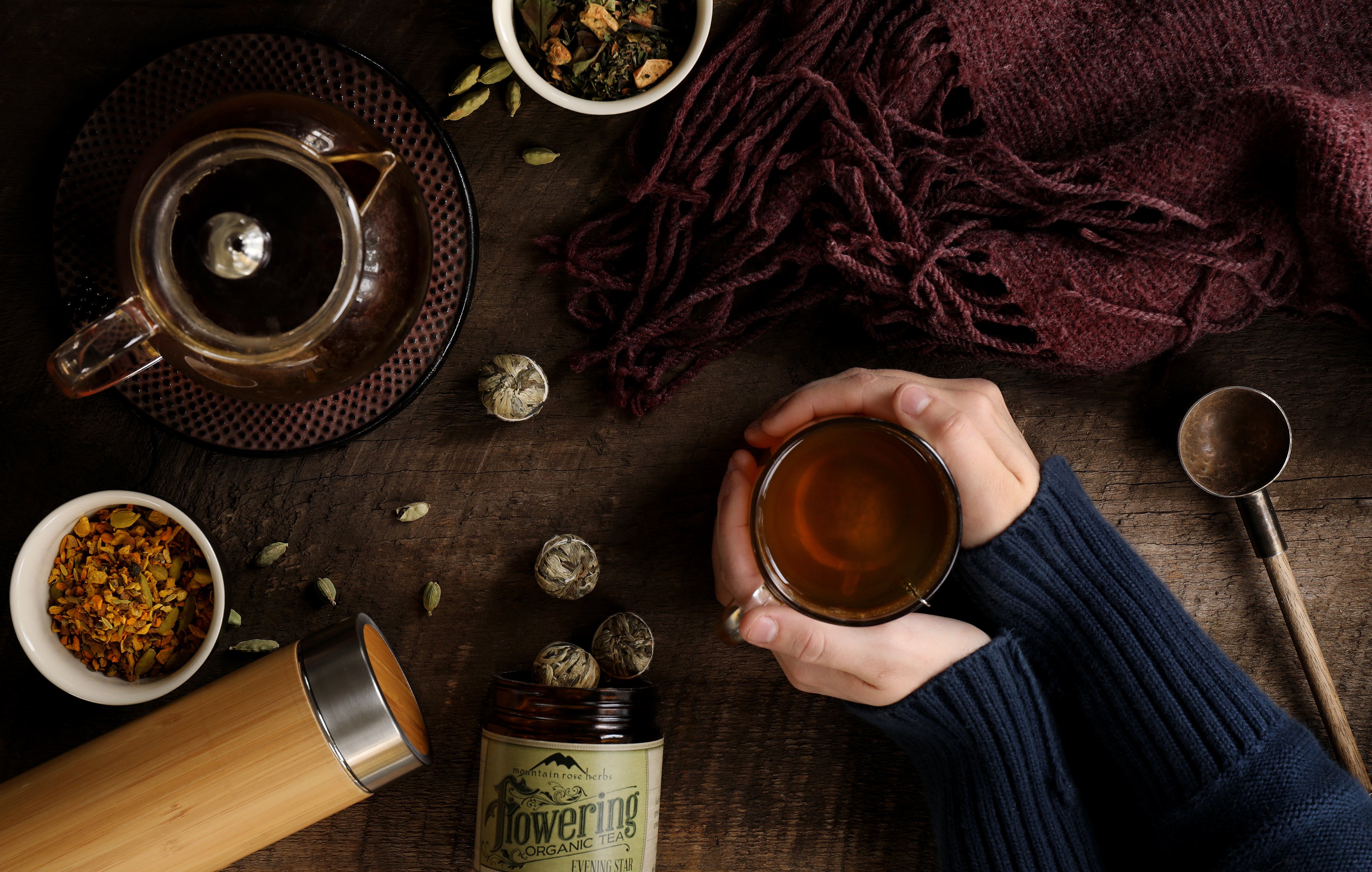 With the holidays just around the corner, the question on everyone's mind is, "What can I gift my friends and family with this year?" Fortunately, we have compiled a handy gift guide sure to fit the versatile range of important people in our lives. Hopefully these ideas might also add to the joy of this season with the gift of herbalism as its focal point.
For Tea Lovers
Tea Tumblers
These tea tumblers offer an easy way to support your wellbeing (and tea enjoyment!) wherever life takes you. Featuring stainless steel infusers and lids, these eco-friendly travel mugs are perfect for your favorite loose-leaf tea infusions, both hot and cold. With bamboo and glass options to choose from, these useful tea tumblers are sure to please the tea lovers in our lives.
Organic Loose-Leaf Teas
With teas ranging from delightful herbal blends to more classic favorites, you are sure to find a tea that accommodates the needs of any tea aficionado. For those needing a little added pep in the morning, we have black, green, white, and mate teas available. Our newest favorites include lapsang souchong, a black tea which carries a lovely smoky flavor, Harvest White Peony, that balances fruity sweetness with refreshing white tea, and dark roast yaupon, a tea that holds a sweetly roasted flavor somewhat like a good cup of morning coffee.
For those looking for caffeine free alternatives, our herbal tea blends, red teas, and select chais, are an excellent option. Our newest favorite herbal blends include Berry Bramble tea, which carries the sweetness of freshly picked berries, and Echinacea & Elder, a soothing blend formulated to support immune health*.
Cast-Iron Tea Pots
Perfect for entertaining guests or simply enjoying a pot of your favorite tea, these stylish cast iron teapot sets are a welcome addition to any tea lover's collection. With the option of either a complete turquoise hued set, or a classic black nail head teapot and trivet, these cast iron teapots make for a beautiful gift. The turquoise set includes an 18 oz. teapot, stainless-steel loose-leaf tea infuser, trivet, and two matching cups. The 35 oz. black nail head cast iron teapot comes with a stainless-steel loose-leaf tea infuser, and matching trivet.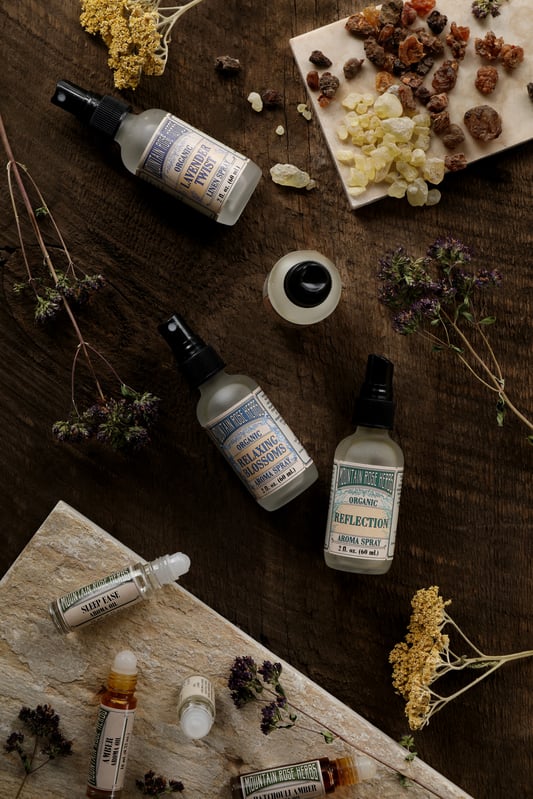 For Aromatherapy Enthusiasts
Aroma Sprays
Our aroma spray line offers an array of invaluable aromatherapeutic mists. These refreshing blends were all crafted with a range of uses in mind—body mists, linen sprays, skin toners, air fresheners, and more! These aroma sprays are a thoughtful gift for that friend or family member who loves to embrace aromatherapy for its many qualities and uses.
Aroma Oils
These delightful perfume oil blends are handcrafted using organic botanical ingredients that are not only unique, but also long lasting. Deigned for those looking to try something completely new or to simply embrace their own signature perfume blend, these aroma oils are a must try. Bottled in our convenient roll top bottles for ease of use and carry, aroma oils are sure to be a hit with the people in our lives who live fragrance forward.
Roll-On Essential Oils
Our newest collection to the aromatherapy line is all about perfect compact aromatherapy goodness. These single essential oil pre-diluted roll-ons were created with safety and ease of use in mind. Take the aromatherapeutic qualities of your favorite essential oil blended with fractionated coconut oil, and you have a lovely roll-on essential oil that can easily be reapplied throughout the day. Small enough to carry in a purse or bag, these little bottles make an excellent gift for the person in your life who lives on the go.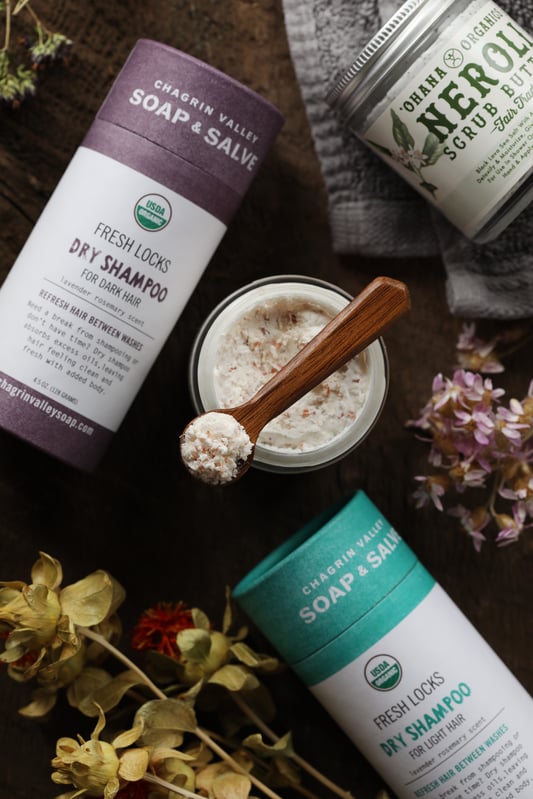 For Those Who Spa
Scrub Butters
With two delightful options to choose from, Ohana Organics offers exfoliating scrub butters that feature a Hawaiian twist on the classics. Awapuhi Scrub Butter is geared toward those who are needing added moisturization when exfoliating skin by means of shea butter and red alaea salt. Their Neroli Scrub Butter is for those looking to gently exfoliate and cleanse skin by use of black lava salt and neroli. Either scrub butter would make a luxurious gift for those who like to relax and unwind.
Shampoo Bars
These organic, cruelty-free, and completely biodegradable shampoo bars from Chagrin Valley Soap & Salve are an ideal gift for anyone who often camps or travels, as they can very easily be packed for transport. With Ayurvedic Herb, Butter Bar, Coconut Milk, and Herb Garden options to choose from, these shampoo bars can clean and tame your hair while embracing minimal impact practices which support the health of our planet.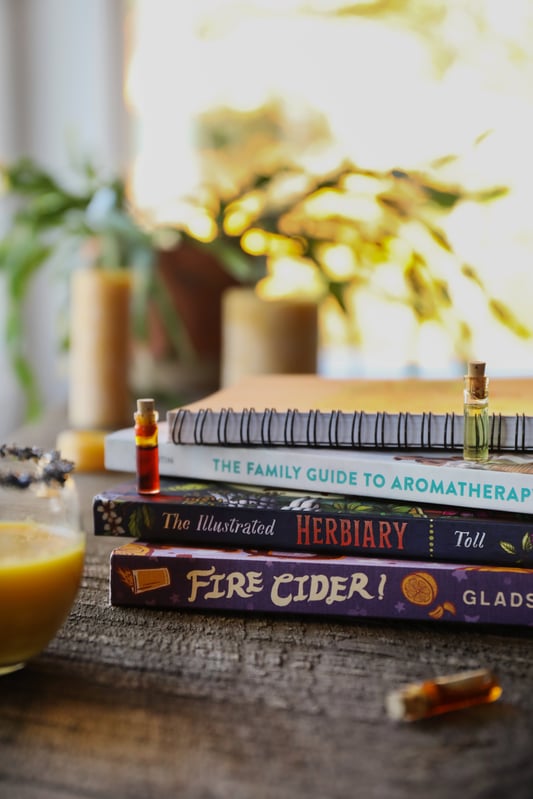 For Avid Readers
The Illustrated Herbiary
The Illustrated Herbiary is the perfect gift for the intuitive spiritualists in our lives. Herbalist and author Maia Toll presents a beautifully illustrated book that includes 36 tarot like cards that guide readers through meditative self-reflection. This book profiles the history and symbolism of each herb and invites everyone to explore their presence within their daily routines.
The Family Guide to Aromatherapy
For those with either a new family member on the way, or anyone simply wanting to incorporate aromatherapy into their existing family more often, The Family Guide to Aromatherapy is an excellent read. The Family Guide to Aromatherapy: A Safe Approach to Essential Oils for a Holistic Home will safely guide readers along the path to successful aromatherapy use for the whole family. Including recipes such as "Settle Down Room Mist" and "Energetic and Motivated Roll-on Blend", readers of every age are sure to find a recipe to fit their needs.
Fire Cider!
Fire Cider! by Rosemary Gladstar and friends is a must-have gift for any aspiring herbalist. Containing not only creative twists to the acclaimed fire cider tonics that we are accustomed to, this book also includes colorful illustrations, stories, and songs to match. A collaboration of fire cider recipes shared with a desire to pass along the fire cider tradition, this book is sure to inspire the herbalist in us all.
For Last Minute Shoppers
If you find that you are having a hard time deciding on what herbally-inspired gift to get for your loved ones, there is always the convenience of a Mountain Rose Herbs gift certificate. These useful stocking stuffers come in $25, $50, or $100 increments. Each gift certificate includes a complimentary card and is shipped free of charge. There also is the option to have these gift certificates emailed if everything comes down to the last minute with your holiday shopping this season.
From everyone at Mountain Rose Herbs, we wish you all a safe, healthful, and festive holiday season with the ones you love.
Looking for more ideas To Make Your Own Gifts?
You May Also Be Interested In:
Organic Massage Oils for Natural Relaxation
How to Make Herbal Dream Pillows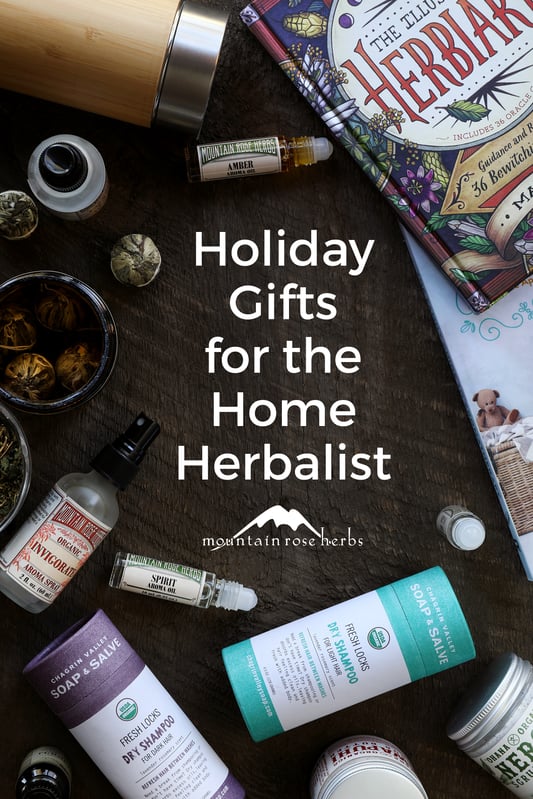 * DISCLAIMER: For educational purposes only. This information has not been evaluated by the Food and Drug Administration. This information is not intended to diagnose, treat, cure, or prevent any disease.