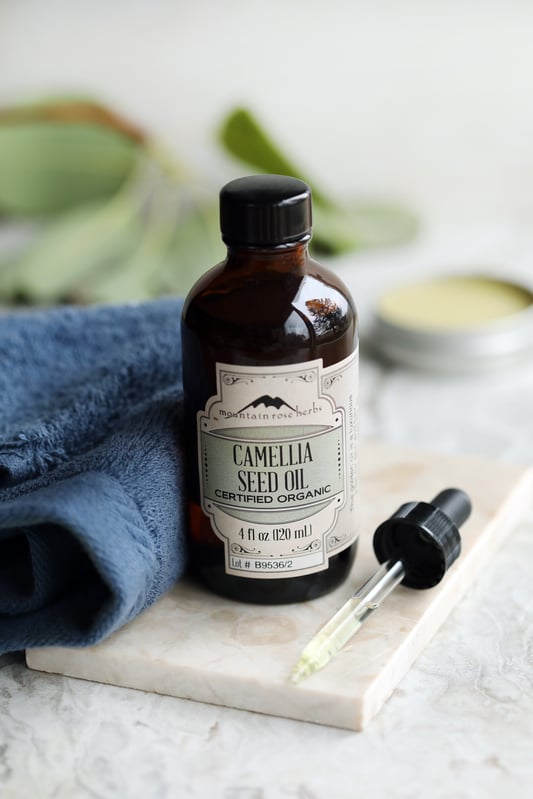 I like to keep my routine simple when it comes to skin care, and single body oils have always been my personal favorite for moisturizing in the morning or at night. Because we all have slightly different skin types and reactions, a little trial and error is necessary to determine which oils are best for each individual. By becoming familiar with the different properties of particular oils, you can save yourself a lot of time (and avoid having to experiment endlessly!). While argan oil or jojoba oil will always rank among my favorites, camellia seed oil is quickly surpassing them as my go-to moisturizer.
Our organic camellia seed oil is cold pressed from the seeds of the Camellia oleifera fruit. While it is in the same family as the standard tea plant, Camellia sinensis, its leaves have little to no caffeine. Rather, this species is specifically grown for the oil contained within the seeds. Much like jojoba oil, the composition of camellia seed oil is very similar to what our skin naturally produces to help keep it supple and hydrated.
This oil naturally contains vitamin E and squalene, as well as oleic and linoleic fatty acids. Camellia seed oil has a silky texture and a lightly nutty, pleasant aroma. Camellia seed oil is non-comedogenic, meaning that it is not likely to clog pores or encourage breakouts.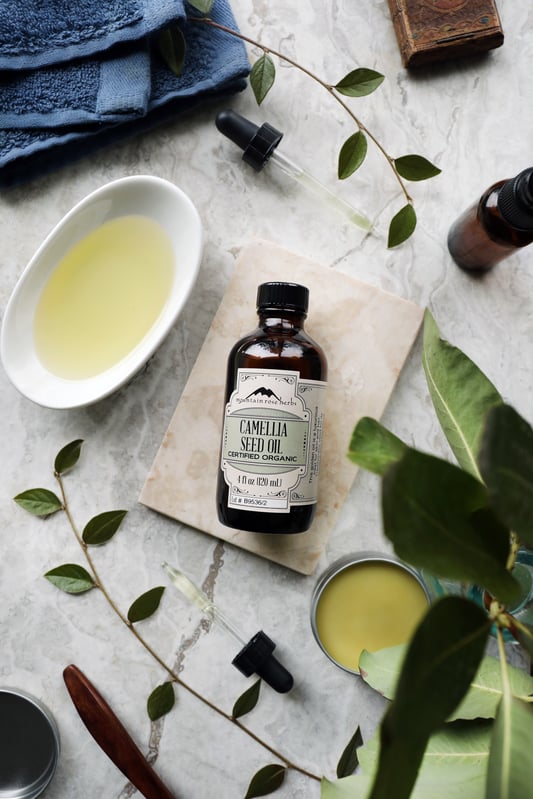 Camellia seed oil is typically used sparingly, and it is helpful for improving the appearance and texture of skin. It may also be used as an ingredient in facial serums or as a hair and scalp moisturizer, and can be helpful to smooth occasional dry patches or irritations. It makes for an excellent leave-in conditioner as well. I have very fine hair and would normally never apply straight, unblended oil to it, but decided to give this one a try and was pleased with the results! It absorbed well (my hair was dry at the time) and my strands weren't too weighed down, though I did end up with a slightly oily look around my roots because I used a bit too much. I left it in for a day, then shampooed in the shower. After air-drying, my hair exhibited a beautifully enhanced silkiness!
The Camellia genus encompasses a large family of glossy-leaved shrubs, including the well known Camellia sinensis from which white, green, and black tea originates. The oil pressed from the seeds of the camellia fruit has been wildly popular in China, Japan, and Korea for many centuries.
How to Use Camellia Oil:
Apply to the face, body, or dry patches as needed. Camellia seed oil makes a superb pre-makeup moisturizer, since it absorbs so thoroughly. Camellia seed oil can also be used to remove makeup or for oil cleansing.
Use your fingertips or a wooden comb to evenly distribute a small amount of oil through damp hair. A wooden comb absorbs oils and helps to move the oil more thoroughly through hair.
You may also apply the oil before washing your hair for a little extra softening action if you tend to have more tangles.
If you like specialty Skin and hair oils...
You might also enjoy: