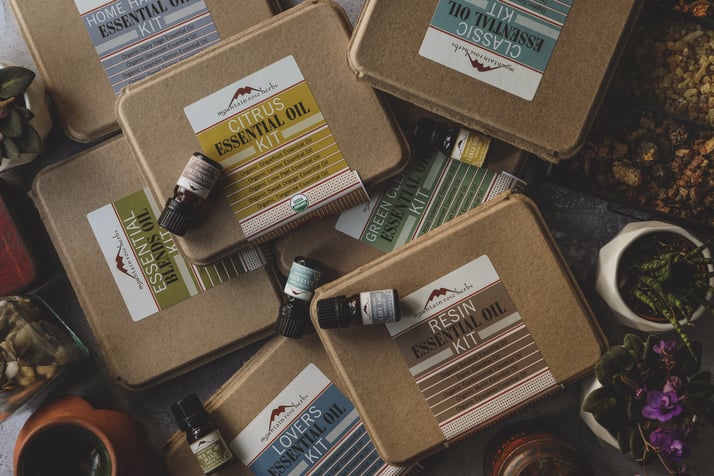 It's wonderful to see more and more people using aromatherapy to support healthy mood, memory, and overall wellness. We regularly hear from customers who want to begin diffusing essential oils at home, or who are interested in learning more about how to incorporate them into their body care recipes. The common dilemma is where to begin. There are wonderful books and educators to guide you but picking out the right oils can be a dilemma. With that in mind, we are excited to introduce our expanded line of essential oil kits. Whether you are looking for the highest quality classic oils, pure ingredient blends, oils for cleaning or harmony in the home (the list goes on), these kits provide the perfect collections to get you started. As with all Mountain Rose Herbs hand-crafted products, the oils in these kits have undergone strenuous quality control testing to ensure you receive the most effective, safe, pure experience.
We proudly introduce Mountain Rose Herbs' expanded line of essential oil kits. Each bottle in these kits contains 5 mL of pure essential oil(s).
Classic Essential Oils
The Classic Essential Oil Kit is a collection of essential oils prominently used in the world of aromatherapy. These five specially selected oils can be used alone or blended with other aromatics to create customized body care formulations, diffuser blends, massage oils, salves, etc. The kit includes eucalyptus, lavender, peppermint, sweet orange, and tea tree essential oils.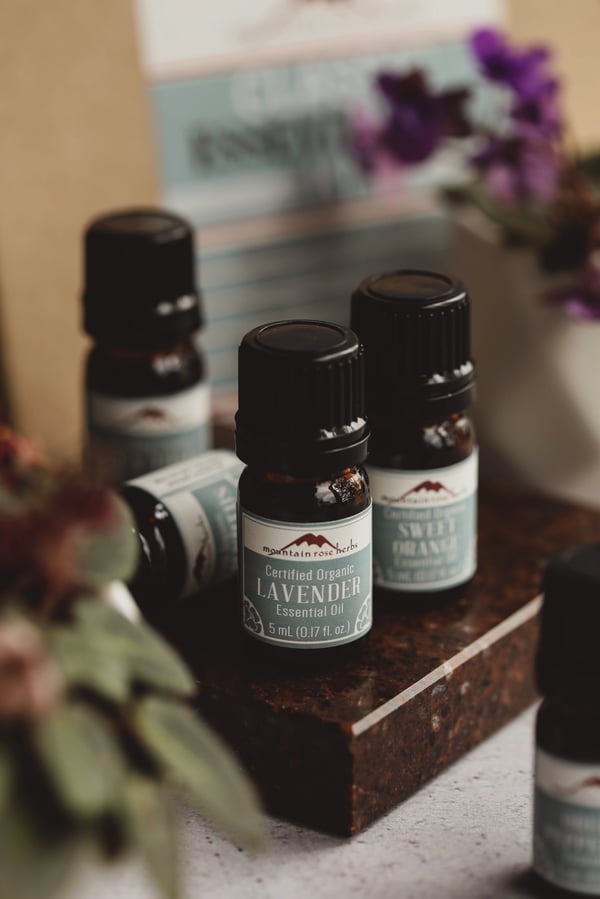 Citrus Essential Oils
The Citrus Essential Oil Kit brings together the bright, clean, and refreshing aromas of cold-pressed citrus peel oils. Use in perfume blends, cleaning recipes, diffusers, and body care formulations to lift your mood or freshen the air. These oils are all top notes and blend well together in an endless number of combinations. This kit includes grapefruit, lemon, lime peel, sweet orange, and tangerine essential oils.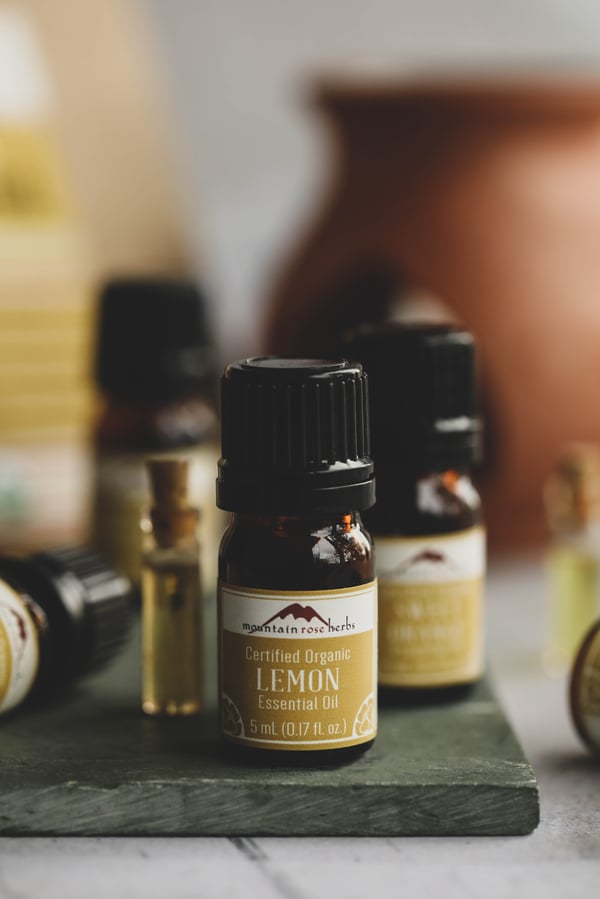 Essential Oil Blends
The Essential Blends Kit features expertly crafted essential oil blends that have been intentionally designed for everyday support: to help elevate the mood, freshen the air, or assist in relaxation. Because they are pre-blended, they are ready to use in diffusers or your favorite body care recipes. This kit includes five Mountain Rose Herbs essential oil blends: breathe, calming, pick-me-up, shield, and sleep.
Essential Oils for Cleaning
The Green Cleaning Essential Oil Kit features effective, stimulating oils that lend a helping hand to natural cleansing. With blends designed for kitchen counters, scrubs, and diffusers, these fragrant oils will help you freshen up your living space and can also be used for bathing and body care. Add a few drops to homemade liquid hand soap or your go-to cleaning formulas. The kit includes atlas cedarwood, lavender, lemon, peppermint, and tea tree essential oils.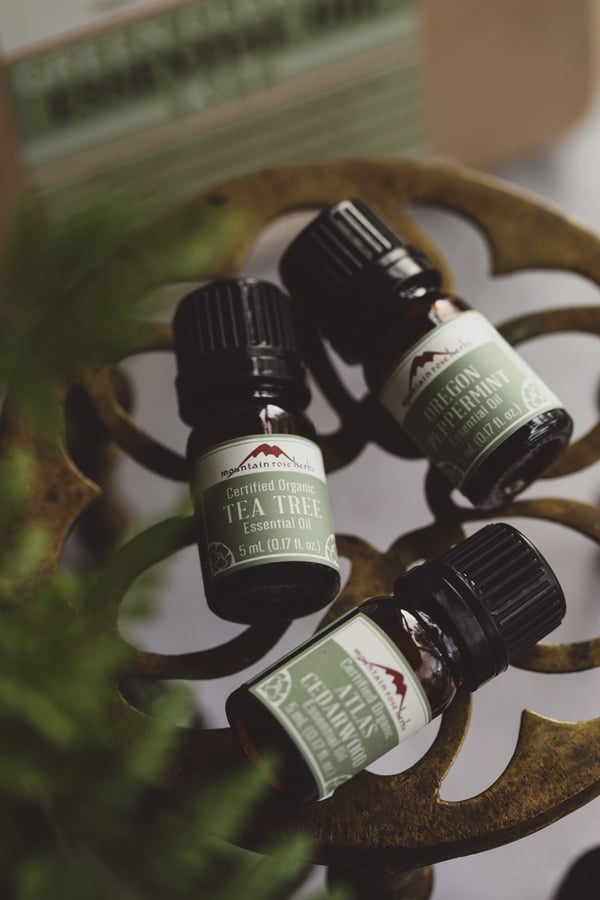 Essential Oils for Love and Romance
The Lovers Essential Oil Kit is a collection of earthy, sensual essential oils known to inspire closeness and affection. You can use them as single aromas or blend them in diffusers, perfumes, and other body care recipes to bring about feelings of appreciation and openness. They are particularly lovely in massage oils to support a relaxed state of mind. The kit includes Australian sandalwood, clary sage, palmarosa, patchouli, and ylang ylang.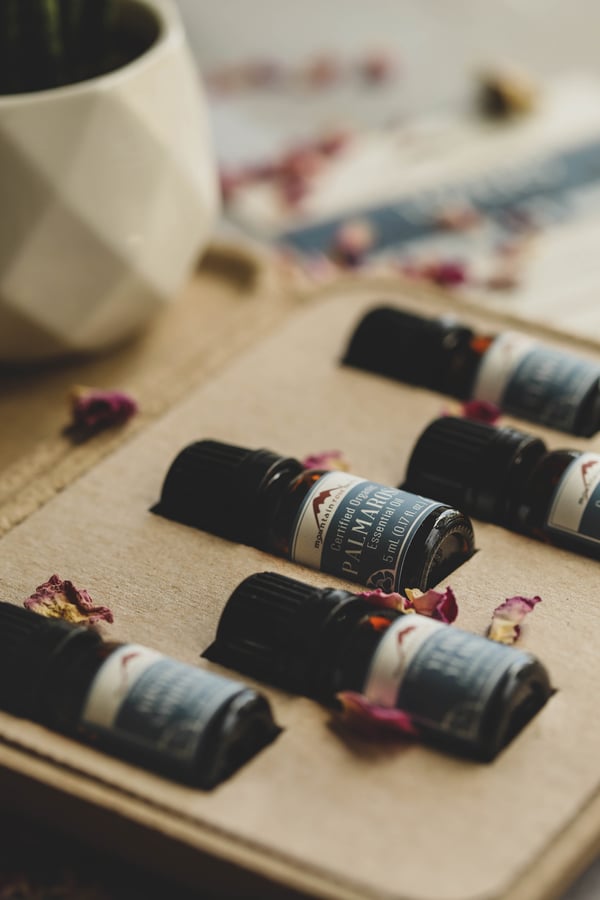 Essential Oils for Peace and Harmony
The Home Harmony Essential Oil Kit collection supports balance and relaxation with their subtle aromas. When diffused, these pure oils help to create an uplifting ambiance in your personal spaces. Or add them to massage oils and skin care recipes for a sense of renewal and refreshment. This kit includes clary sage, geranium, lavandin grosso, sweet orange, and ylang ylang.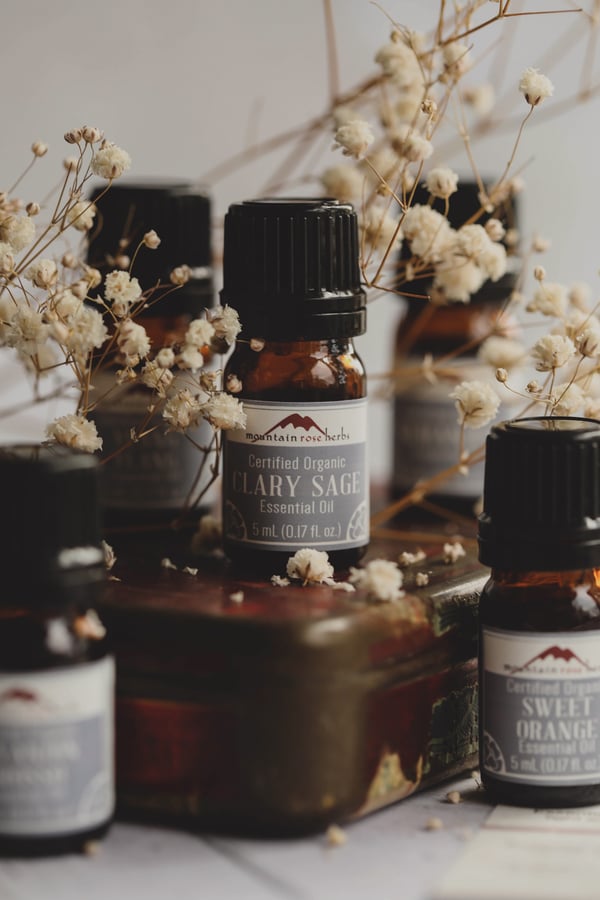 Grounding Essential Oils
The Resin Essential Oil Kit is a wonderful tool to explore resinous oils. With five different grounding, sensual oils, you can dig deeply into the intoxicating complexity of resins. These single aromas can be blended with each other to make ethereal perfumes, aromatic diffuser blends, and skin-loving serums. These versatile oils offer a grounding and sensual aromatic experience. The kit includes benzoin, elemi, frankincense, myrrh, and opopanax.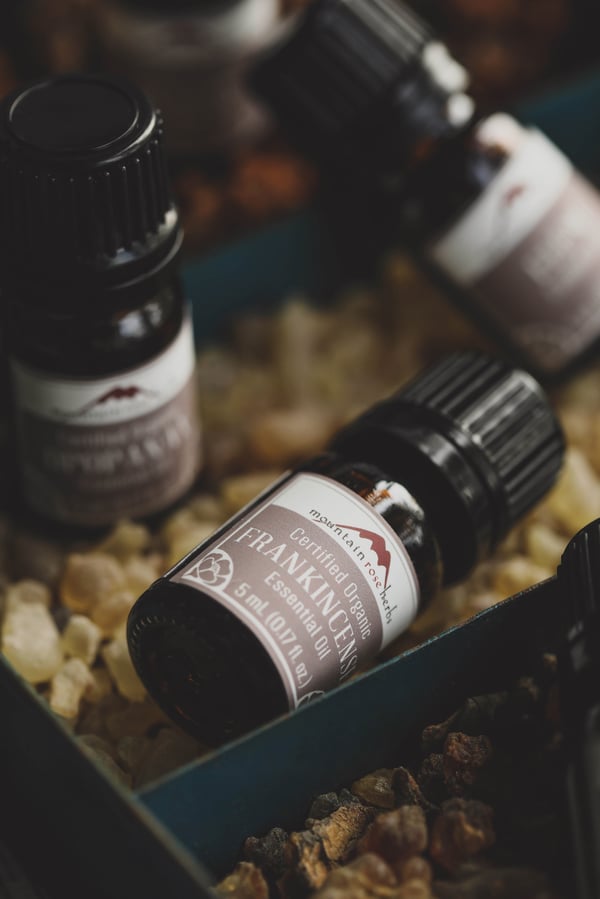 Pro Tips
See our Essential oil conversion and dilution charts and calculators for safe use of essential oils.
Store all essential oils in a cool, dry, dark place away from direct light and heat and out of the reach of children and pets.
Close lids tightly to avoid evaporations and oxidation.
Want to Learn More About Essential Oils and Aromatherapy?
You may also enjoy: