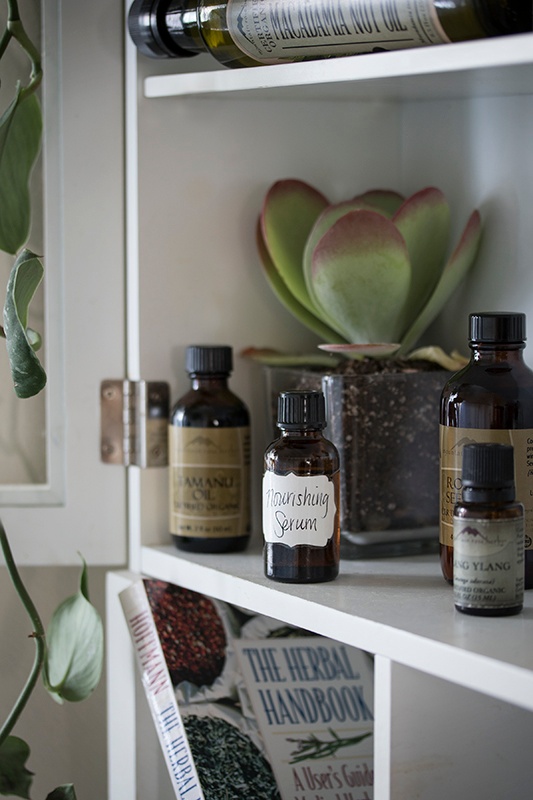 Growing up, I was fed the beauty myth that oily skin is bad. The cosmetics industry pushes the use of harsh, drying soaps and products that strip natural oils to help you get rid of shine. However, those natural oils actually help moisturize your skin. Washing them away can result in overly dry skin, rather than soft and supple skin. Really what you want is skin-loving oils like the serum recipe below paired with a nice, gentle astringent like Wild Rose Facial Toner or Rose Hydrosol for a balanced regimen.
Using natural plant oils is a wonderful way to help nourish and refresh dry skin. Some of my favorites are organic rosehip seed oil, pomegranate seed oil, and tamanu oil. I love how quickly they absorb into the skin, leaving my face soft, but not greasy. Organic plant oils like these are used in the base of most homemade lotion recipes. Lotions often include butters or waxes to help smooth the skin and seal in the moisture. Using oil neat will allow it to absorb into the skin very quickly, and I prefer using this preparation first for daily facial moisturizing. However, you can use this serum as an oil base in a cream recipe if you like. This serum is wonderful for softening the skin on arms and legs as well.
For high quality skin oils, you want to make sure that they are certified organic and minimally processed. I like to use cold-pressed or expeller-pressed oils that are unrefined. It's also important to keep them in a cool, dark place. I store mine in the refrigerator and buy often. Because they are minimally processed, high quality oils can turn rancid if not properly stored. Keep in mind, a little oil goes a long way.
Okay, it's time to feed your skin some luscious serum! I use this recipe first thing after showering in the morning and again before bed. I find it especially helpful for dry or sensitive skin, but feel free to play with other carrier oils and essential oils to craft a serum that is perfect for you.

Moisturizing Skin Serum Recipe
Ingredients
Carrier Oil Base
Essential Oils
Directions
Pour all carrier oils together in a glass bottle and roll between your palms to mix.
Carefully drip each essential oil into the carrier base and roll again to distribute.
Use less essential oils if you have skin or fragrance sensitivities.
Invert the bottle several times and roll again.
Use a coin-sized amount as a facial serum or allover body oil each day.

Looking for More DIY Skin Care?
You may also be interested in: