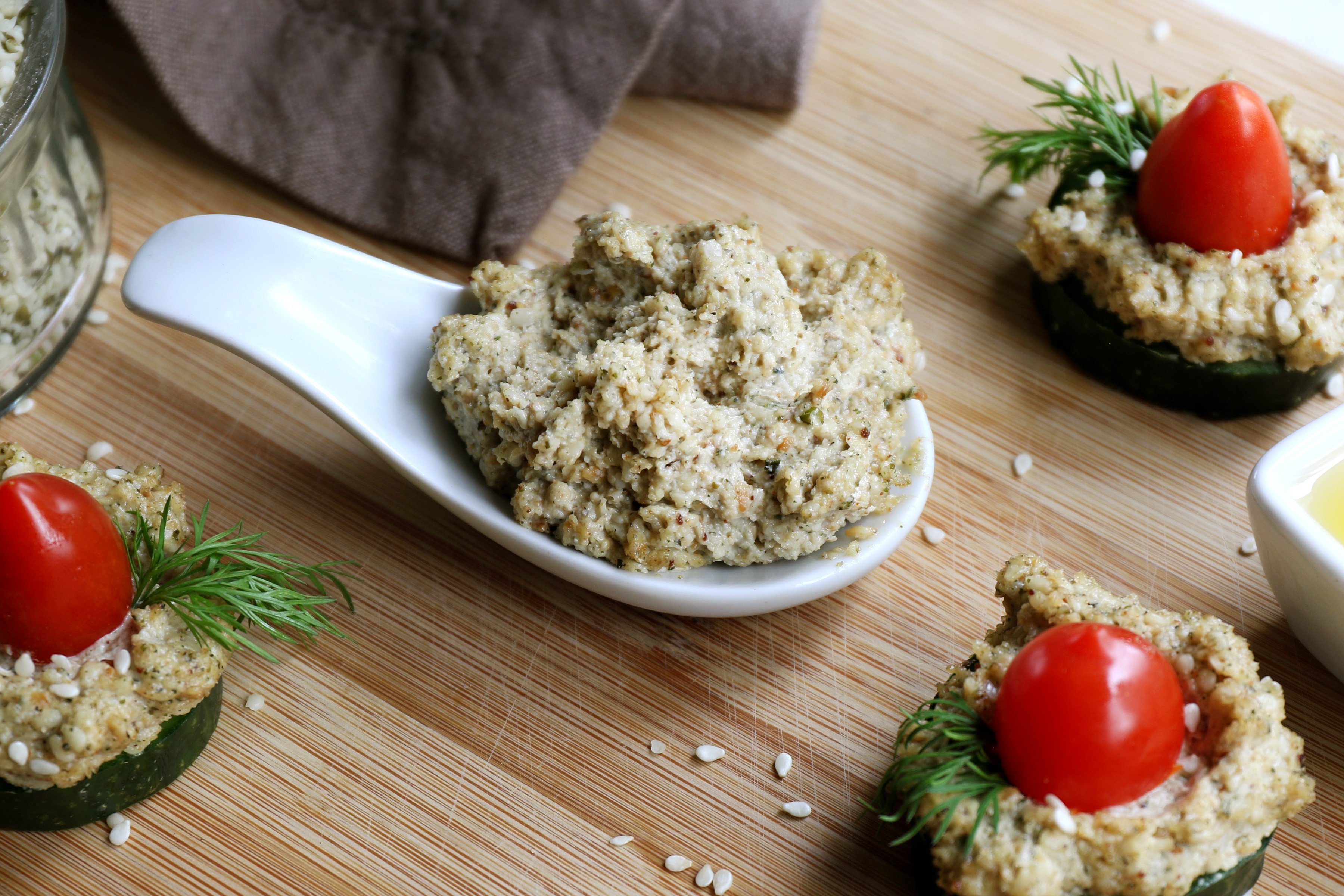 Making homemade tahini is both fun and easy. Tahini's unique flavor can enhance a variety of dishes, most commonly hummus and other dips. With its roasted and ground sesame seeds, this savory and nutty tasting paste is even better when blended with hemp seeds.
What's the Twist?
While at your local grocery store, you may notice there are a variety of nut butters in the condiment aisle, many of which include blends of multiple types of nuts and seeds. This is how the hemp tahini idea came to me: while staring at the cornucopia of nutty blends at my grocery store.
A jar of tahini sat on the shelf looking bored, and I wondered what might make it more exciting. I considered blending almonds, pine nuts, or pistachios with the sesame seeds (which you could try if you like), but ultimately, I was thrilled by the idea of hemp seeds.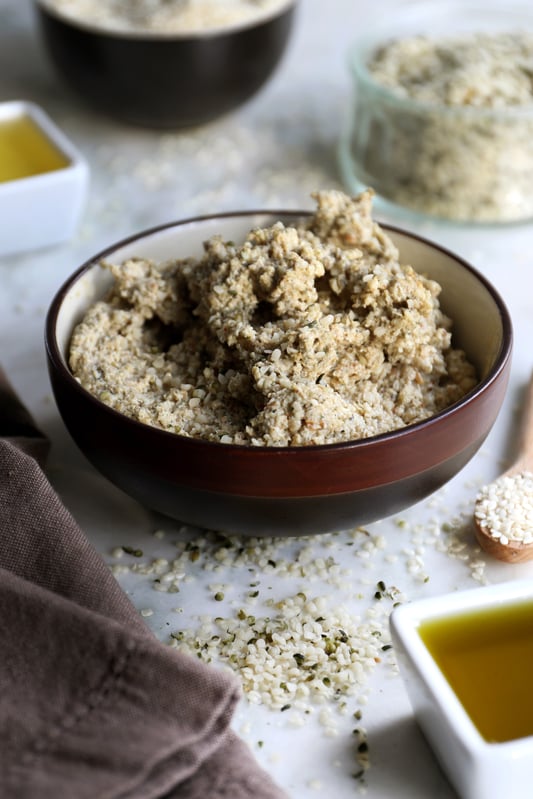 Why Add Hemp Seeds?
Nutritionally rich hemp seeds have gained in popularity over the past few years, particularly for folks looking for a delicious plant-based protein. What I like about hemp seeds is that they contain the highly-digestible plant protein, edestin. As for the flavor, well, you can't go wrong there. Many say their taste is akin to pine nuts and sunflower seeds. Overall, they're less savory and bitter than sesame.
Okay, back up. As you've probably guessed, hemp seeds are going to boost tahini with even more nutritional value—which is the exciting part! Especially if you're like me, and are concerned with getting all the essential nutrients your body needs. What we know about sesame seeds is that they contain B vitamins, protein, and fiber. I love adding hemp seeds because they contribute even more protein to the mix along with omega-6 and omega-3 fatty acids, minerals, and vitamin E.
Why Add Pumpkin Seed Oil?
Tahini also needs oil, so I took advantage of the fact that Mountain Rose Herbs carries a fantastic pumpkin seed oil that is also packed with nutrition and flavor. I just couldn't resist blending it in along with some of our sesame seed oil to enhance the nutritional profile of this recipe. Now, with the pumpkin seed oil, we're adding even more vitamins and omega fatty acids that I love.
All right, I'm finally done getting nerdy about nutrition. I'll let you investigate in more detail on your own, just know that this recipe is pure nutritional gold. So, let's get down to the nitty-gritty.

Healthy Tahini Spread with Hemp Seeds
Makes about 1 1/2 cups of tahini
Ingredients
Directions
Roast sesame and hemp seeds over medium-low heat for 7–8 minutes, stirring regularly.
Blend roasted seeds in a blender, food processor, or use an immersion blender.
While blending, gradually add pumpkin seed oil, sesame seed oil, and water until the consistency is a smooth, thick paste.
Test the consistency. Add additional water to thin the tahini to your level of preference.
Store in the refrigerator. Tahini will keep, refrigerated, for up to 6 days.
Now that you've made your tahini, use it in salad dressings, add it to falafel, or make a variety of other dipping sauces for pure, plant-based pleasure. Want something sweet? Use it to make these delicious ashwagandha chocolate bites! Have other great ideas? Let me know how you make the most of your super healthy tahini in the comments below.
Pro Tip
Blending together these tiny seeds into a smooth paste can be tricky. You may have to take a different approach by adding all the oil and water to the seeds while you blend or process. Let us know which method and utensil worked best for you.
Conserve your tahini in your refrigerator for a longer time by adding a touch of lemon or apple cider vinegar, as suggested by one of our fans in the comments. (Thank you, Ariane!)
LOOKING FOR OTHER nutritious and delicious RECIPES?
You may also like: