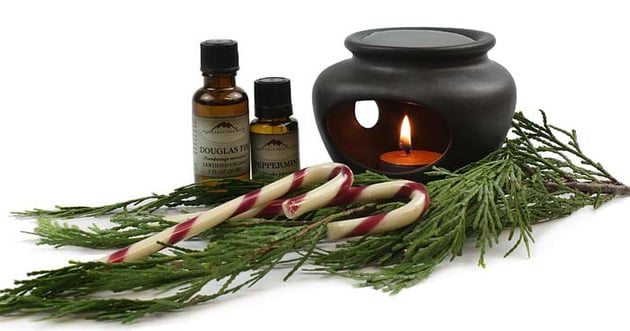 Diffusing essential oil blends is a fun and natural way to spread yummy aromas throughout any space. Those expensive, synthetically perfumed candles can be tempting with their bright colors and familiar aromas of candy canes, apple pie, and evergreen cheer, but diffusing pure essential oils at home or work is a wonderfully natural way to scent a room with seasonal aromas. I hope these holiday inspired blends bring a smile to your face!
Peppermint Surprise Essential Oil Blend
Heavy sweet floral aroma with sparkling peppermint!
55 drops organic Peppermint essential oil
20 drops organic Ylang Ylang essential oil
Oh Christmas Tree Essential Oil Blend
Classic evergreen aroma.
30 drops organic Douglas Fir essential oil
15 drops organic Cypress essential oil
15 drops organic Orange essential oil
10 drops organic Nutmeg essential oil
Vanilla Spice Essential Oil Blend
Vanilla cream mixed filled with a warming cinnamon goodness.
42 drops organic Cinnamon essential oil
42 drops organic Orange essential oil
25 drops organic Vanilla Absolute (roughly 1/4 teaspoon)
17 drops organic Nutmeg essential oil

Blending Directions and Tips:
Add all essential oils to a glass bottle. One 1/4 oz bottle will hold any of these blends. Screw cap on tightly and invert the bottle to blend the oils. Do not shake! Allow the blend to sit for a couple of hours, smell test, and make any adjustments to your liking.
Vanilla Absolute is a very thick oil. The container can be placed in a bowl of hot water to make it easier to work with. This will not effect the aroma and the oil with thicken again as it cools. It may be easier to use a measuring spoon for this oil.
Diffusing Directions:
Fill your essential oil diffuser reservoir with water. Add 5-6 drops of the essential oil blend. Light a tea candle in the base of your diffuser and enjoy as your space fills with the yummy aroma! If you are using an Electric Diffuser or our new Ultrasonic Diffuser, please follow the included directions. (The diffuser pictured is our Ceramic Diffuser, which is made in the USA).
Visit our website to see our full line of essential oil diffusers.