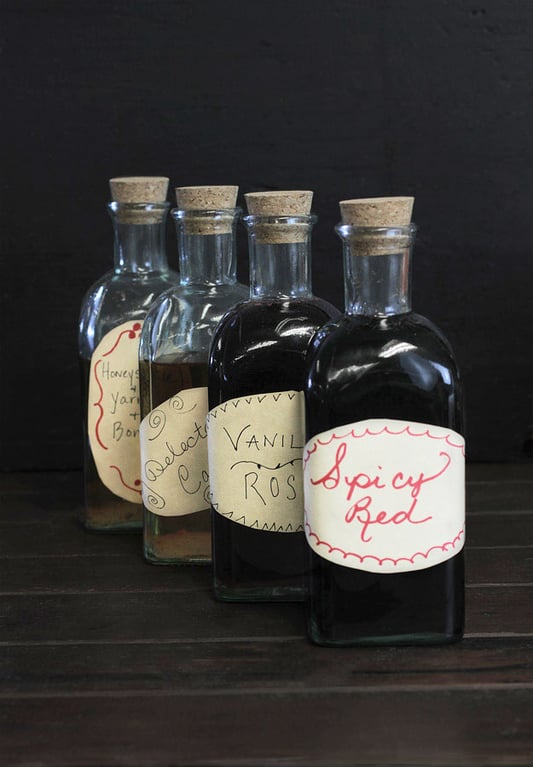 Maybe you've fantasized about making dandelion wine, but never found the time? Looking for a special beverage to commemorate a special celebration? Perhaps you have gift giving on the mind and want to create something unique and delicious to give and share? This delightfully simple project is the perfect way to go. Herbal infused wines are easy to make, beautiful, and even have healthful properties—depending on the herbs and combinations you choose to create!
The process for creating wines infused with herbs can be adjusted depending on your needs and inspiration. You can choose store bought or homemade wine, and both red and white wines make for delicious concoctions. All it takes is a little time…
My basic "recipe" for creating an infused wine follows, and then I have some suggestions for some particularly tasty combinations. Make sure you clean and sterilize the jars or bottles you plan to keep the wine in, as you probably won't want to introduce any wild yeasts that might influence the flavor and integrity of your wine. I like to do the infusion in a Mason jar and then when I strain, I decant them into pretty bottles.
Basic Method
For every pint of wine, use approximately 1 ounce of dried herbs and/or spices. Put the herbs in the bottle or jar and pour the wine over. Cap this tightly and shake well. Store the infusing jars in a cool place, out of direct light. You'll want to keep them fairly handy, however, as they should be shaken up every day or so for 1-3 weeks. Depending on the wine and the combination of herbs and spices, it may only take a week or so for a delicious, subtly-flavored beverage. If you leave the infusions too long, they may be just too strong. After that, strain the herbs using a strainer and several layers of clean cheesecloth, and return to a clean jar or a bottle (like these with a snug cork top.) You can add some sugar or honey to taste, if you'd like, or a little brandy or other stronger alcohol to create a liqueur or cordial.
The wines should store for a few months if they are well-capped.
Herbal Infused Wine Recipes


Vanilla Rose Infused Wine
Sweet, white wine (a Riesling or Sparkling Wine)
1 ounce of organic rose petals
2 organic vanilla pods


Spicy Red Infused Wine
Full-bodied red wine (Cabernet, red blend, Syrah)
1 Tablespoon organic cinnamon chips
1 Tablespoon organic ginger root
1 teaspoon organic whole allspice
1 teaspoon organic juniper berries, dried
1 teaspoon organic whole cloves
1 teaspoon organic orange peel, dried


Honeysuckle, Yarrow & Boneset Infused Wine
Dry white wine (Pinot Gris or Pinot Grigio)
1 Tablespoon organic honeysuckle flowers, dried
1 Tablespoon organic yarrow leaf & flowers, dried
1 Tablespoon organic boneset, dried
1 teaspoon organic blue vervain, dried
When straining, use a few layers of cheesecloth or muslin. The herbs in this infusion get fine and fluffy and it may take a couple strainings to make sure the majority of the herb is separated from the wine! This is a rather bitter creation and works well as an apertif - a beverage best served before a meal to stimulate appetite.


Delectable Cacao Infused Wine
Dry or sweet white wine
2 Tablespoons organic roasted cacao nibs
1 Tablespoons organic cardamom pods
1 Tablespoons organic orange peel, dried
Salud!