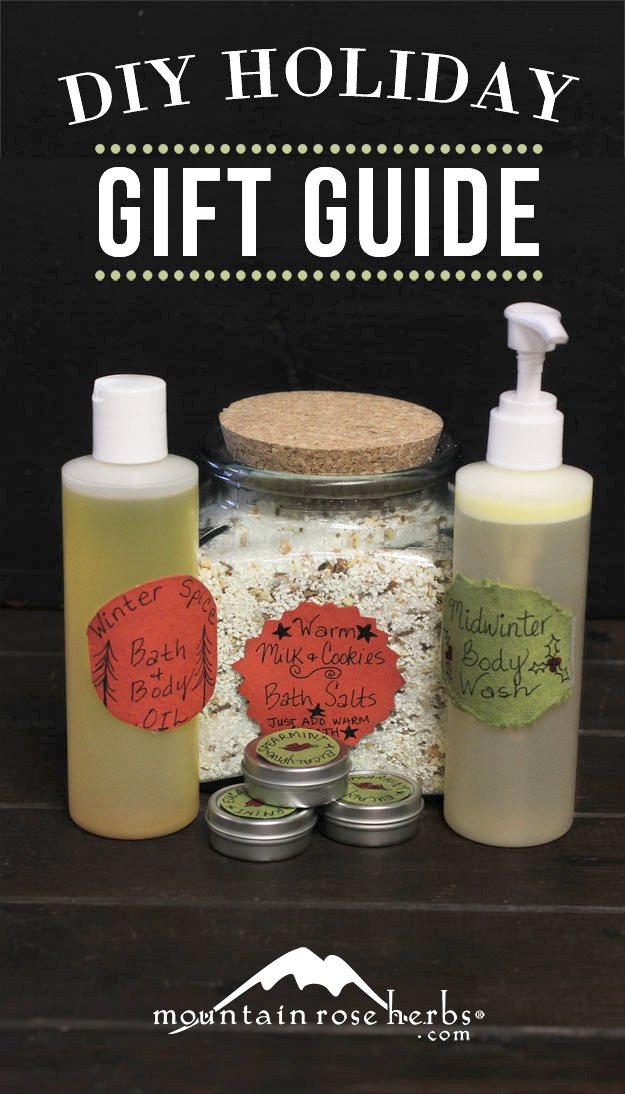 Creating thoughtful, hand-crafted holiday gifts doesn't have to be hard or complicated. I don't think of myself as a very craftsy person, but I do challenge myself to give those closest to me at least one handmade gift every year. Some years, everyone gets the same thing, while other times, I have the energy to make more personalized gifts for those on my list. These seasonally inspired gifts are easy to put together, not the slightest bit fussy, and perfectly-suited for the range of folks you have in your life. And the best thing? None of them have to be made far in advance, so you can spend one afternoon crafting these delightful and useful gifts and then put your feet up and enjoy a nice, hot cup of tea...
Spearmint & Eucalyptus Lip Balm
Ingredients
Directions
Have lip balm tubes, jars, or tins ready as this process will move quickly.
Melt cocoa butter, shea nut oil, baobab oil, and beeswax in the top of a double boiler over simmering water until combined.
Remove from heat and quickly stir in a few drops of Vitamin E oil and essential oils. Pour into tubes, jars, or tins and allow to solidify prior to use.
This recipe will make 1.5-2 ounces of lip balm, or the equivalent of approximately 10 tubes, 6 – ¼ ounce plastic jars, or 3 - ½ ounce tins.
Midwinter Body Wash
This body wash has a cool, crisp scent that isn't too overpowering. Not to mention, it is full of ingredients that are actually good for your skin during the drying winter months!
Ingredients
Directions
Combine all ingredients in a jar or bottle with a snug cap, close, and shake well. Our flip top plastic bottles or plastic bottles with the lotion pump work well and won't shatter in a slippery shower!
To use: shake to mix ingredients and then squirt onto a an ayate washcloth, loofah, or other washing implement. Lather and rinse.
Winter Spice Bath or Massage Oil
This amazing oil feels so good on the skin! It absorbs well without feeling greasy and the combination of scents is festive and invigorating.
Ingredients
Directions
Pour oils into an 8 ounce bottle (our flip top plastic bottles work well for this).
Add essential oils and carefully add 2 drops of Vanilla Absolute.
Vanilla absolute is rather thick, almost like honey or molasses, so it doesn't take very much.
Shake well to combine.
Drizzle a little of this oil in a warm bath or use as a massage oil.
Warm Milk & Cookies Bath Salts
This bath salt mixture looks as lovely as it smells and makes for a silky-scented bathing experience. Great for a foot soak too! The recipe mixes up in just minutes and is easy to multiply if you want to make a bunch to give as several gifts.
Ingredients
Directions
Combine the salts, milk powder, and dried herbs in a glass or stainless steel bowl.
Add essential oils and stir well to combine.
Store in a jar or bottle with a cap.
Add 1/8 to 1/4 cup of mixture to a cotton muslin drawstring bag, hang bag over faucet, and run warm water through for a soothing bath. You can also toss the bag into the water while you soak.
In the Kitchen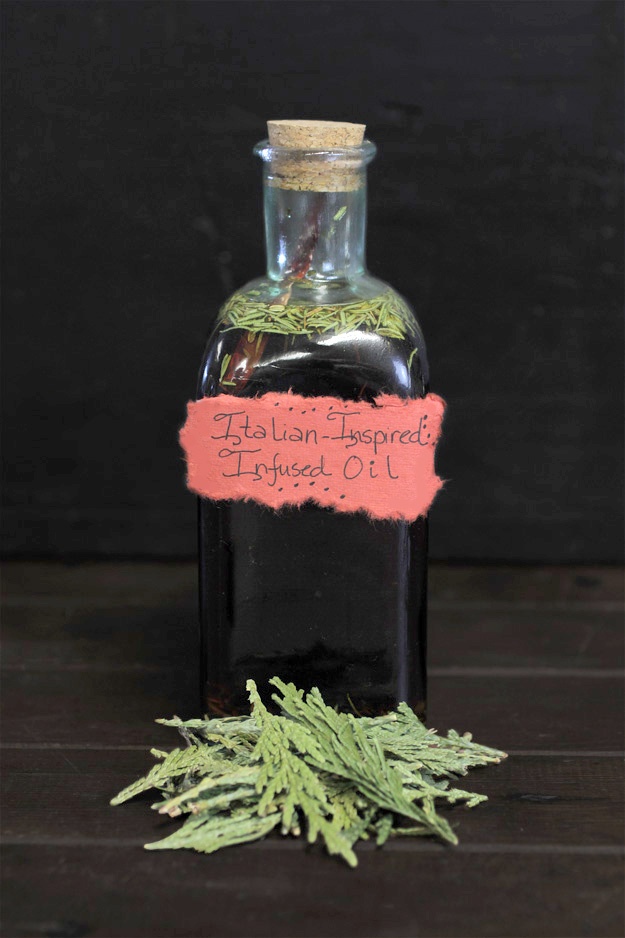 Italian-inspired Infused Oil
For the pizza and pasta lover in all of us - but you don't even have to be a cook! This infused oil is perfect for dipping a little crusty bread or using for a simple sauce over cooked pasta. Since this is made with organic pumpkin seed oil, it is best not cooked. Use in raw dishes or over already cooked food. Makes a wonderful drizzle for veggies or a salad dressing. Store in a cool, dark place or in the fridge. If you are giving as a gift, consider adding to a gift basket with a fresh loaf of bread and some homemade marinara sauce…
Ingredients
Directions
Put all the herbs into a glass jar or bottle, such as our medium or large cork top bottles.
Carefully pour pumpkin seed oil over and shake well to combine.
Let age in a cool, dark place for 1-2 weeks before using. You can also keep this in the fridge while it ages.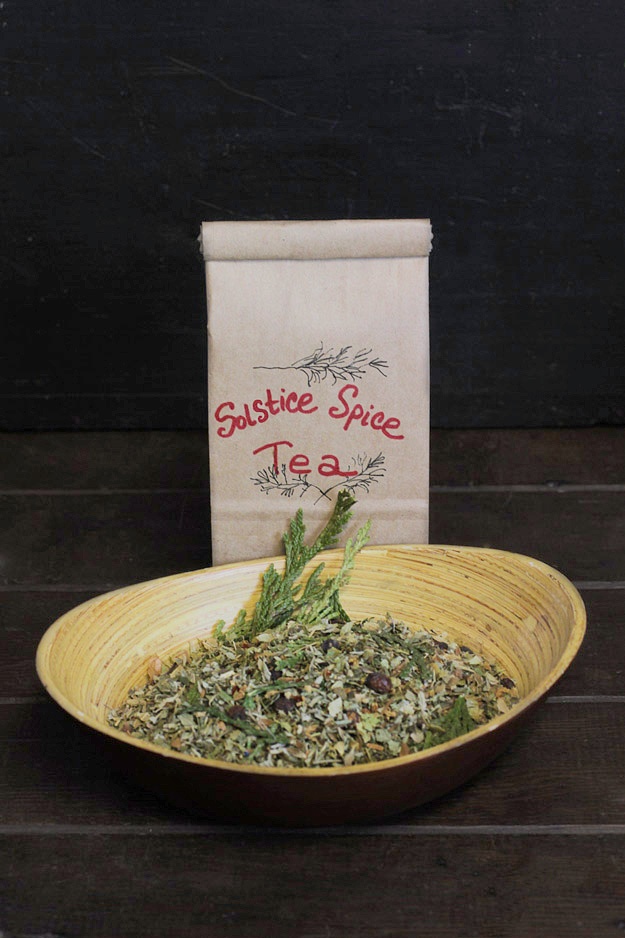 Solstice Spice Tea Blend
The recipe for this tea blend was inspired by the sights, sounds, and realities of the winter season.
Ingredients
Directions
Combine all the herbs in a bowl and mix well.
I like to crumble up the Cedar Leaf tips so they are smaller and incorporate into the rest of the blend.
This recipe makes about 2 cups of the blend.
Tuck into a tin or jar, or scoop into one of our lined tea bags for a thoughtful gift!
For more wonderful DIY holiday gift ideas:
10 Quick & Easy Homemade Herbal Gift Ideas
Revitalizing Solid Perfume Recipe