This blog was originally published in 2014, but we noticed it was a blog reader favorite, so we decided to update it for you. Enjoy!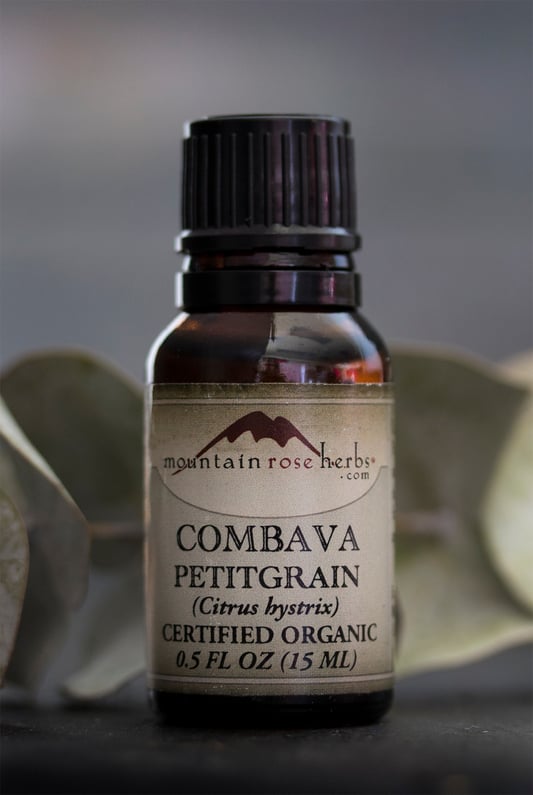 Combava petitgrain is a bright and uplifting essential oil that is distilled from the leaves and twigs of the Makrut Lime citrus bush, Citrus hystrix. This organic essential oil is used in fragrances and natural body care products. The oil has a soft, thick, citrusy scent with dry, woodsy back notes. It has a strong, long-lasting aroma, reminiscent of lemongrass and petitgrain.
The major constituent is the aldehyde citronellal, which leads to some of the notable properties in the oil. With anywhere from 58-82% citronellal, combava has a higher content of this constituent than citronella oil.
This oil blends well in fragrances and diffuser blends, and it can also be used as a substitute for citronella, lemongrass, and litsea cubeba oils. It blends well with citrus peel oils like bergamot or lemon, cedarwood, clary sage, forest-like oils like cypress or douglas fir, and frankincense, geranium, myrrh, rose, and sandalwood. This is not a complete list, merely a starting point for your blending creations.

Citrus Forest Diffuser Blend
Pleasantly surprising and uplifting, this blend is heavy on the citrus with a bright and green forest-like aroma.
Directions
Blend all oils together in a glass bottle, and allow to sit for at least 1 hour.
Test the blend, and adjust for personal preference.
Transfer to a reducer bottle for long term storage and easy dispensing.
Add a few drops in your favorite diffuser and enjoy!
Blending Tips
Vetiver essential oil is quite thick. If your bottle has a reducer insert, we recommend removing it and using a glass dropper to dispense the oil. The drops will be slightly larger than other oils, which is okay.
Want to learn more about blending?