Citrus essential oils are like liquid sunshine in a bottle. They are bright and sweet and sour, and known to bring a smile to your face. Organic citrus oils are energetically uplifting and engaging, and they pack a punch in DIY cleaning products. But which one should you use?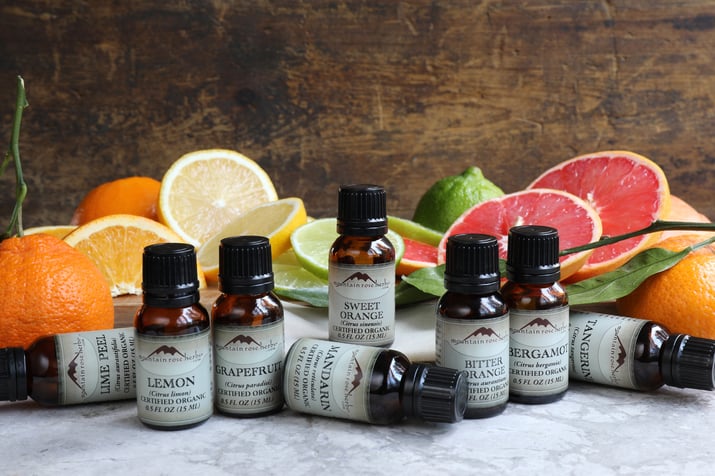 Organic citrus oils are cold-pressed from the fruit peel of various citrus trees. These lovely essential oils are mostly made up of the same constituents, but vary in the amounts that they contain. (+)-Limonene is the primary monoterpene in all of them, and contributes to their use in surface cleaners, room sprays, and soaps.
Blending Citrus Essential Oils
All citrus peel oils are considered top notes and evaporate quickly. When blending we recommend using a subtle base note like nutmeg or copaiba balsam that will not overpower the citrus aroma. You can blend citrus together to make a unique shiny scent. They also blend well with floral oils like lavender, other bright oils like peppermint or rosemary, and spice oils like cinnamon or clove.
Storage and Shelf Life
Because of their cold-pressed nature, citrus oils do have a shorter shelf life than most essential oils. We recommend using them up within 1-2 years of purchase. They can be stored in the refrigerator to increase the life of the oil. Due to the (+)-Limonene content, these oils can also oxidize quickly. Oxidized oils can cause skin sensitization and should not be used topically.
Introduction to the Citrus Oils
With so many oils to choose from, we always recommend using your nose. With citrus, it is good to know if you prefer sweet or bitter, sour, or sugary. They are all slightly different, and using an oil that you like is usually best. Notes below contain aroma descriptions, major constituents, and notes on phototoxicity. Before using these oils in recipes or your own creations, be sure to check out our dilutions and conversions guide!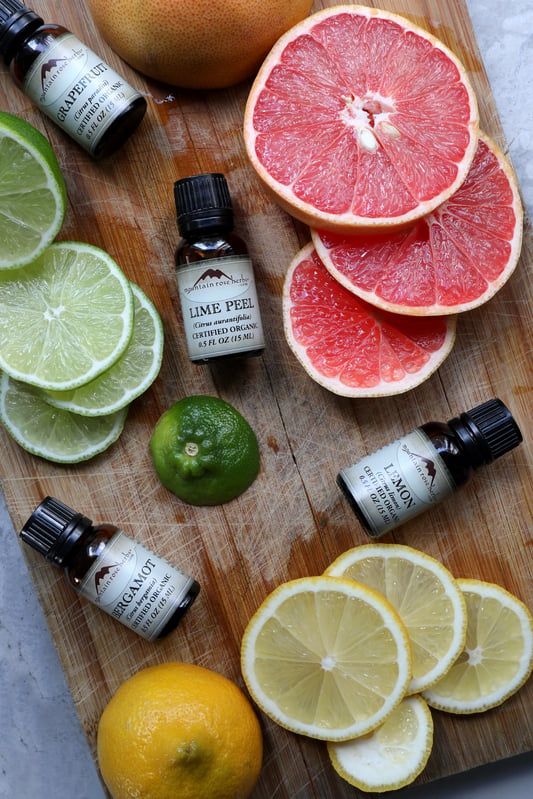 Organic Bergamot essential oil
Botanical Name: Citrus bergamia
Aroma: Dry citrus that is bitter and slightly sour with subtle floral top notes.
Appearance: Clear or colorless.
Uses: We love bergamot in soaps and room sprays. It is mostly used for fragrance.
The bergamot oil that we offer is bergaptene-free or furanocoumarin-free. This constituent is extremely phototoxic, and removing it provides a safer oil. Because the bergaptene is removed from the oil, it is generally considered safe. Bergamot contains up to 45% (+)-Limonene, 28% Linalyl acetate, and 20% Linalool.
Botanical Name: Citrus paradisi
Aroma: Fresh and tangy citrus that smells like cutting into a juicy grapefruit.
Appearance: Translucent yellow.
Uses: Grapefruit is great in fragrance and diffuser blends, and packs an extra punch in surface cleaners.
We love white grapefruit essential oil! It is perfect for those who prefer a slightly sour citrus. Grapefruit is mostly made up of (+)-Limonene, containing up to 95%. It is considered a low risk phototoxic oil and should be avoided topically if going out in the sun.
Botanical Name: Citrus limon
Aroma: Slightly sugary citrus that has strong sour notes characteristic of a fresh lemon.
Appearance: Translucent yellow.
Uses: Lemon is a classic addition to DIY cleaning recipes and useful for sticky messes on the counter.
A more well-known citrus oil, lemon has a bright fresh scent. It contains up to 76% (+)-Limonene, 17% β-Pinene, and 13% γ-Terpinene. Another low risk phototoxic oil. There is distilled lemon oil available. It is colorless and has a much sweeter scent than a cold-pressed oil. Distilled citrus peel oils are often used for fragrance blends.
Botanical Name: Citrus aruantifolia
Aroma: Tart, sour citrus that has a fresh and bright top note.
Appearance: Translucent yellow-green.
Uses: With a complex aroma, lime is best saved for room sprays and diffusion.
Another favorite for those who like a sour citrus. Mexican-type lime oil contains up to 48% (+)-Limonene, 21% β-Pinene, and 8% γ-Terpinene. There is also a Persian-type lime oil available that is pressed from Citrus latifolia. Lime oil is phototoxic and should be avoided topically if spending time outside. Similar to lemon oil, there is distilled oil on the market that is clear in color and very sweet and candy-like in aroma.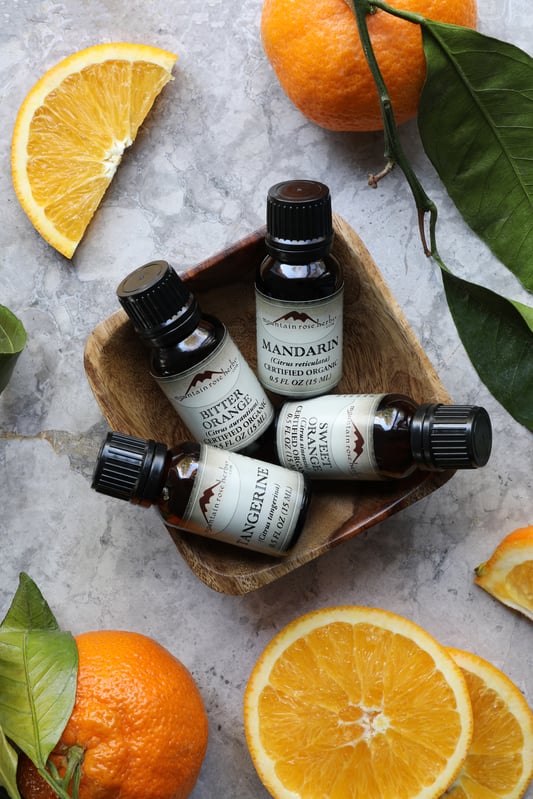 Botanical Name: Citrus reticulate
Aroma: Light, fruity citrus that is slightly sweet.
Appearance: Dark burnt orange to amber.
Uses: This subtler citrus is lovely in body sprays and skin care products.
Mandarin is a perfectly balanced citrus that is not too sweet and not to sour. Our red mandarin essential oil contains up to 74% (+)-Limonene, 22% γ-Terpinene, and around 2% of both β-Pinene and α-Pinene. The furancoumarin content is not sufficient enough to be phototoxic, making this oil generally considered safe for use.
Botanical Name: Citrus sinensis
Aroma: Sweet and bright sugary citrus.
Appearance: Translucent orange.
Uses: Sweet orange is the classic citrus found in cleaning products. It is also found in a lot of bathroom sprays for its sweet and refreshing scent.
This quintessential citrus is by far the most well-known. It is sweet and sugary with no sour notes. Our American-type oil can contain up to 95% (+)-Limonene! Followed by β-Myrcene and α-Pinene. There are no known precautions and sweet orange oil is not phototoxic.
Botanical Name: Citrus aurantium
Aroma: Dry citrus that has bitter top notes that complemented by a faintly sweet base.
Appearance: Almost colorless, pale yellow.
Uses: Another great citrus oil for cleaning products. Bitter orange is not as widely used as other citrus oils, but still a joy to have around.
Bitter orange is a drier citrus that seems subdued compared to some of the bright oils like sweet orange and lemon. It can contain up to 94% (+)-Limonene, 2% β-Myrcene, and 2% Linalool. It is a low risk phototoxic oil.
Botanical Name: Citrus reticulata
Aroma: Sweet bright citrus that is orange-like but not as sugary.
Appearance: Translucent dark orange.
Uses: Tangerine is mostly used in fragrance and diffusion. It is safe for body care products as well.
The tangerine is a type of mandarin and they share the same botanical name. However, tangerine oil has a stronger sweeter scent than the red mandarin that we offer. Tangerine oil contains up to 91% (+)-Limonene, 4.5% γ-Terpinene, and 3% β-Myrcene. It is not considered phototoxic.
Looking For More Aromatherapy Tips?



References: Constituent and phototoxic notes
Tisserand, R. and Young, R. (2014) Essential Oil Safety Second Edition.