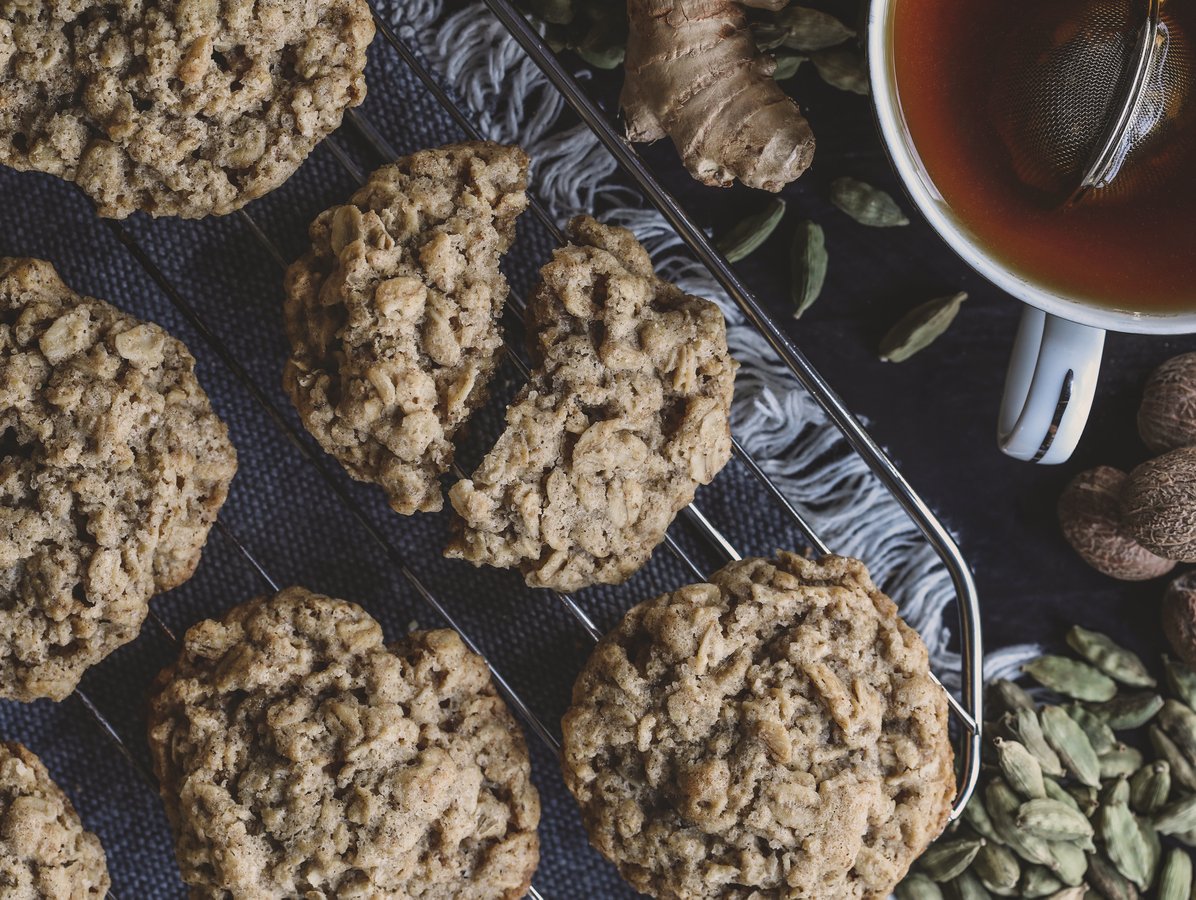 A slightly different version of this delicious chai spice oatmeal cookie recipe has been floating around Mountain Rose Herbs since at least 2012 when someone adapted it from a white chocolate oatmeal cookie recipe they found online. The first time I made these chai-inspired gems, I loved the spice mix and oat combination, and the amount of sugar was just right, but the texture was seriously off by my standards. Cookie texture is of course a matter of preference; by my taste, the cookies were dense instead of tender and they were too dry. I wanted the flavor of the chai spices, but also a moist, chewy cookie with great mouthfeel. I was trying to decide how I wanted to alter the recipe—cut back on flour, add more moisture maybe. There were a couple different ways to address this, but I wanted to stay as true to the original as I could, so I started to track the recipe history to find the right fix. Recipe detective work is one of my food-nerd joys.
The chai spice cookie author (bless you, whoever you are) left a note that they adapted this recipe from one they found at Smitten Kitchen. So I went to that recipe, written in 2008, and found that our mystery author had simply removed six ounces of chocolate and replaced it with powdered spices… which accounted for the dryness of the cookies, but didn't give me the clue I was looking for to make the perfect recipe fix.


Reading more closely, I found in the fine print of the Smitten Kitchen recipe that that author had in fact adapted it from an even older, classic chewy oatmeal raisin cookie recipe by Cooks Illustrated (which you can't get from Cooks Illustrated unless you subscribe, but the recipe is all over the internet). The proportions in the original are dramatically different (and way too sweet for my taste), but there I found the clue I was seeking! The Cooks Illustrated test kitchen chefs were using one egg for every 3/4 cup of flour. The Smitten Kitchen recipe had reduced the sugar significantly (good move!) and changed that flour-egg proportion to one egg for every one cup of flour, which made sense because they were adding white chocolate. But when the white chocolate was removed in favor of delicious chai spices, no one compensated for the loss of moisture. Now that I understood the problem, the fix was obvious.
The fix: Add an extra egg yolk. Voila!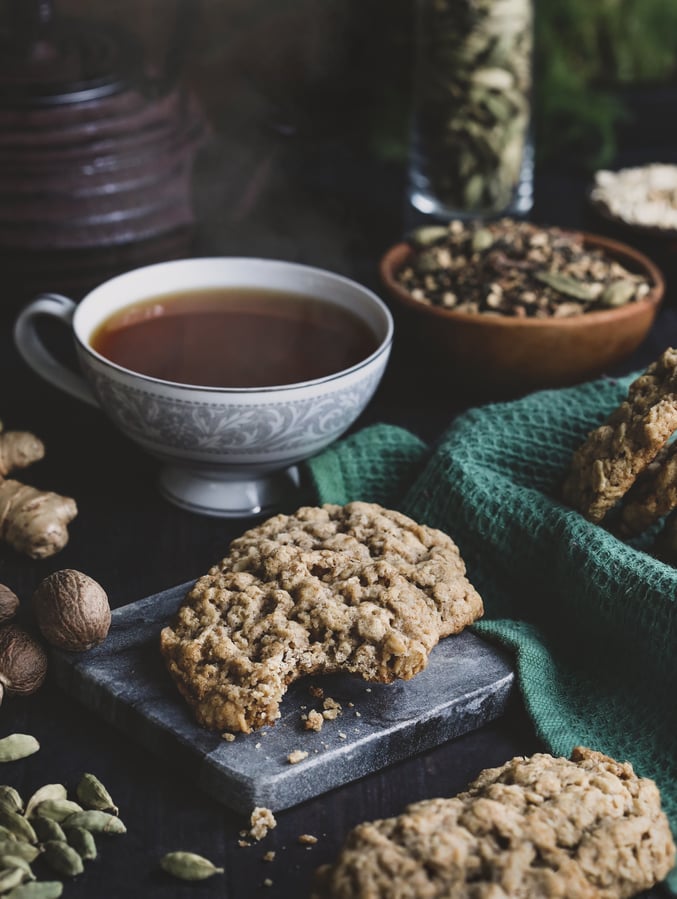 Oatmeal Cookies with Chai Spices + Vegan Oatmeal Cookies Option
Makes about 2 dozen cookies.
Ingredients
Directions
Preheat oven to 350

°F

.
Thoroughly whisk together flour, baking powder, baking soda, salt, cinnamon, cardamom, ginger, clove, and nutmeg. Set aside.
Whisk together egg and egg yolk. Alternatively, mix together ingredients for vegan flax eggs. Set aside.
In large bowl, beat together butter or vegan butter substitute with both sugars until completely blended and creamy.
Thoroughly beat in eggs or vegan flax eggs mixture.
Beat in vanilla extract.
Mix dry ingredients into butter/sugars. *If you are using flax eggs, this is best done by hand.
Mix in oats half at a time until well combined. Dough will be very thick and just a little sticky.
Measure out 2 tablespoons of dough and roll into a ball with your hands. Repeat with remaining dough.
Place balls about 2 1/2 inches apart on lined baking sheets.
Bake about 7 minutes, rotate the cookie sheet 180 degrees, and bake until edges are golden brown, another 6-8 minutes.
Transfer baking sheet to wire rack and let cookies cool on sheet for 5 minutes.
Transfer cookies to wire rack and let cool completely (although warm oatmeal cookies are delicious, just saying.)
Pro Tips
You may be asking, "Why not add a whole extra egg instead of just a yolk?" Egg yolks makes richer, softer baked goods, whereas egg whites make a lighter, airier end product. In this case, I wanted more of what yolks offer.
The cookies made with flax eggs may be more brown than golden-brown on the edges when done.
How to Make Vegan Flax Eggs
Flax eggs are not a great choice for egg-heavy recipes, but they are a wonderful option in cookies like these that only require one or two eggs.
Ingredients
Directions
Put flax seed meal in a small bowl.
Pour water over and mix.
Let sit about 15 minutes, until goopy/gelatinous.
Looking for more delicious cookie recipes?
You may also enjoy: