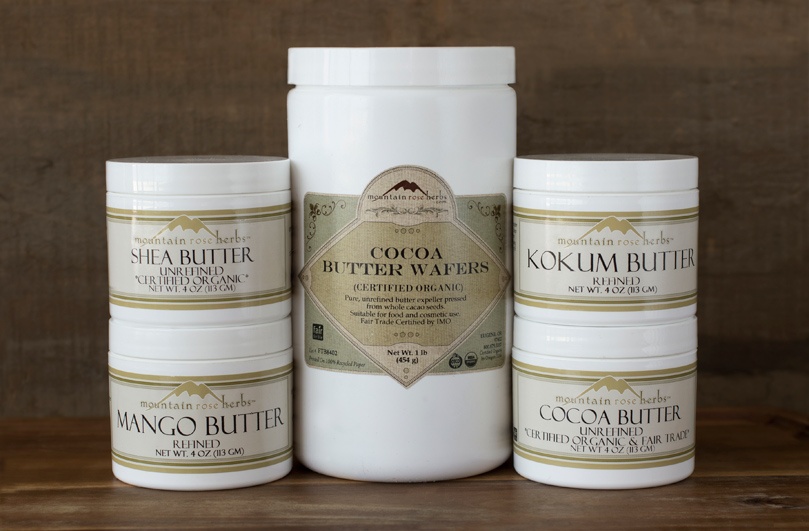 High quality botanical butters are luscious plant fats that make ideal conditioning ingredients in all sorts of body care recipes, giving your creations a wonderfully creamy, smooth, and dense viscosity. Pressed from the seeds of a variety of plants, butters are solid at room temperature, which makes them great for thickening up body care recipes such as lotions, skin creams, body butters, lip balms, lotion bars, and hair conditioners. The skin nourishing elements and the lovely melt factor at body temperature makes these ingredients the perfect base for natural deodorant and other natural body care recipes. All of the butters we offer can be easily exchanged for one another in recipes depending on your preference, making them versatile go-tos in your cabinet.

Things to consider...
Color:
The color of the butter you choose will change the appearance of your recipe. Some butters are white, while others have a more yellow or cream color to them. If you are hoping for a light white result, I would recommend sticking with shea and/or mango butter.
Smell:
All pure botanical butters have mild aromas in the realms of nutty and fatty, and some can sneak through essential oil blends more easily than others. Cocoa butter for example leaves a sweet chocolate aroma in recipes, so keep this in mind when blending essential oils. Shea butter aroma can vary by season and crop, when it is strongest it has a sweet, nutty, almost earthy aroma that can be difficult to completely mask with essential oils. Mango butter on the other hand, has a very light aroma and is perfect for recipes where you want your practice in aromatherapy to really shine through.
Consistency:
The texture of a pure botanical butter is solid at room temperature - ranging in density from quite hard to scoopable. Many folks think of butters as already whipped, soft, and easy to spoon right out of the jar. However, hard butters like cocoa butter and kokum butter will need to be melted down in a double boiler in order to easily measure out quantities for use. If you prefer to use cocoa butter, but don't want to deal with this step, you can use our cocoa butter wafers for easy measuring. Each wafer equals roughly one teaspoon and they are super easy to store. All of the butters we offer begin to melt at body temperature, some more quickly than others, like shea butter, which melts so quickly it can easily be used directly on the skin - no need for fancy recipes.
Refined vs Unrefined:
The butters you find on the market can be refined or unrefined. These refinement processes vary and are often used to eliminate the natural color and deodorize the smell of the butter, making them more neutral. Most of the butters we offer are unrefined, meaning they can sometimes contain natural sediments due to minimal processing. You might see this sediment (little plant parts from pressing) appear on the surface of the oil after the butter is melted. Straining the oil through cheesecloth can be helpful in eliminating those bits.
Ready to start creating?
Find a collection of pure butters in our shop: