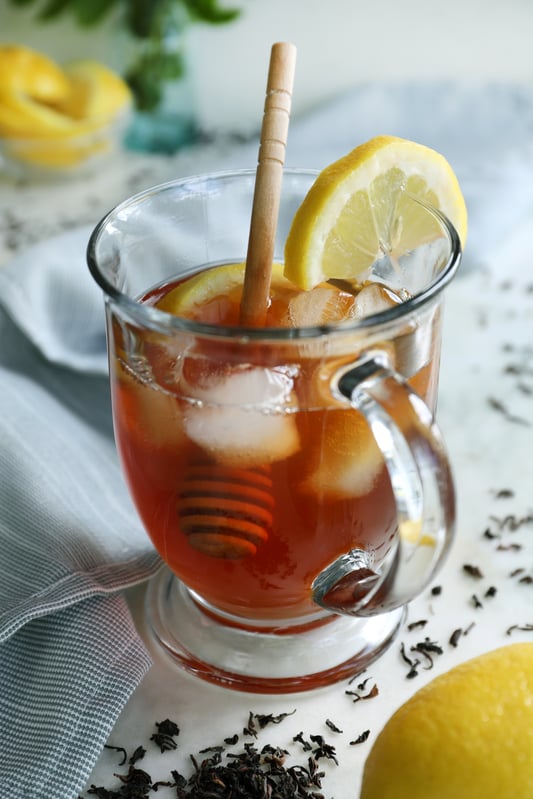 Spring is here, and we can feel the summer sun hot on its heels! What better way to toast the arrival of these warmer months than with cool and delicious iced teas? (June is the month for National Iced Tea Day, after all!) I like to keep a pitcher or two in my refrigerator, both for flavor variety and so that I opt for caffeine or caffeine-free, depending on my needs.
Caffeinated Iced Teas
Iced black tea is wonderful for sipping in the afternoon. I find that Darjeeling tea and Assam tea are especially excellent black tea choices to serve over ice. Iced black teas are especially delicious with the addition of simple syrup for added sweetness. There is a huge variety of herbal simple syrups you can make, but organic rose flavored simple syrup is my personal favorite pairing for black tea. Use our recipe for love tea simple syrup as a starting point! For other simple syrup variations, experiment with rosemary, lavender, cinnamon, or star anise. These will keep for up to one month when stored in the refrigerator.
If you prefer caffeinated iced tea but are going for a sweeter and subtler flavor, Kumaon white or white peony teas will cool down nicely. White teas have a delicate natural sweetness, are highly refreshing, and blend well with light citrus juices and herbal syrups!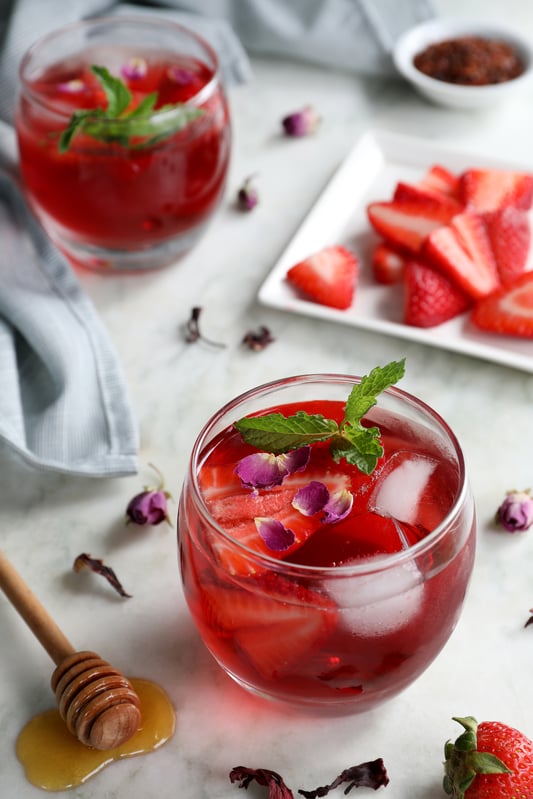 Caffeine-Free Iced Teas
Want a botanical cooler without the buzz? Any of our wonderful caffeine-free and organic herbal tea blends are delicious iced, either on their own or in sippable combinations.
Mint beverages are delicious and cooling in hot weather. Our mint tea blend takes the chill factor up a notch, combining organic mint leaf with peppermint extract. At home, I like to blend equal parts of either peppermint or spearmint leaves (whichever I happen to have handy) with sage leaves for a sublimely refreshing iced tea.
Another blend that I often enjoy is a deep red homemade herbal tea blend of hibiscus, rosehips, and rose petals (rose buds left whole or broken up work too!). I am not big on precise measurements when making tea blends for myself—usually, I'll just use my eye to measure equal parts for most herbs.
Looking to keep it simple? Brewing single herbs such as Krishna or Rama holy basil, helichrysum flowers, or lycii (goji) berries helps you to enjoy their simple flavors. Iced teas can be a great way to enjoy the healthful properties of herbs that stand up better to cold infusions than to hot ones, such as the delicately flavored marshmallow leaf.
Iced Tea Lattes
Many of us enjoy a little creaminess in our iced beverages, and its easy to create your own tea lattes by blending your milk of choice with our true or herbal teas. Either of the black tea recommendations above make for a delightful Thai iced tea when combined with condensed or coconut milk and a bit of sweetener! If you haven't tried our super-simple iced matcha latte recipe, I highly recommend adding this quick and tasty treat to your summer menu. I personally enjoy blending iced tropical guayusa with a little canned coconut milk for a drink that puts me on island time!
PRO TIPS FOR MAKING ICED TEA:
Brew your iced tea a little stronger than you would if you were going to enjoy it hot, since the ice will water down the tea infusion and its flavor.
Some heat is required for the initial brewing, and this can be done either on the stove top or as a sun brewed tea. Sun teas take more time but less work to make, requiring three to five hours in direct sunlight to properly infuse.
Once your tea has brewed and cooled, store in the fridge for optimal shelf life and consume within a week or less.
WANT ANOTHER COOL TREAT FOR THE HOT SUMMER MONTHS?
You May Also Be Interested In: