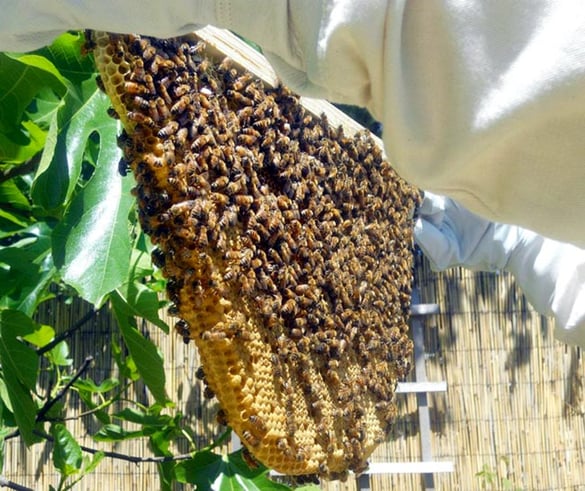 We are three weeks into our new adventure as beekeepers. My amazement every time I peek in the hive, or the saucy pride I feel when I notice some of our bees working away on lavender, kale, and fruit tree blossoms has yet to wear off. At this point, it is hard to imagine I will ever take these hardworking little honeybees for granted!
As a beginner (and I mean brand new, never-before, only-read-a-bunch-of-books novice), my first obsession was simply getting the bees to stay. I wanted to make sure our home-built hive was as hospitable as possible and that the new bees had everything they needed to get off to a good start.
We started by preparing our hive—since we built a Kenyan Top Bar beehive, we needed to make sure that each of the 28 bars was an obvious choice where the bees would know to attach their combs. We melted about 4 ounces of beeswax pastilles over low heat, and dipped lengths of hemp string we'd precut to be just a tad smaller than the bars into the warm wax. We then just pressed the string along the length of the bar. This way, the bees would have a guide from which to attach the combs they'd be building from scratch! For added hospitality, I sprinkled a handful of beeswax pastilles along the bottom of the hive and shook several drops of lemongrass essential oil at each end of the hive. We did this a week or two before we got our bees, so the hive was ready and waiting.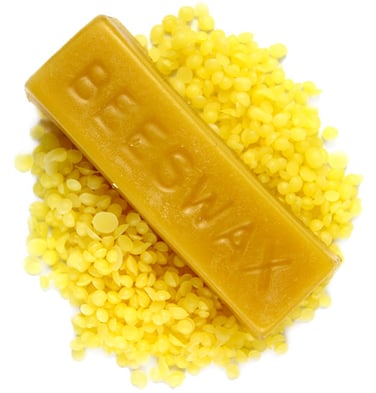 Herbal Bee Tea
Amidst all my pre-bee research, I came across the Spikenard Farm Honeybee Sanctuary (www.spikenardfarm.org) in Virginia. They are a wonderful resource for organic beekeeping and bee health information. There is a "Healing Tea for Honeybees" created at Spikenard Farm that I adapted for our Pacific Northwest bee scene:
(I used a mix of dried and fresh herbs and flowers, but you could use all dried or all fresh):
Heat 3 cups of water to boiling
Prepare a tea mix:
½ teaspoon organic dried chamomile
½ teaspoon organic dried yarrow
½ teaspoon organic dried nettle
½ teaspoon organic dried peppermint
¼ teaspoon organic dried sage
2 fresh Dandelion flowers
½ teaspoon organic fresh or dried hyssop leaves
½ teaspoon organic fresh or dried thyme leaves
2-3 big, organic fresh or dried lemon balm leaves
Put all of the herbs into a large tea infuser (you could use cheesecloth or simply put them in a jar and then strain them after steeping) and pour 3 cups of boiling water over. Let this steep for 10-15 minutes. Then, add 3 cups of cold water. You will find this is a surprisingly strong smelling infusion! Check out the original recipe for other herbs you can add to the tea.
Once it has cooled to room temperature/lukewarm, stir in 1 cup of high quality, organic, local honey. I put a quart of this in a chicken watering container and filled the tray with little rocks, but you could definitely use a quart-sized bee feeder too (store the remainder in the fridge and use if/as needed.) The idea is to put the tea out where the bees can take it if they need it and use in times of stress—new colony and hive, early in the season, late in the season, etc. I left it out for about a week until it seemed like the bees were doing just fine and had plenty of nectar and pollen to forage for.
At this point, our bees seem to be going strong. We have been going in for a visit each week and have watched as they built the initial combs, the queen started laying eggs, and things have progressed to several full combs, hundreds of capped brood, honey and pollen deposits, and what looks to be an expanding operation! I love the faint smell of honey as I walk by the hive on warm, sunny days and the steady whirring buzz of all those bees working away inside. And don't even get me started about how fun it is to watch those bees clamber all over our garden plants and then speed off back to our hive!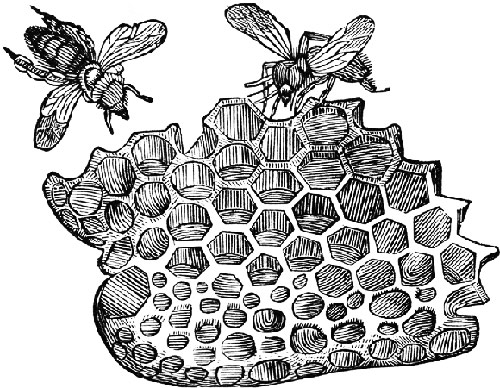 ______________________________________________________________________________
About Kori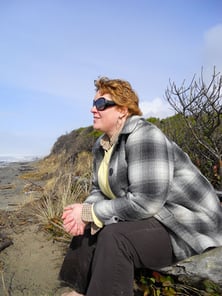 This post comes to us from Kori, our Public and Media Relations Coordinator! A West Coast native, Kori is a seasoned nonprofit activist and community organizer. Having launched six adult kids, she spends her free time in her burgeoning organic and very urban "farm"—taming Heritage chickens, building top-bar beehives from reclaimed materials, baking, brewing, and preserving.