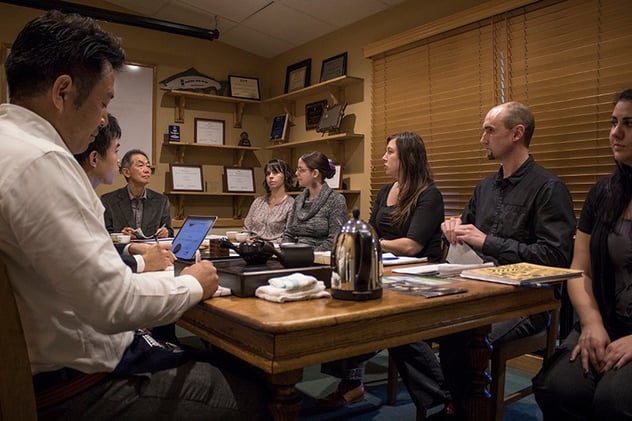 A "Farm To Table" Tea Meeting
In November, we had the great honor of hosting a delegation of tea marketers and producers from Eugene's Sister City of Kakegawa, Japan. The group carefully prepared and served Fukamushicha (deep steamed green tea) for members of the Mountain Rose Herbs team.
We were impressed by the beautiful and careful process taken to brew the Fukamushi Kakegawacha green tea by one of the very tea producers who grows this tea in Japan. What a pleasure! These tea producers used traditional Japanese tea brewing tools and methods so that all the delicate flavors and nutrients were preserved.
The tea itself was a heady rich brew: minimally astringent with a delightful fresh, green flavor and hint of umami. Kakegawa is one of the top green tea producing regions with an ideal growing environment and climate. The tea we tasted is called "Fukamushi Kakegawacha," a deep-steamed green tea with a dark green color. It has a naturally sweeter taste compared to other astringent green teas.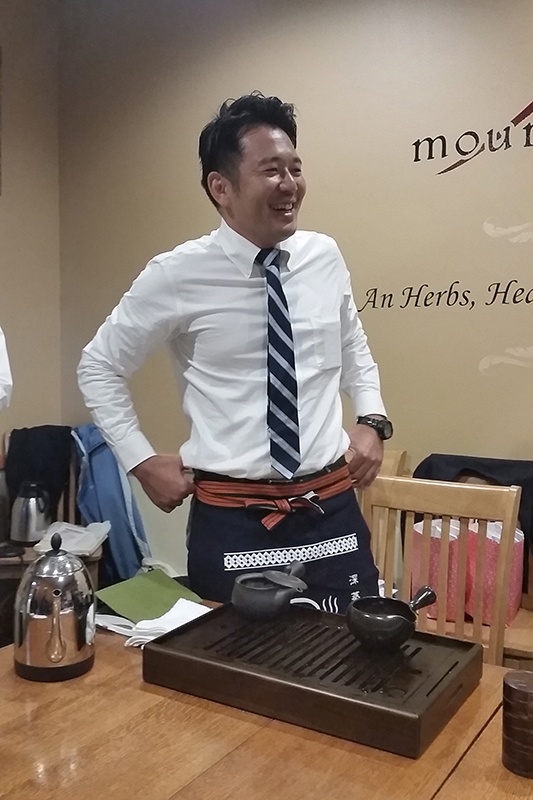 Sustainable Tea Cultivation in Japan
We learned about their traditional cultivation process. The tea plants grow in full sun and after harvesting, the tea leaves are steamed two or three times longer than other teas. This extra steaming breaks down the fibers, thus helping the body absorb the leaves which contain beta-carotene, vitamin E, and chlorophyll.
Green tea farmers handpick the delicate leaves and use a tea-grass integrated system that supplies mulch to the fields and improves the tea quality. Their unique process merited status by the Globally Important Agricultural Heritage Systems, a program established by The Food and Agriculture Organization of the United Nations in 2002 to conserve traditional agricultural practices that are declining due to effects of globalization, decreasing biodiversity, and increasing human populations.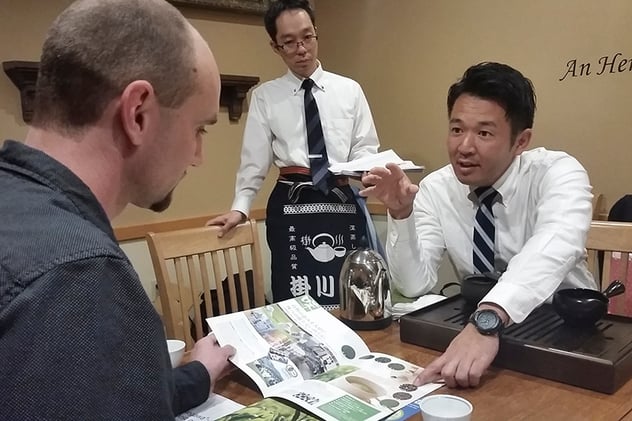 Sister City Exchange for Cultural and Business Enrichment
We were struck by the similarities between our sister cities; Eugene & Kakegawa both have a gorgeous natural setting and are very green and inviting. The visit was organized by the Eugene Kakegawa Sister City Committee. For 37 years, the volunteer group has been helping coordinate the exchange of delegations and home stays between Eugene and Kakegawa. The committee also promotes events and activities which lead to greater understanding between people from the U.S. and Japan.
It was wonderful to meet the with the Kakegawa delegation, and we are extremely grateful to the City of Eugene and the volunteer committee for coordinating the visit. We hope the sister city ties are furthered by both cultural and business exchange.
Learn more about Mountain Rose Herbs' green tea selection and our sustainability efforts!