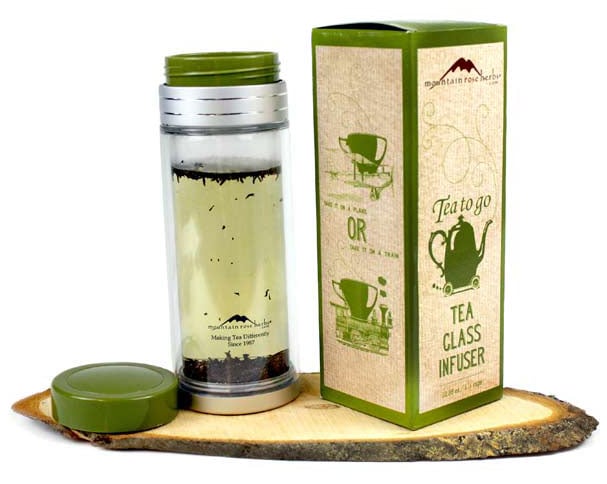 We are excited to bring you our new Tea-To-Go Tea Glass Infuser featuring the Mountain Rose logo!
Whether on a train or a plane, a hike or a bike, this BPA-free Tea Glass Infuser is the perfect way to take loose leaf tea on the go! So easy to use, this 12.85 oz (1.5 cup) travel infuser keeps your hands cool and your tea hot. Each glass has a durable poly exterior, glass interior, and comes with a leak proof removable stainless steel screw-on tea strainer and water tight screw-on lid.
To brew a perfect cup, remove the lid and stainless steel strainer, add 1-3 teaspoons of your favorite tea, carefully add hot water, and replace the strainer and lid. Once the tea has reached your preferred brew (usually 1-2 minutes) remove the lid and enjoy through the strainer, keeping the tea leaves in the glass and out of your mouth. This is an especially wonderful way to steep herbal tea blends, but if you're worried about over brewing your green or black tea, simply use less tea leaves or water that's not as hot.
Whether you enjoy Black Tea, Green Tea, Red Tea, or one of our handcrafted Herbal Teas, the Tea-To-Go Tea Glass Infuser is the perfect vessel to take your favorite brews with you on daily adventures!
A practical and playful gift for yourself or for a dear friend...