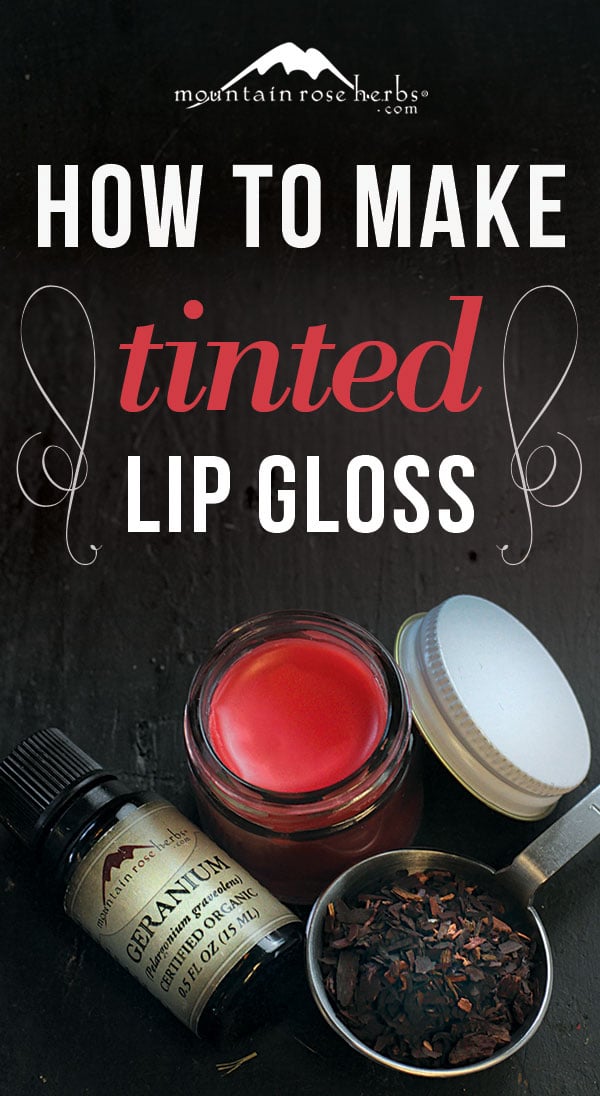 Many of us au naturale gals forgo sticky chemical lipstick for a nice homemade lip balm. While always soothing and moisturizing, sometimes a little pop of color strikes your fancy and you want a hint of rosy tint. Thankfully, it is surprisingly easy to make a gorgeous pot of red lip gloss with a few simple ingredients.
Alkanet root has traditionally been used as a dye plant for fiber arts, soaps, cosmetics, wood stains, and was even employed in the past to give cheap wine a deeper garnet color so it would appear to be higher quality (although, alkanet is not recommended for internal use as a food dye). This incredible color from the root is easily drawn out by oil, making it the perfect herbal choice for lip balms, gloss, and lipstick!
While this recipe won't color your lips, it will provide a silky shine with a natural pink to red hue that will make your kisser look and feel fantastic. I used a little geranium essential oil in this recipe because it has a lovely rose-like scent and is great for all skin types. However, you should feel free to experiment with your favorites if floral isn't really your thing. I would recommend peppermint, sweet orange, or lavender essential oil as some other good options. Okay, let's make some lip gloss!
DIY Tinted Lip Gloss

Ingredients
3 Tbsp organic macadamia nut oil infused with alkanet root
1 Tbsp organic cocoa butter or 3 organic cocoa butter wafers
1 Tbsp plus 1 tsp grated beeswax or beeswax pastilles
15 drops organic geranium essential oil
a few drops of vitamin E oil (optional)
Directions
In a double boiler, gently heat 1 Tbsp alkanet root in 1/3 cup macadamia nut oil until the oil turns red. You can make it as dark or as light as you like. Strain into a clean jar. Using the measurements above, place beeswax, butter, and oil in the top of the double boiler, heat, and stir until melted together. Remove from the stove top and stir in the essential oil and vitamin E oil. Immediately pour the mixture into lip balm containers or clear glass jars. Allow to cool before capping. Makes 10 lip balm tubes or three 1/2 oz jars.