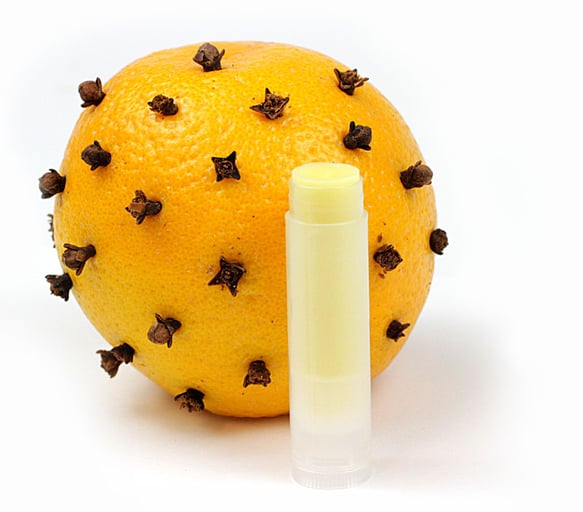 Sweet oranges studded with whole cloves are hung in houses for their wonderful scent or tossed into pots of bubbling cider this time of year. The perfume they emit reminds us of fire-warmed homes filled with family and friends. Traditionally, what we now call pomanders, were mixtures of aromatic herbs and resins kept in glass vases or lockets and used to purify the air or to protect against sickness. Today people carry on the custom by decorating oranges with cloves and allowing them to dry out. The fragrance can last for several years and may be stashed to freshen winter linens.
If you are looking for a great last-minute gift for the holidays, lip balm is always a great choice. Who doesn't love lip balm? This recipe is a special celebration of the season with sweet and spicy notes and a creamy, soothing consistency that anyone can enjoy.
Pomander Lip Balm
Ingredients
Directions
Coarsely chop the beeswax or use beeswax pastilles.
Place beeswax, butter, and oils in a small pot or glass Pyrex measuring cup and gently heat in the top of a double boiler until the beeswax and butters have melted.
Remove from the stovetop and add essential oils and Vitamin E Oil.
Immediately pour the mixture into lip balm containers.
Allow to cool completely before placing caps onto the lip balm containers.
Your lip balm is finished! Makes approximately 10 lip balm tubes.