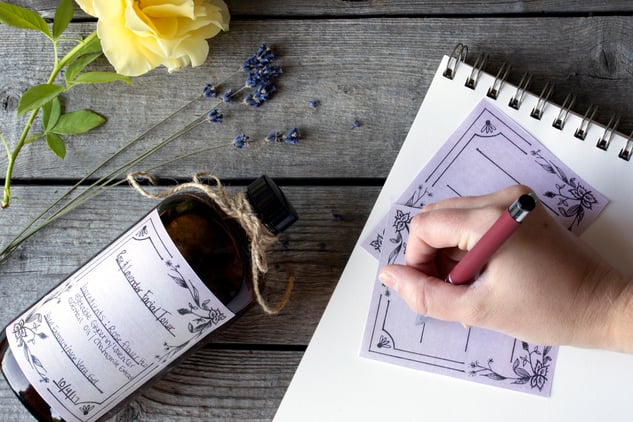 While crafting your own remedies and aromatherapy blends for your home apothecary can be fun and rewarding, there's a simple but easy-to-forget step that can leave you with a cupboard full of unused mystery bottles. Don't let your creations become dust-collectors (or worse … a safety hazard) and properly label what's inside.
Once you've bottled your herbal concoction, be sure to affix a label to each vessel with as much detail as possible. You'll be so happy to have this information to play with next time you tincture/infuse/blend the same ingredients. Don't lean on your sense of taste or smell alone—regardless of how well-honed your organoleptic skills may be, tinctures can trick even the most experienced herbalist. For some herbs (like arnica) that aren't safe for internal use, experimenting by tasting your creation later can be downright dangerous!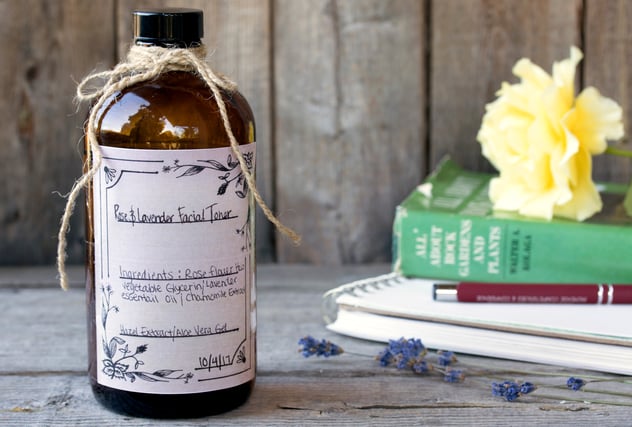 Make Your Own Labels
You don't need fancy labels to be effective. We sometimes use masking tape or painter's tape, which is inexpensive and easy-to-remove. Many office supply stores will carry waterproof labels that hold up nicely over time. For a prettier option, feel free to get creative with labels from your local craft store.
(You can also download our template to print your own labels at home!)
Important details to note on your label depends on what you're crafting, but some of our favorites include:
Common name – a must!
Latin name – while not essential, this can be a great way to learn the Latin names. Different plants can have a shared common name, but the Latin name is always a distinct identifier and a nice-to-have addition to your labeling.
Part used – essential for safety reasons.
Fresh/Dried – this can help you recreate the same recipe next time.
Ratio (i.e. 1:2 or 1:5) – noting the herb to liquid menstruum ratio can also help you mimic the same blend in the future.
Alcohol % – a must when using alcohol as the menstruum.
Habitat/Source – if you're wild-harvesting, we encourage you not to get too specific with your notes; prevent over/improper harvesting by being a bit vague. For example, a good note would be "Coniferous woods 2,000 feet elevation" rather than "Off Highway 58 at milepost 13 and up Forest Service Road 383, go 2 miles, on the right hand side."
Date when made – necessary for recipes with multiple steps, so you know when the herbs need to be strained. It's also helpful for tracking shelf life.
Dosage – optional.
Ingredient list – very nice to have, especially when trying to replicate the recipe at a later date, and an important safety precaution.
External use – a MUST if this is a product not to be ingested!
If you don't want all of the details on the bottle itself, you can keep a journal noting the above information with a number next to each entry. Then, simply put the lot numbers from your journal on each bottle and refer back to your journal, as needed.
Once you've affixed the label to your container, most homemade products benefit from being stored out of direct sunlight, in a moisture-free environment with an even temperature (no temperature fluctuations), in amber glass bottles.
Want to make your own labels?

YOU MAY ALSO BE INTERESTED IN: