Salads are the perfect spring and summer fare—light, crisp, seasonal, and nutritious! But let's face it, we've all grown bored with salads at one point or another. Like many things in life, it's important to have variation, and when it comes to cuisine, sauces and dressings are a great way to quickly mix things up a bit. These three summer salad dressing recipes all bring ingredients to the table that will delight your taste buds while providing whole food fuel for all your sunny season adventures. We've paired each with a recommended leafy base, but don't be afraid to add sprouts, or think outside the salad bowl—they also make amazing grilling marinades, sandwich drizzles, and more. Your body deserves the best you can give it, so let's up your green game and get crunching!

Zesty Summer Salad Dressing Recipes
Vegan Green Goddess Dressing Recipe (Keto-Friendly!)
Makes about 1 pint.
This dressing is rich and creamy and is excellent on crunchy lettuce and veggies. It also makes a nice veggie dip or sandwich spread. The base oil for this blend is avocado oil, enjoyed by many for its significant amount of oleic acid (a monounsaturated fatty acid), which scientific evidence suggests, but does not prove, supports cardiovascular health when used in place of saturated fats*. Talk about a salad with purpose!
Ingredients
Directions
Add fresh basil, parsley, and shallots to food processor or blender. Pulverize until roughly chopped.

Add in avocado and blend until incorporated.

Add remaining ingredients (except avocado oil), then blend to incorporate.

Turn blender on and slowly add oil to create a rich and creamy texture.

Store in the refrigerator for up to 5 days.

CITRUS SPLASH SALAD DRESSING (VEGAN)
Makes about 1 pint.
Ingredients
Zest of 1/2 organic orange (zest before squeezing juice)
1/2 cup freshly squeezed organic orange juice (about 3 oranges)
1/4 cup freshly squeezed organic lemon juice (about 2 lemons)
1 tsp. freshly squeezed organic lime juice (1/4 lime)
1/2 tsp. organic Dijon mustard
1/2 tsp. finely minced shallot
1/4 tsp. organic white vinegar
1/4 tsp. organic garlic powder
1/4 tsp. freshly ground organic green peppercorns
1/4 tsp. red alaea salt
Directions
Zest half of an orange into a pint size mason jar.
Juice all citrus according to the measurements above. I like to use separate jars for each and then add any extra juice to flavor some water for drinking later.
Add remaining ingredients and shake well.
Store in a refrigerator and shake vigorously before each use. Store for up to 5 days.

Asian Sesame Dressing with Shiitake
Makes about 1 pint.
Tangy and savory, this dressing is perfect for an Asian-inspired salad that your body will love. Avocado oil* and shiitake mushroom* have also been known to help support cardiovascular health, making this dressing a purposeful addition to your salad repertoire. I love this dressing most with shredded cabbage, carrots with a generous garnishment of sesame seeds and mandarins.
Ingredients
Directions
Add all ingredients to a pint size mason jar.

Shake very well to incorporate honey into mixture.

Drizzle on your shredded veggies.

Store in refrigerator and shake vigorously before each use. Store for up to 5 days.
Pro Tip: It's best to take these dressings out of fridge for 30 minutes before serving, as these high quality oils may partially solidify in cold temperatures.
Looking for Other Delicious Ways to Eat Your Greens?
You may also like: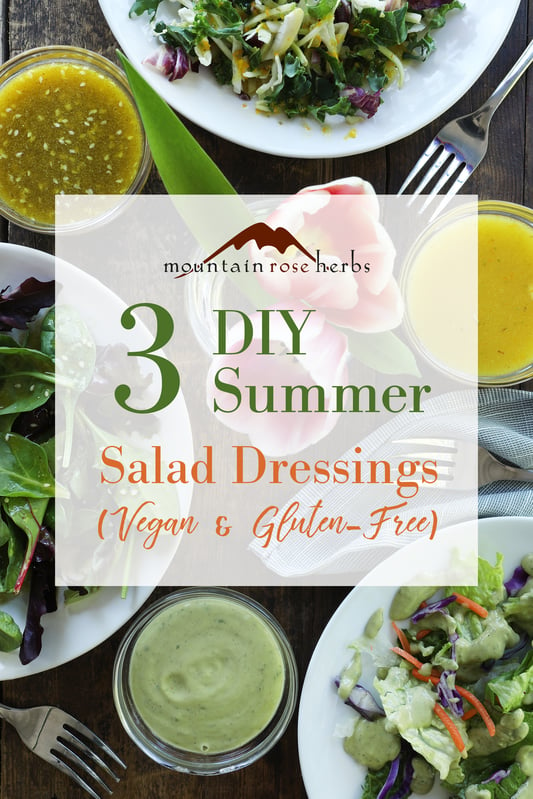 * DISCLAIMER: For educational purposes only. This information has not been evaluated by the Food and Drug Administration. This information is not intended to diagnose, treat, cure, or prevent any disease.