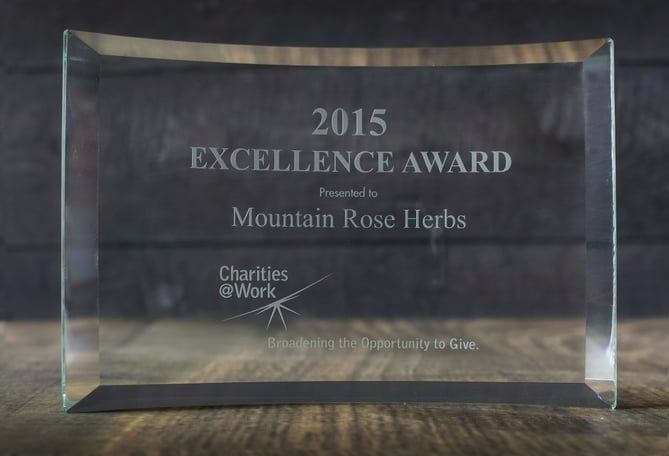 We are so thrilled and humbled to be recognized for this national award! The Charities@Work Corporate Excellence Award is given annually to one company for overall excellence in employee engagement known as Corporate Social Responsibility. While we operate as a mission-driven business, we were amazed to receive an award that has historically been given to large corporations like Sprint and Ameriprise Financial. It is an honor for us, but also a chance to show big business how focusing on people and planet before profit can inspire employees to get involved with community, give of themselves, their time, and make a difference!
The following criteria were considered for the Corporate Excellence Award:
Conducting a highly engaged and successful workplace giving campaign
Executive leadership is engaged in all Corporate Social Responsibility activies
Leadership in employee engagement best practices and activities
How did we meet these requirements? Here at Mountain Rose Herbs, we offer employees a chance to give to local and regional environmental charities through EarthShare Oregon. Employees can choose whether to give to a specific organization or allow their donation to be spread among many organizations doing good work.
Since concern for organic agriculture, sustainable business practices, and fair trade are woven into everything we do, our executive management is involved and engaged in all facets of corporate responsibility. Concern for the natural environment and the wellbeing of the people comes first and our leadership sets the tone for that mission. That's how the Mountain Rose River Project, Paid Time for Community Involvement benefit, and our Carpool & Bike to Work Program came into being.
These special programs exemplify best practices when it comes to giving back. From offering each employee 24 hours of paid time off for community involvement which allows employees to volunteer at the organizations of their choice, to our generous commuting program, to our strong partnerships with local nonprofit organizations, we strive to put our money and resources where our heart is!
Receiving this award reminds us to continue our determination to be involved stewards, striving to find new ways to do business ethically, sustainably, and holistically!