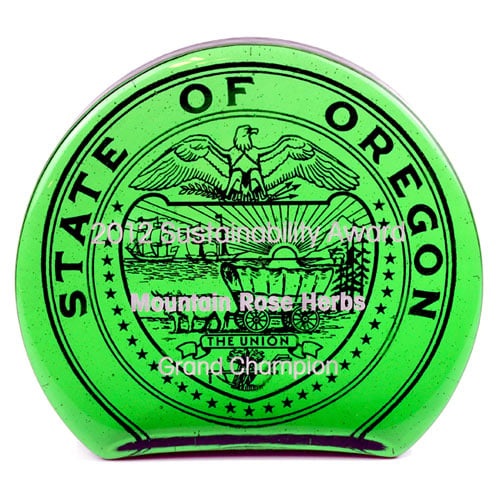 We are proud to share some exciting news!
The Oregon Sustainability Board selected Mountain Rose Herbs as the 2012 Grand Champion for the Governor's Sustainability Award. The award was presented in Portland at the Northwest Environmental Conference and Tradeshow earlier this month by Oregon Secretary of State, Kate Brown. It is a tremendous honor and we are grateful to everyone who made this possible.
Upon accepting the award, we were asked to impart a piece of advice to other organizations that are pursuing sustainability initiatives. Since 1987, Mountain Rose Herbs has been known for its uncompromising commitment to organic agriculture, sustainable business practices and community involvement. But how sustainability is defined and viewed within the company continues to change and evolve as it must. Whether the organization follows a top-down approach implemented by the owners or a grassroots effort initiated by employees, it's important to agree on this definition and outline realistic goals throughout the organization.
For instance, at Mountain Rose Herbs we know it's necessary to have specific policies and programs in place to maintain our standing as a Zero Waste Company. But without employee education and cooperation, our extensive recycling and composting programs wouldn't be possible. Encouraging participation through incentives is another effective strategy. We do this by reimbursing employees through our Carpool, Bus, and Bike to Work Program.
Congratulations to the other award recipients and many thanks to Oregon's Sustainability Board, Business Oregon, and the entire Mountain Rose Herbs family for staying at the forefront of the sustainability movement and inspiring other organizations to do the same.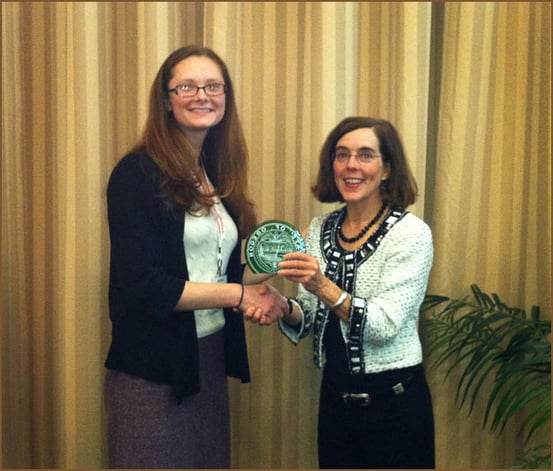 Here's a list of our sustainability programs:
- Organic, Wild-harvested and Fair Trade sourcing
- Zero Waste Company
- Mountain Rose River Project
- Carpool, Bus and Bike Program
- Charitable Giving Fund
- Paid Time for Community Involvement
- Recycled and non-toxic packaging and shipping material
- Green landscaping and integrated pest management
- Offset carbon footprint with Carbonfund.org
- Company trucks powered with vegetable oil
- Facility constructed to LEED standards
- EWEB GreenPower Program
Click here and scroll down to "Board Projects" to learn more about this award!