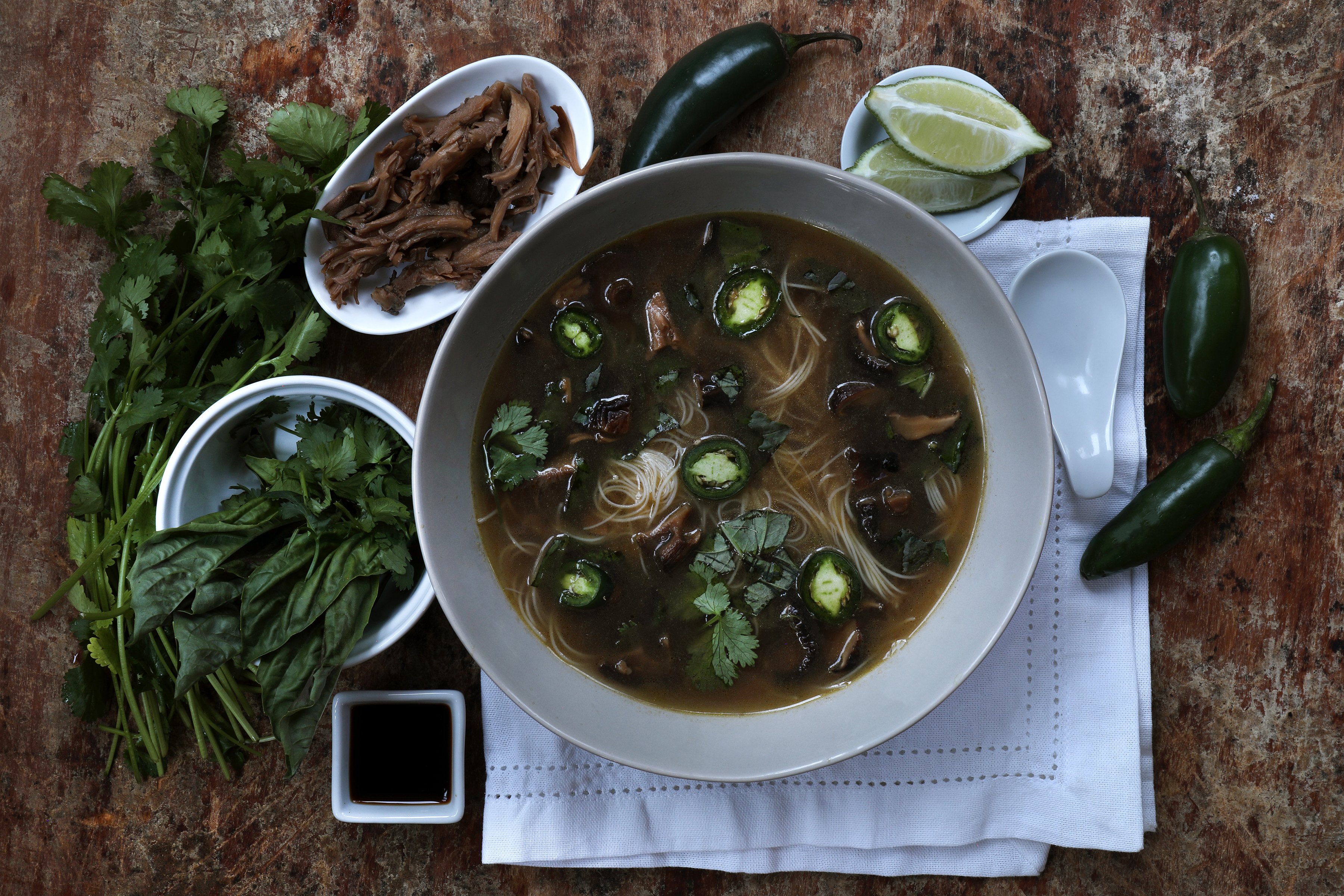 In my late teens, I was bitten by a travel bug from which I've yet to fully recover. I spent my young adulthood on-the-move, visiting and living in a variety of settings both urban and rural, across the U.S. and abroad. Along the way, I learned, grew—and ate! I found that delving into different cuisines offered an accessible, informative, and visceral opening through which to explore new cultures in general. No place I've ever lived has provided more culinary cultural windows than the intensely diverse city of Chicago, where, after a long ride north on the CTA Red Line, I first encountered phở. After just a few noodly slurps of this fabulous dish, I found myself flushed, near tears, and tingling from head to toe—in short, I was in love.
Phở is a traditional Vietnamese broth soup with roots stretching back to at least the late 18th century. In many ways, it's a deceptive dish, presenting a plain front that belies its incredible depth. While recipes vary by family and region, most share a few basic commonalities. Generally, when served phở, you'll receive a large bowl of golden broth containing some rice noodles and a few basic, lightly cooked vegetables (carrots, mushrooms, and broccoli are common); a caddy of oils and spices in dry and/or paste form; and an ample tray of fresh toppings which often include fresh cilantro, basil, bean sprouts, hot pepper slices, and lime wedges. While the sides are colorful (and highly recommended!), the power and essence of phở comes from its seemingly most humble element, the broth.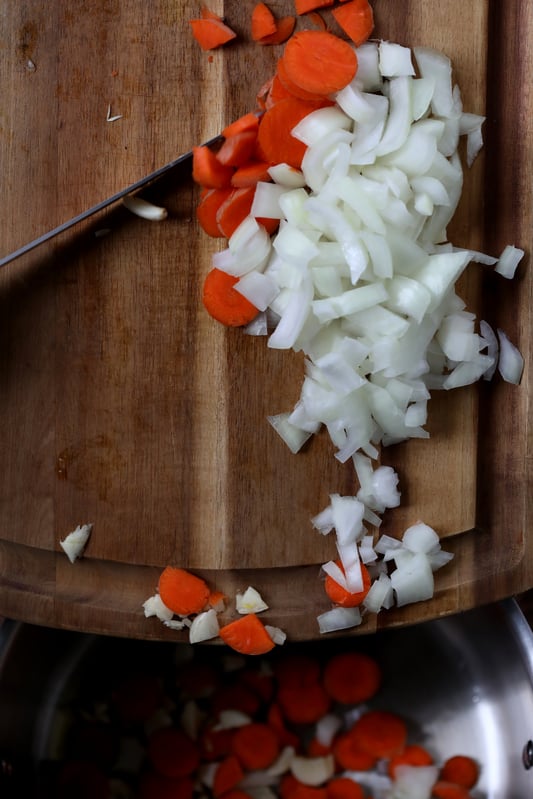 Many historians believe that this soup's name originally came from the French term pot au feu, or "pot of fire", a colonial appellation reflecting the many hours of simmering required to create this magical broth. A great phở broth requires time. This is especially true for the traditional recipe, which uses not only a broad and cosmopolitan spice profile, but also roasted beef bones that are baked, steeped, and simmered for days to extract their maximum nutrition (I was not yet a vegetarian when I discovered phở, so I first experienced it in its traditional form). Herein lies the secret behind another of phở's deceptions: while the bulk of the dish is simply liquid, it is incredibly satisfying and unexpectedly filling, containing enough vitamins and minerals to fill virtually every nutritional niche in your body. Add to that its dizzying palette of flavors that entertain your taste buds to the point of near exhaustion, and you end up with a meal that isn't simply fuel, but an experience.
When I became a vegetarian, I sought out meat-free versions of phở, but I found most sadly lacking in depth and flavor. I could hardly blame the Vietnamese chefs who offered these options; after all, most had been honing their traditional broth recipes for generations, and their meat-free versions were simply a gracious attempt to cater to my non-culturally-traditional dietary preferences. Besides, the dish was virtually built around bone broth, so maybe creating a comparable result with only plants just wasn't possible? Still, I wasn't ready to give up the joys of my early phở experiences, so I decided to try my own hand at engineering a vegan version that could measure up.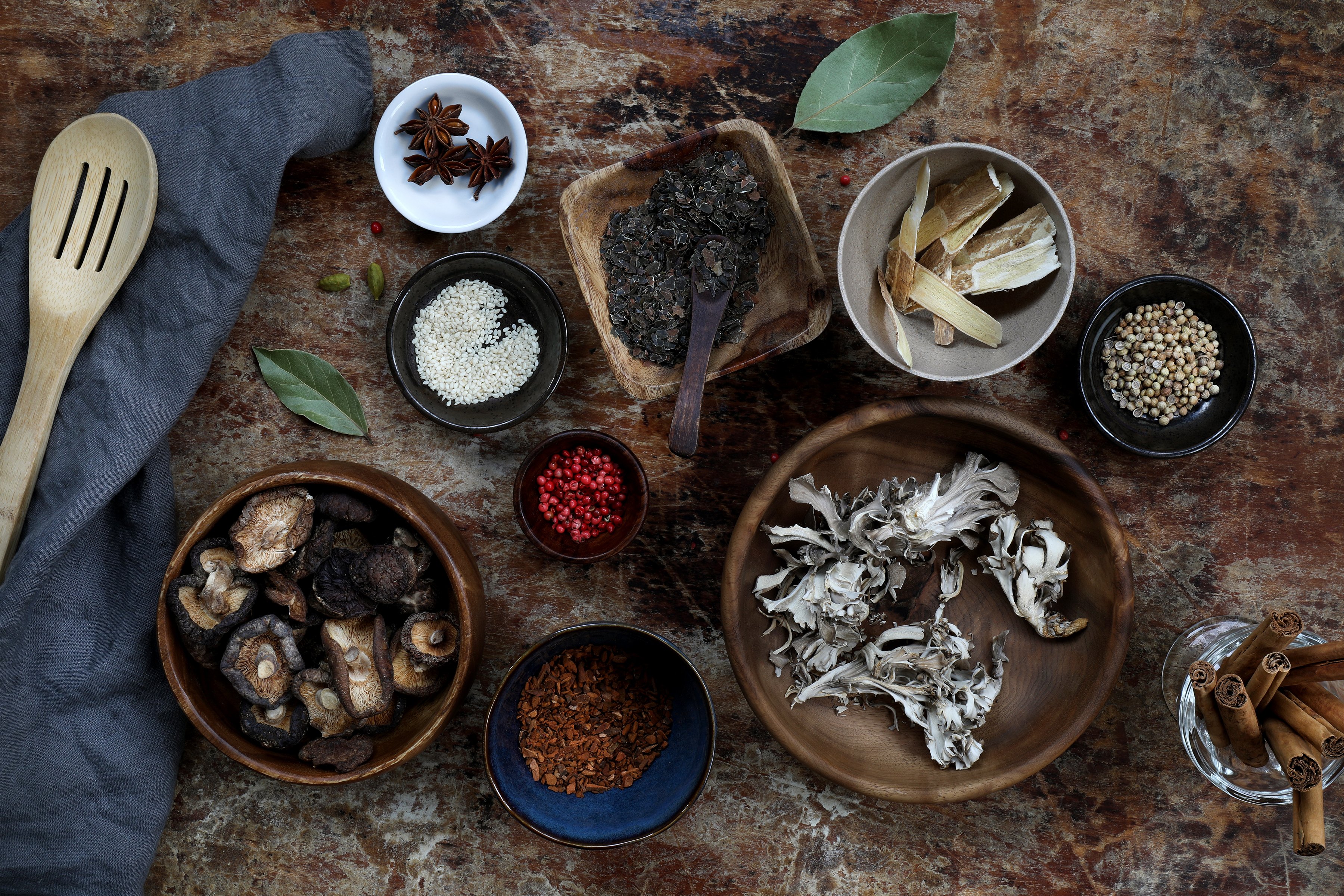 Many trials later, I ended up with a vegan recipe that I think does a very respectable job of representing the magic, depth, and satisfaction factor of traditional phở. I started with a typical phở spice simmering blend, which I added to vegetables slow-cooked in a hearty helping of oil for some fatty richness. I also incorporated earthy shiitake and maitake mushrooms and astragalus, simmered for hours, to fill in some of the umami normally provided by the beef bones; I then added the broth-infused mushrooms back into the final broth as a toothsome and flavorful substitute for the thin meat slices that often top traditional phở. Finally, I added kombu flakes to provide the salty sea flavor usually contributed by fish sauce. As with the original, the key to this recipe is patience—the more time you give this broth to assimilate and concentrate, the more you'll reap the rewards in your final bowl. Plus, your house will smell AMAZING for days!
Homemade Vegan Phở Broth Recipe (with Soy-Free Variation)
Makes about 4 meal-sized servings.
Active Time: 25 minutes
Ingredients
3 Tbsp. organic extra virgin olive oil
4 medium organic carrots, roughly chopped
4 organic celery stalks and their leaves, roughly chopped
2 medium yellow onions, roughly chopped
1 medium head garlic, cloves crushes and halved
2 tsp. organic coriander seeds
1 Tbsp. organic sesame seeds
2 tsp. sassafras bark
2 Tbsp. organic ginger root (dry), or 2 Tbsp. fresh
1 gallon water
2 tsp. organic kombu flakes
1/2 oz. dried organic shiitake mushrooms
1/2 oz. dried organic maitake mushrooms
2 Tbsp. organic apple cider vinegar
1/2 cup organic tamari or Bragg Organic Coconut Liquid Aminos (plus more to taste)
Rice noodles
Fresh toppings and spices of choice (options include garlic pepper paste, rice vinegar, fresh, organic bean sprouts, jalapeno slices, cilantro, basil, lime wedges, etc.)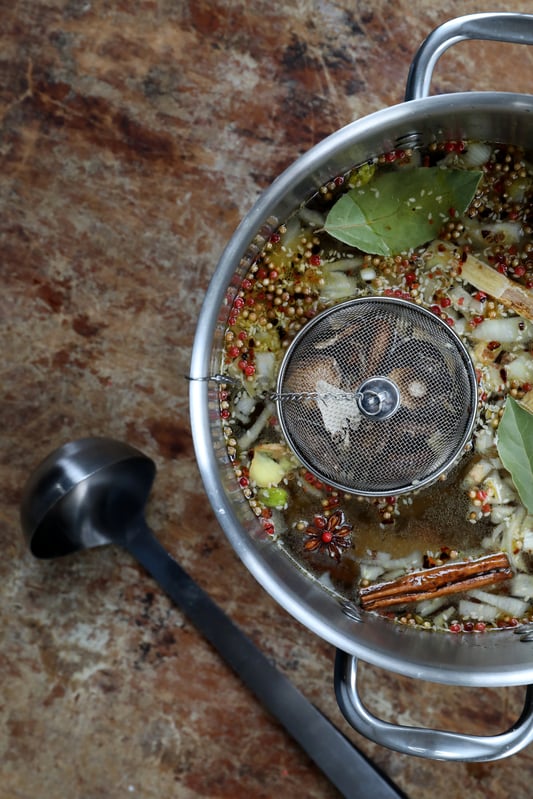 Directions
Add olive oil to a large soup pot and heat on medium.
Add carrots, celery, onions, and garlic, and stir to coat.
Cover pot and cook vegetables until the onions start to soften, about 10 minutes.
Add coriander seeds, star anise, cardamom pods, cloves, sesame seeds, sassafras root, and ginger root. Stirring, cook until just fragrant (about a minute).
Add water, cinnamon stick, astragalus, kombu flakes, and bay leaves.
Pack dried mushrooms into a large stainless steel tea ball, muslin pouch, or cheesecloth tied with twine. Submerge in broth and secure ball hook or string to pot handle (for easier removal later).
Bring liquid to a boil, reduce to a simmer,
Add apple cider vinegar and tamari (or coconut aminos), stir, and cook on low for 3 to 5 hours (the more concentrated, the better!).
Extract ball or bag from broth, remove mushrooms, roughly chop, and set aside.
Strain broth using a fine mesh strainer (or a colander covered with a layer of cheesecloth).
When ready to serve, prepare rice noodles according to package instructions, add to serving bowl, and cover in phở broth.
Add some of the cooked mushrooms and other toppings of choice.
Pro Tips:
Opt for Bragg Organic Coconut Liquid Aminos instead of tamari for a soy-free version.
Do not overcook noodles! If you have to make them ahead of time, store in a bowl with cold water or toss with a dash of sesame oil to reduce clumping.
Want More Hearty Vegetarian Soup Recipes?
You may also enjoy: