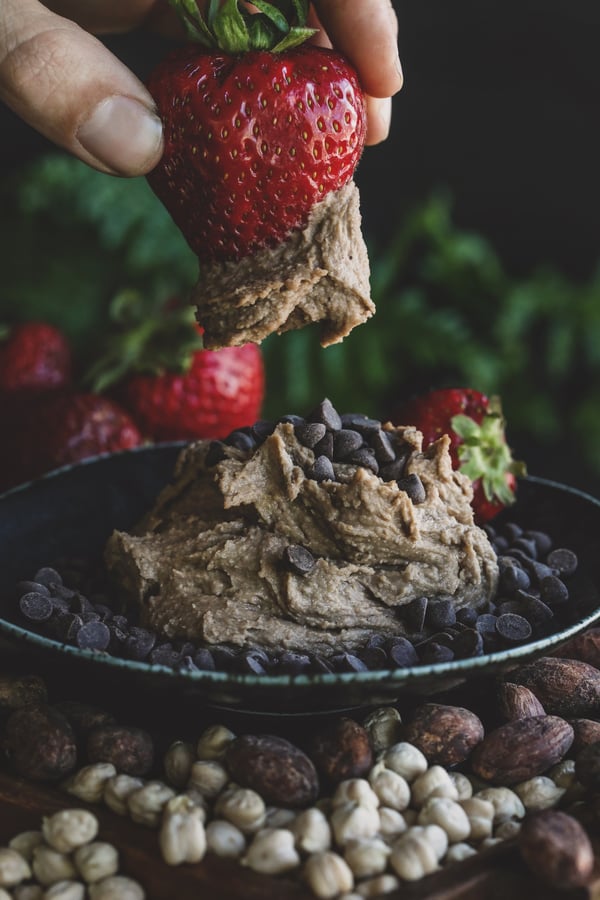 Before you beat me to it, I know dessert hummus is not "real hummus." Traditional Middle Eastern hummus is a savory dish made with a specific set of ingredients. So why call this sweet treat hummus at all? Well, its base is mashed garbanzo beans, and it is a type of dip, so the masses started calling it chocolate hummus or dessert hummus. For the sake of helping people find this recipe, I stuck with that name, but know you can call it vegan chocolate mousse, and it will still be as delicious.
The first dessert hummus I tried was a store-bought one and after being impressed by the concept, I realized I'd be able to replicate it with many common ingredients I already had on hand. Plus, I could make it with sprouted chickpeas to boost its bioavailability and make it more digestible. Dried beans contain phytates which inhibit mineral absorption and make digestion more difficult. By sprouting and cooking them, you remove many of these inhibitors, allowing you to get the most benefit from them.
Donning my apron, I took to the kitchen to recreate this treat that I loved so much. After creating several variations, I came up with my star recipe that is both simple and tasty. I also love that this vegan dessert packs in extra protein and is rich, creamy, and oh-so-dreamy!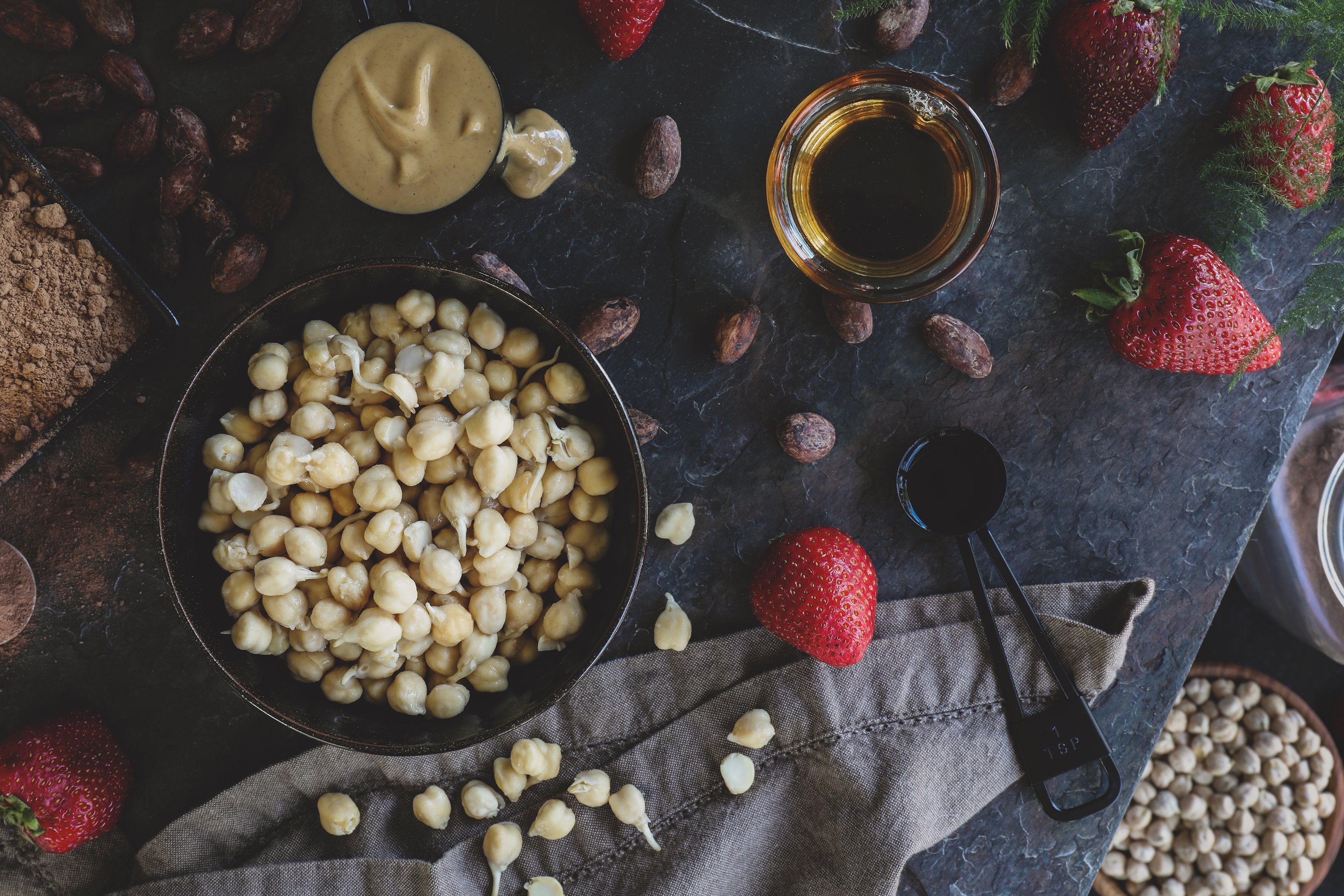 Chocolate Hummus Recipe
Ingredients
Directions
Add all ingredients to food processor and blend on high until you achieve a nicely smooth consistency.
If too thick, add a little water while processor is on.
Serve immediately or pack into airtight container and store in refrigerator for up to 3 days.
Pro tip: If you're not enjoying this dessert hummus right away, it will get thicker in the refrigerator, so add a little more water than you think you need.
How to Sprout Chickpeas (Garbanzo Beans)
Directions:
Rinse chickpeas well and pick out any debris that might be present.
Add up to 1 cup of chickpeas per quart jar and fill remainder of jar with filtered water.
Place sprouting screen lid on and let sit for about 8 hours.
Drain and rinse thoroughly with cold water.
Flip jar and rest on an angle so any excess water will continue to drain out. I like to do this on a clean dishrack.
Continue doing this 2-3 times per day for up to 3 days. After you see little tails begin to form, add chickpeas to a colander and rinse very well.
As you rinse, massage chickpeas to remove the outer shell. These generally float so you can fill a pot of water afterwards and skim as much off as you can.
Pro Tips:
It's okay if you eat some of the garbanzo bean skins, but your finished pureed chickpeas will be smoother if you remove most of them.
Garbanzo beans are about 3 times their dried size when they are cooked.
How to Cook Sprouted Chickpeas (Garbanzo Beans)
Directions:
Add rinsed sprouted chickpeas to pot of choice.
For pressure cooker: Fill with fresh water until it reaches about 2-3 inches above the chickpeas. Get up to pressure and cook for 15 minutes. Remove from heat, let pressure come completely down, and safely strain out liquid.
For standard pot: Fill with fresh water until it reaches about 3 inches above the chickpeas. Bring to boil, then reduce heat to a simmer. Cook without lid, and spoon off any foam that starts to form. Simmer for about 1 hour, or until optimal consistency is achieved. Softer chickpeas make smoother hummus.
Pro Tips:
Some people eat raw sprouted chickpeas, but this is not the most digestible way to consume them. I strongly recommend sprouting and cooking them.

5 Ways to Eat Dessert Hummus
While you might be tempted to eat it right off a spoon (and that's completely acceptable), here are some of my favorite ways to enjoy it.
A dip for fresh organic strawberries
As a topping for a fresh fruit salad
With salty snacks like pretzels
Healthier frosting for baked desserts like cupcakes
As a filling for dessert crepes



Looking for a Savory hummus recipe?
You may also enjoy
Traditional Mexican Hot Chocolate Recipe
How to Make Homemade Chocolate Bars
How to Make Za'atar Spice Blend + 10 Ways to Use It