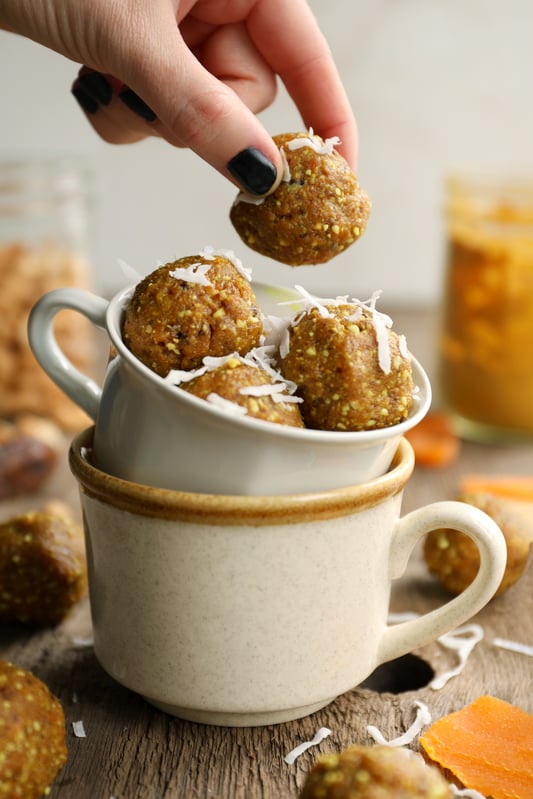 Each spring as another camping season draws near, I find myself on the hunt for new gear deals, trail spots, and of course, trail food recipes! My ideal camping fare is healthy, filling, shelf-stable, and simple to make (after all, preparing to hit the trail requires enough prep already!). Homemade energy balls already tick all those boxes, but I was recently inspired to pack even MORE goodness into each tasty bite—with a little turmeric and chai spice.
When I discovered
golden milk
several years ago, I was immediately hooked. An
Ayurveda-inspired drink
that takes the spicy-sweet goodness of a chai latte and adds the powerhouse wellness benefits of turmeric? Yes please! I started making them so often, I decided to mix up a bulk batch of golden milk powder spice blend to speed up my prep times. The thing is, once I had a jar of golden goodness sitting ready on the shelf, I found myself adding it to other dishes as well: sprinkling it on yogurt, adding it to my rice cooker, baking it into oatmeal cookies… you name it! Finally, I got the bright idea to add a scoop to a batch of cashew butter protein balls, and a new camp-out favorite was born.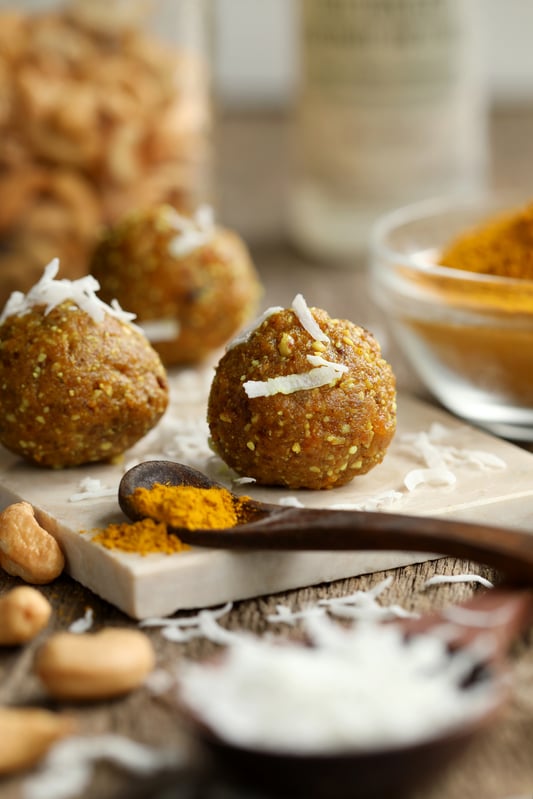 Golden Milk Protein Power Ball Recipe
Makes 10-12 balls
Ingredients
Directions
Pour cashews into food processor and pulse until finely ground.
Add mango and pulse to combine.
Add golden milk powder and coconut flakes, blend to mix.
Remove pits from Medjool dates, add dates to food processor, and pulse to combine.
Turn food processor on low and gradually add cashew butter and maple syrup.
Turn off food processor and attempt to roll mixture into a 1-inch balls. If mixture is too dry, turn processor back on, add coconut oil, and blend until well combined.
With clean hands, roll mixture between palms to form 10 to 12 evenly sized balls.
If desired, roll balls in small dish of coconut flakes to coat
Store in an airtight container; these will keep for at least a week at room temperature and a month or more in the fridge.
Want More Healthy On-the-Go Recipes?
You might also enjoy: