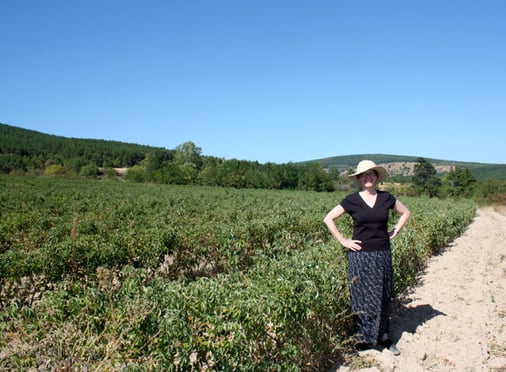 Elvira Guelzow, our world traveling International Farms Manager, crosses oceans and continents each year to meet with our organic herb farmers and tour their processing facilities. Here are some stories and photos from her exciting trip this September to Hungary and Bulgaria. You can read her first report from the beautiful country of Hungary here!
Notes from Bulgaria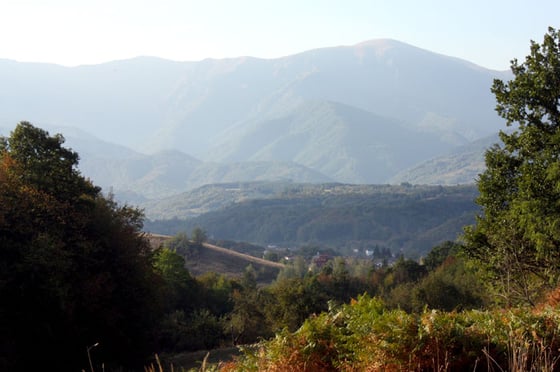 The last stop of my European farm visit tour took me to beautiful Bulgaria. This country is famous for its rose and lavender essential oil production, and many important medicinal plants grow in its large, undisturbed natural areas.
Bordered by the Black Sea to the east, Turkey and Greece to the south, Serbia and Macedonia to the west, and Romania to the north, Bulgaria has been shaped over the centuries into an important transportation and cultural cross road between Occident and Orient.
The first settlements were established by Greeks in the 8th century BC, to be followed by Thracians, and Romans in 200 BC. Remnants of roads, buildings, and mineral bath houses from these settlements have been excavated. Impressive Thracian burial mounds dot the valley. Byzantine and Ottoman rule over many centuries have left their marks on architecture and culture. With Russian help, a Bulgarian state was restored in 1878. In 2007, Bulgaria became a European Community member.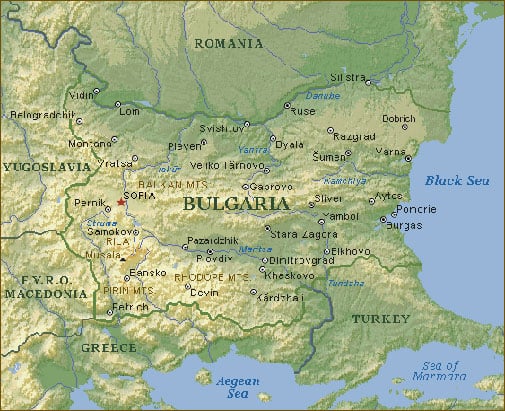 The Bulgarian language is of Indo-European origin with Slavic roots and based on the Cyrillic alphabet, which is also used in Russia, Serbia, Ukraine, Macedonia, and Belarus.
Bulgaria's diverse, natural landscape settings includes high mountain ranges, rolling hills, foothills, river valleys, plains, lakes, and the black sea coast line. Climate zones are divided into temperate-continental, Mediterranean, transitional, the Black Sea zone, and a mountain zone.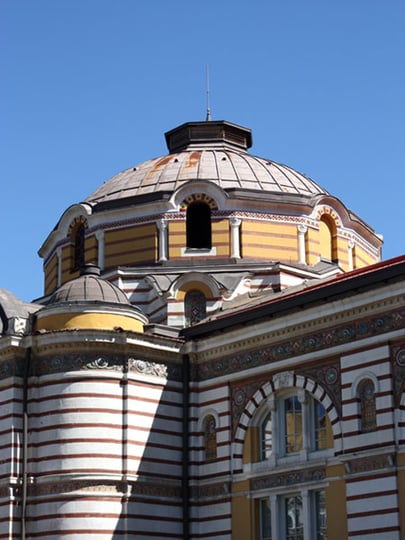 Bulgaria is one of the most biologically diverse countries in Europe with 12,360 plant species and 750 different medicinal plant species at home in the country's diverse climate zones. Many are rare, endangered, and protected species. The geography consists of 11 different soil types, some of which can be used as medicinal mud. Mineral springs are abundant here and pictured above is a gorgeous mineral spring bath house. There are also 3 National parks, 11 Nature reserves, and 9 Unesco World heritage sites adding to the natural charm of this land.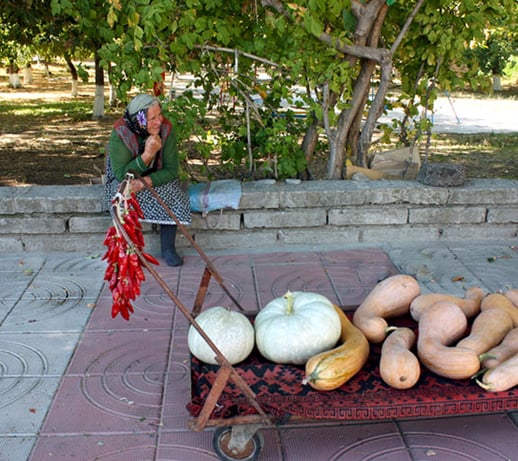 The country's bountiful agriculture reflects favorable growing conditions. Country dwellers produce their own food in home vegetable gardens. The country prides itself on growing the best peppers in the world, and potatoes are a culinary staple. The cuisine is distinctly Mediterranean with a Balkan twist. Every meal is started with an ice-cold glass of Rakia, a fruit brandy, most commonly made from grapes, but also from other fruits, and even roses, in the Rose Valley. Bulgaria also produces excellent wines from its own grape varieties.
Mountain Rose Herbs offers incredible Rosa damascena essential oil, absolute oil, and flower water, as well as Lavandula angustifolia essential oil and flower water from organic growers and artisan distilleries in Bulgaria. Some favorite organic herbs from this region that I always keep stocked at home include Linden flowers and fragrant Elder flowers. Other wonderful items that we offer from Bulgaria are Angelica root, Black Walnut leaf, Blue Vervain, Coltsfoot, Elecampane, Goats Rue, Hawthorn leaf and Hawthorn berries, Lovage root, Pennyroyal, Periwinkle, Sunflower petals, and Violet leaf.
It was such a joy to explore the beauty of Bulgaria and to connect with our gracious and skilled European farmers. I so look forward to returning to the magnificent Rose Valley for another herb adventure soon.