If you're just starting out in the wild world of herbalism, choosing the right tools

may seem like a daunting task. We created this list to help keep it simple. It's by no means exhaustive, but we hope that it'll get you started! Over time, you'll build on your foundation of tools along with your stock of

herbs

. Combine that with increasing your knowledge through

classes

and

books

, and you're on your way to becoming a bona fide herbalist!



Cheesecloth
Contrary to popular belief, cheesecloth is not just for making cheese. You're likely to find some amount of cheesecloth in most seasoned herbalists' homes. It serves as a type of strainer for various herbal concoctions. When you're making herbal infused oils, it helps remove every last drop of botanical goodness. And same goes for straining your tinctures, vinegars, or even nourishing herbal infusions. Look for 100% organic unbleached cotton. Super handy to have around!
Mortar and Pestle
This set of tools is for more than just making you look like an herbalist, and you'll find that once you have a nice mortar and pestle on hand, you won't want to live without it! It's especially helpful when you're making spice blends with aromatic seeds such as cumin or smashing fresh black peppercorns. My daughter absolutely loves to get creative and make her own spice blends with the mortar and pestle, sometimes with great results! I've even used it to break down roasted coffee beans in a moment of desperation when my grinder finally stopped working.
Pro Tip: It's not just for dry spices. You can grind fresh herbs like basil with organic olive oil and spices to make delicious pesto.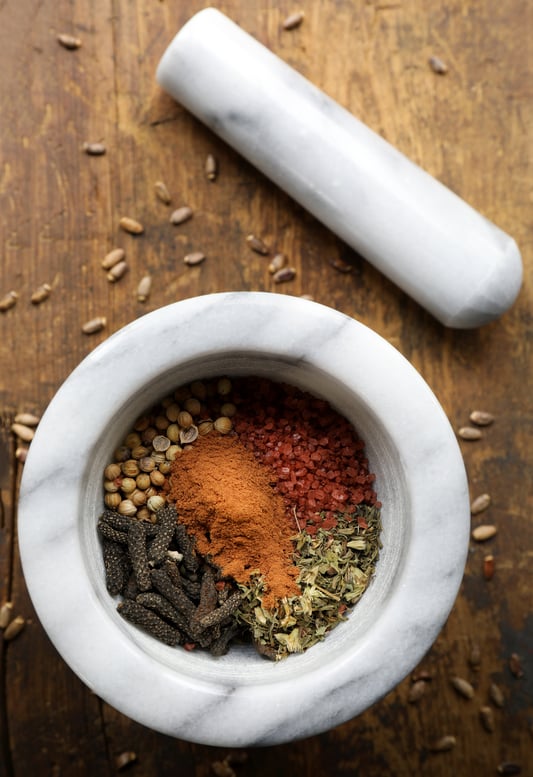 Funnels
Trust me, life is better with an assortment of funnels. No matter how skilled one gets at pouring liquid from one tiny bottle to another, I find funnels to be indispensable. They're well worth it, saving you from extra cleanup. You won't want to lose one drop of that precious tincture you've been infusing and shaking diligently and daily. I recommend getting many different sizes to fit a variety of bottles. We even offer one that comes equipped with a built-in strainer. I went to the brewery supply store and bought a couple of extra large ones too. I can't recommend funnels enough for the beginning herbalist!
Double Boiler Insert
A double boiler is instrumental for any recipe that requires melting. While you can certainly use a glass jar or measuring cup inside a pot, I much prefer to use a double boiler insert for ease and safety. This handy insert nests in your sauce pan, and has two pour spouts for trouble-free transfer. I regularly use this tool for melting down wax and herbal oils to make salves, creams, and lotions. Made from stainless steel, this practical insert is easy to clean and can even be put in your dishwasher!
Sprouting Screen
I regularly make alfalfa sprouts and add them to salads, and when it's springtime, I like to harvest dandelion greens and combine them with homegrown sprouts and a touch of homemade vinaigrette. Talk about frugal nourishment! But this tool is great for more than just making sprouts. In fact, I think sprouting screens are the most convenient way to make nourishing herbal infusions, one of my favorite ways to ingest the goodness of herbs daily.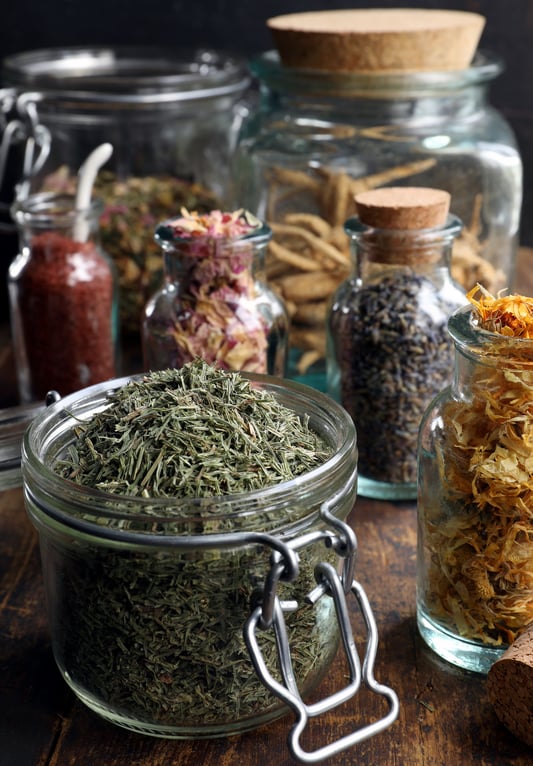 Jars
Perhaps more ubiquitous than any other tool in an herbalist's home, we love our jars in all shapes and sizes. What else are we going to use to store our plethora of organic, herbs, spices and teas? I've got a jar for just about everything. I even use them in place of cups to sip on my homemade infusions. You really can't have enough jars (although, your housemates may disagree)!

Dark Glass Dropper Bottles
Once you have an assortment of these, you'll see the value of having funnels on hand. Amber or cobalt dropper bottles make enjoying your herbal creations convenient and easy. They're especially designed to withstand certain levels of UV contamination, thus being the ideal storage solution for light-sensitive compounds. Fill these bottles with your herbal creations to make gifts for friends and family. Remember to always finish it off with a label. It's a sad day when you need to pour that tincture down the drain because you neglected to label that bottle!
Looking for more herbal INFO TO GET YOU STARTED?
You may also enjoy: