From our weekly series: The Sunday Steep
I've been spending as much free time as possible working in the garden! While the weather is still a bit erratic here in the Pacific Northwest, I derive so much pleasure from digging, planting, weeding, and pruning, I just can't stay inside and now is definitely the time of year to savor every minute I can spend working away in my backyard haven.
Weekend mornings often find me taking my hot beverage out into the garden so that I can get busy with the garden tasks. It's nice to have a tea blend that tastes delicious as it cools (since I might get too busy to come back inside for a warm-up) and I think a good "garden" tea should include some of my favorite garden herbs and plants!

Gardening Tea with Sunflower Petals
Put all of the ingredients into a tea infuser (Our Celestial Tea Strainer or Tea Nest Infuser works well for the homemade creations.) Pour boiling water over and let steep for 3-4 minutes. You might also prefer to put the measured ingredients into a Disposable Tea Filter as these can be tossed into the compost when you've finished with them and they can rest in your cup as long as you'd like. Feel free to add a bit of lemon or honey to taste.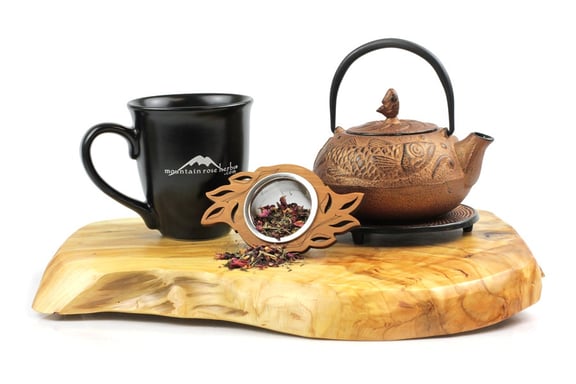 Happy Gardening!
Scoop all ingredients into a tea infuser or tea bag, or put into one of the
Tea-to-Go glass tea infusers
.
Pour boiling water over and let steep for 4-5 minutes.
If you are taking it along, just pour the boiling water over, allow to cool for a few minutes, and then screw on the strainer and lid.
This makes enough for one cup, but feel free to multiply for a full pot. Enjoy! - See more at: http://mountainroseblog.com/#sthash.TKN9Wu6K.dpuf