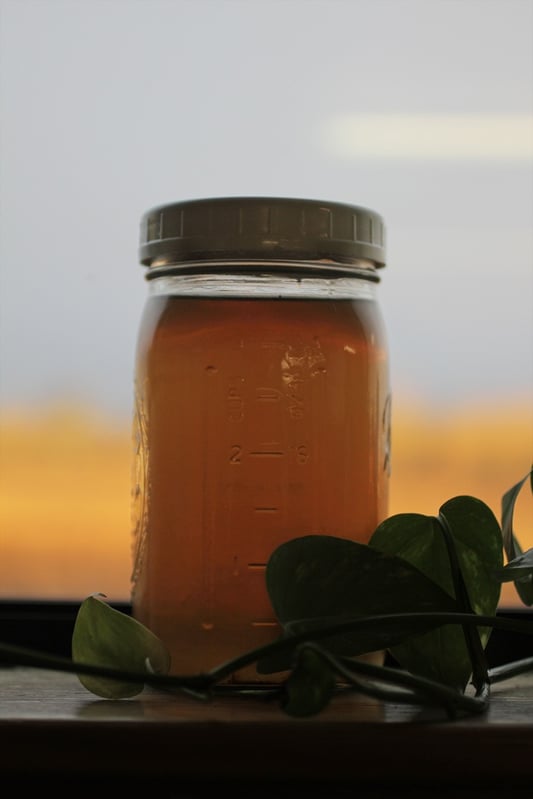 One of my favorite ways to consume nourishing herbs is by way of an infusion. Really, a cup of tea is a type of infusion, but when I think of an infusion, I generally think of something a little more than tea — steeped longer and made with my health or mental state in mind. While taste is important, it isn't the primary motivation for creating an infusion for me!
I prefer to make infusions by the quart jar. This way, I can take a jar with me to work or have around the house and sip throughout the day. It is a wonderful way to stay hydrated while ingesting beneficial herbs, vitamins, and nutrition. My coworker, Mason, is also a big infusion drinker and he tends to make his infusions using two herbs at a time. I generally choose four complimentary favorites, but you could also make a wonderful infusion using just one of your favorite herbs!
General Infusion Directions
Using a clean quart jar, fill about 1/5 of the jar with herbs of choice.
Pour boiling water over and fill jar, loosely cover with a lid, cheesecloth or towel (don't cap tightly while it is hot.)
Allow to infuse for at least 4 hours. I like to do this at night when I'm heating up the teapot for that last cup of tea, but you can do it any time that works for you.
After allowing to steep and infuse for several hours, strain out the herbs (I pour over a small strainer into a clean mason jar.) You can add more water at this point, if you'd like as the tea will be quite strong or you can drink as is.
Drink at room temperature, add to a smoothie, or heat up as desired.
Here is one of my current favorite combination infusions...

Feel Good Infusion Tea Blend Recipe
Follow directions for infusing above.
Feel free to experiment with your favorite herbs. This is a great way to prepare and consume some of the roots and berries too, as they have adequate time to steep and extract!
This post was originally a part of our series called "The Sunday Steep."