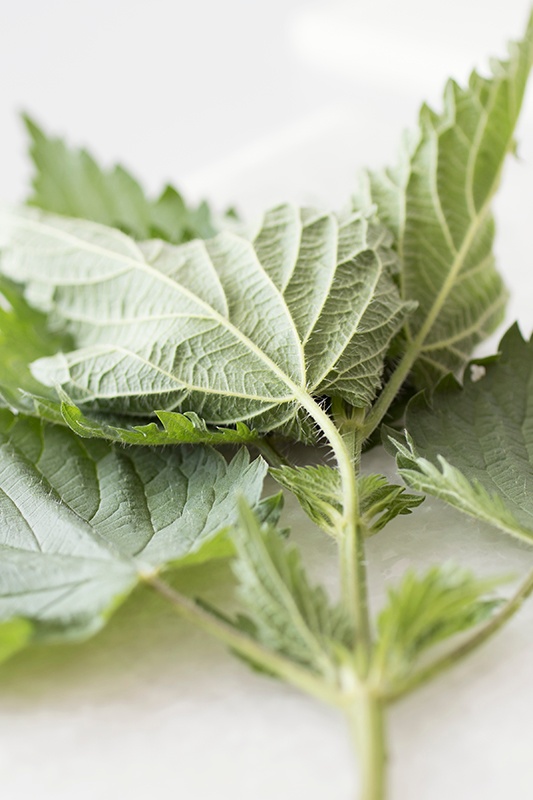 Nettle (Urtica spp.) is one of my all-time favorite herbs. Yep, that weedy plant that stings! This nutritious botanical can be cooked, steamed, baked, pickled, brewed into tea or beer, and it can even be made into hemp-like rope, woven into fabric, and used as a natural dye.
Stinging nettle grows wild throughout North America. They usually grow in the same places every year, so once you find a good stand, you can return to it every year or grow it in your garden.
Look for nettles in rich soil and partially shaded areas, often in moist forests, along rivers, and in disturbed areas. It's important to harvest the plants from clean and unpolluted areas, not in industrial or agricultural areas, roadsides, or where pesticides have been sprayed. The plants will absorb heavy metals and other impurities, so harvesting them in an uncontaminated area is of utmost importance.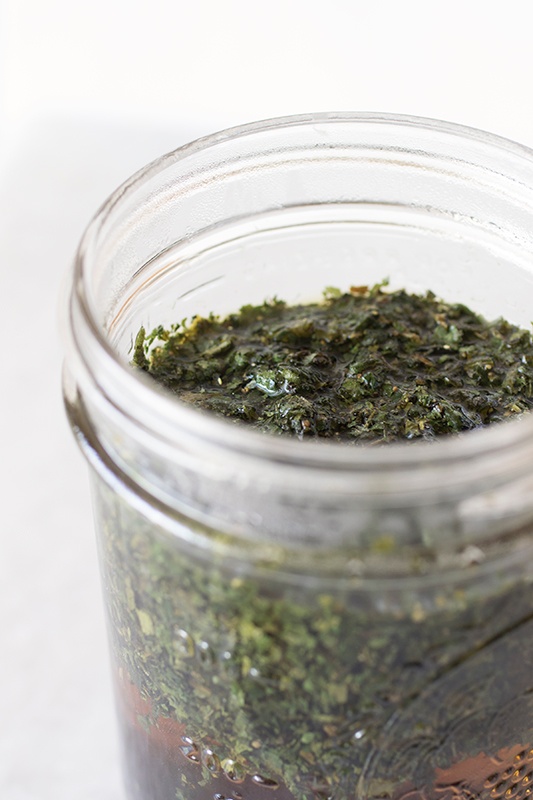 Spring is the perfect time to harvest the tender, tasty, nutrient-packed tips. Pick just the top 2-3 leaf nodes or the top 4-6 inches of the plant before it goes to flower. Be careful when handling this plant, because it stings! Using a pair of gloves, make sure to fully cook, boil, or steam the plant before consuming it. If not fully cooked, they may irritate the mouth and throat.
Fresh nettles are so versatile in the kitchen! They have a flavor and consistency similar to spinach when cooked and can be used in many of the same dishes. They are especially tasty in spanakopita, frittatas, soups, stews, bread, omelets, casseroles, pesto, quiche, and other culinary treats. You can dry or freeze nettles for later use, but one of my favorite ways to preserve fresh nettles to enjoy year-round is through pickling.
The pickled tips of nettle can be enjoyed straight from the jar or they can be added to salads, sandwiches, frittatas, served with crackers and cheese, as a fun garnish for hors d'oeuvres, and even atop pizza and baked goods. Once you've finished your jar of pickled nettle tips, the remaining infused vinegar can be used in salad dressings, marinades, stir fries, sautéed vegetables, or even as a hair rinse to cleanse and invigorate the hair and scalp.
Pickling Stinging Nettle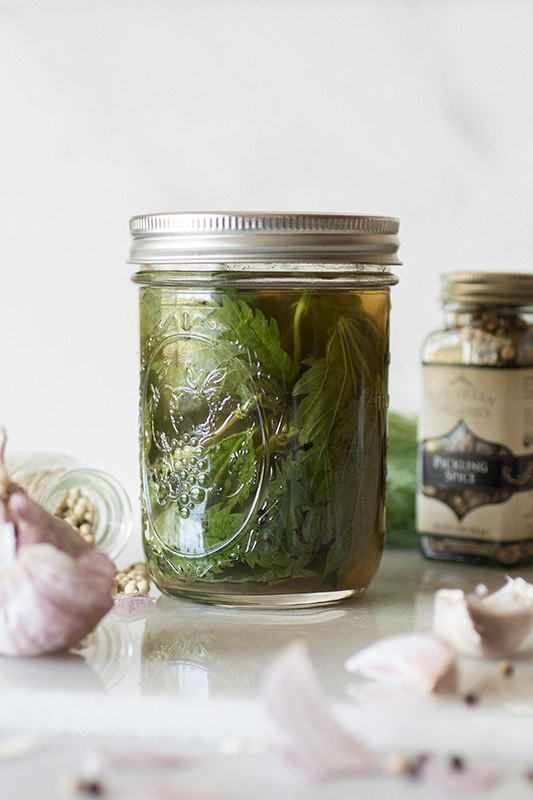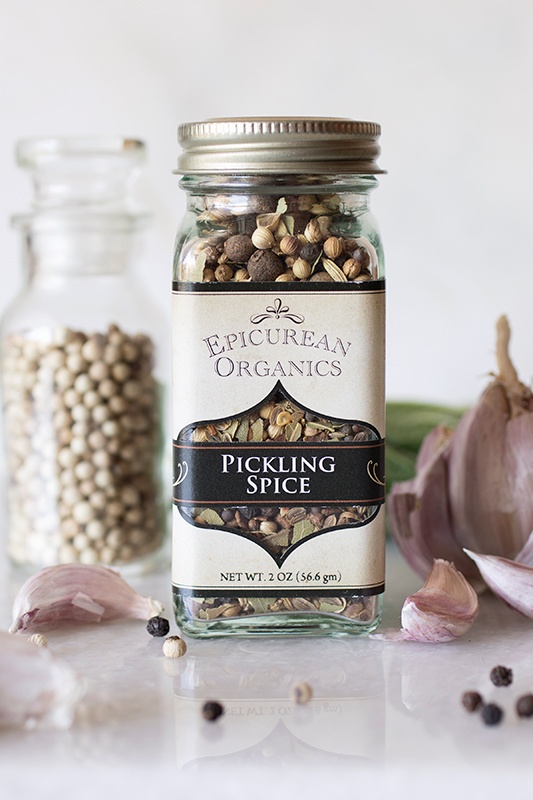 Ingredients
Directions
Carefully harvest the fresh tender tops of stinging nettle plants. The top 2-3 leaf nodes are the best part to use for pickling. Pack into clean glass jars and completely cover with organic white wine vinegar or apple cider vinegar (or experiment with other vinegar types). You can cut the vinegar with 50% water for a less vinegary flavor if you wish. You can even use fermented brine. Last year, I pickled nettles with my fermented kimchee brine and it was delicious! Add peppercorns, peeled garlic cloves, hot peppers, fresh herbs, or any other flavors that you desire. Cap tightly and refrigerate for 8-12 weeks. Keep the pickled tips stored in the refrigerator where they'll last for years and will be ready whenever you need a green springtime treat!
Nourishing Nettle Infusions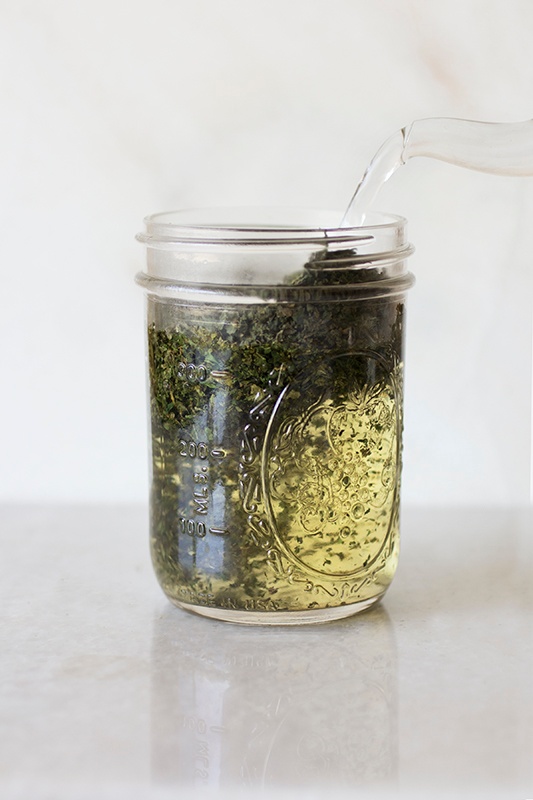 Directions
When fresh nettle tips are not in season or if they're not available in your area, you can still enjoy the beneficial properties by using the organically grown dried leaves. One of the best ways to prepare dried nettles is with a simple herbal infusion. Place a handful of dried nettle in a glass quart jar, pour boiling water on top, cap the jar, and then let them sit overnight. In the morning, strain the mixture and drink throughout the day. You can also make an infusion early in the morning to enjoy in the afternoon. It's best to allow the infusion to sit for at least 4-6 hours in order to extract all of the vitamins, minerals, and other herby goodness. Drinking nettles gives me a nice energy boost which is nourishing and tastes delicious.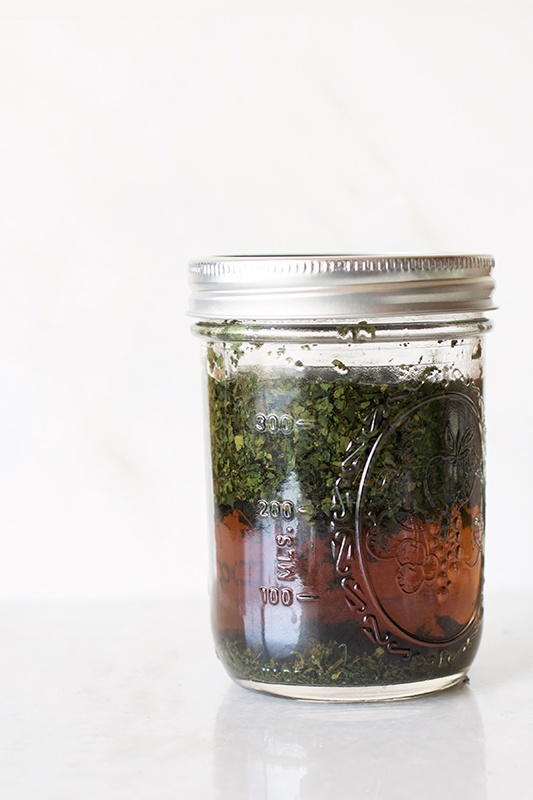 Nettle recipes from the Mountain Rose Blog:
Nettle Garlic Buttermilk Biscuits
What is your favorite way to enjoy stinging nettles?
Do you have a favorite recipes or experiences that you'd like to share?