This is part four of our eight part series on aroma sprays. Go to part five.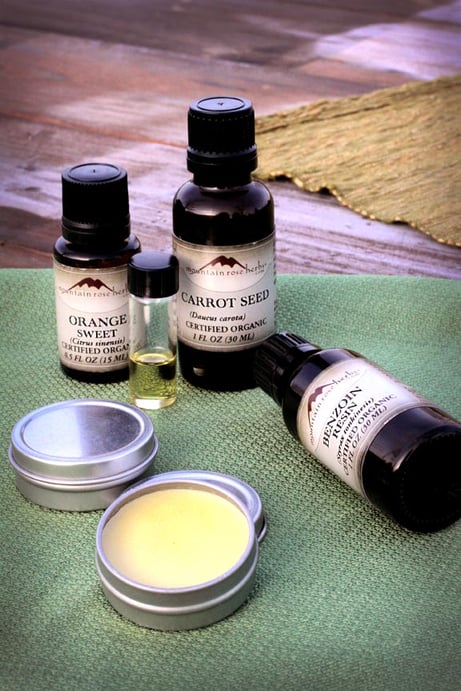 Spring is upon us and with it comes many adventures from cleaning out all the nooks and crannies of your home to long road trips exploring faraway trails. When I'm coming out of winter blues I need something to help reawaken my spirits, refresh my mind, and help me smell wonderful on the go! I sat down with our lovely aromatherapist Christine to put together some spring aroma blends for each moment of this blossoming season.
Each of these recipes produces just a small amount, a test batch let's say. If you have been dabbling your toes in the aromatherapy world, this will be a fun opportunity to play around with making a small test batch and then multiplying it for a recipe of your choice. Below each of the recipes is a suggested use for the blend - by no means are those suggestions the limitations of this scent! Enjoy them however you'd like, use each recipe in a different way, or try all of the blends and pick your favorite to use in all of these recipes.
Recipe 1: Out to Play
A sweet and playful blend bound to excite the senses. Benzoin is a cost effective replacement for vanilla in recipes and excellent for gentle DIY skin care products. The fruity carrot seed and sweet orange combination make this an exciting and delightful blend, perfect for wearing on your body, especially during sunny adventures!
Ingredients
Suggested use: Great as a solid perfume or mixed with jojoba oil in a roll top bottle which can be found here. If you want to make a solid perfume, you can follow our balm base recipe here and simply replace the organic essential oil blend with the Out to Play recipe, multiplying the ingredient measurements above by 7. If blending for a roll top bottle, make sure your essential oil blend doesn't constitute more than 1-2% of your total blend. This means in a 1 oz bottle you would want no more than 6-12 drops of essential oil. If you have questions or want to learn more about converting drops to ml to oz you can check out our handy conversion guide!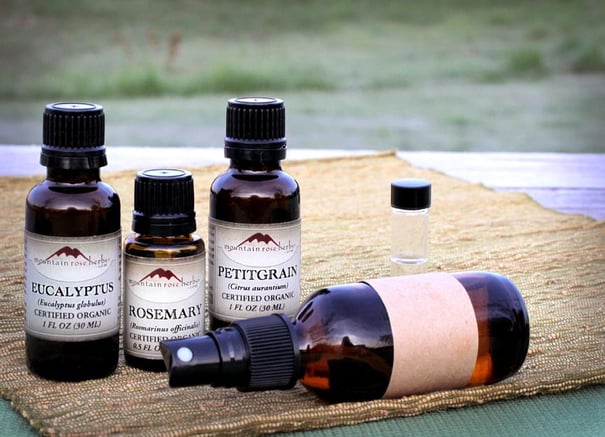 Recipe 2: Soft Clean Breeze
This is a soft smelling and cleansing combination of powerful citrus laced with the delicately spicy nutmeg, topped off with a touch of fresh fir needle.
Ingredients
Suggested use: This blend will work great as an air freshener. A perfect way to diffuse essential oils in your car is by using one of our Terra Cotta Pendant Diffusers. Simply place a couple drops of this blend onto a pendant and enjoy the luxurious car scents for weeks to come!
Recipe 3: Awakening
A wonderfully sharp and penetrating combination of petitgrain, uplifting rosemary, with balancing and energizing eucalyptus. Great for pulling your spirits right out of that winter muck.
Ingredients
Suggested use: Drip oils together in a glass spray bottle and mix by rolling the bottle between the palms of your hands. Pour 1 oz organic witch hazel extract to the top of the bottle and shake well. Spray in the air or on the body when in need of a smile.
Recipe 4: Spring Flowers
A royal blend of floral scents because nothing says "spring!" like blossoming flowers! If you are lucky enough to have both of these luxurious essential oils around your house, get ready for a treat. If you have one or the other or don't want to overindulge on your essential oil collection, you can replace lavender for either of these floral oils to create an impressive scent, sure to please guests from far off lands.
Ingredients
Suggested use: In a diffuser of your choice, add 1-2 drops at a time of the blend and diffuse per the instructions. Enjoy!