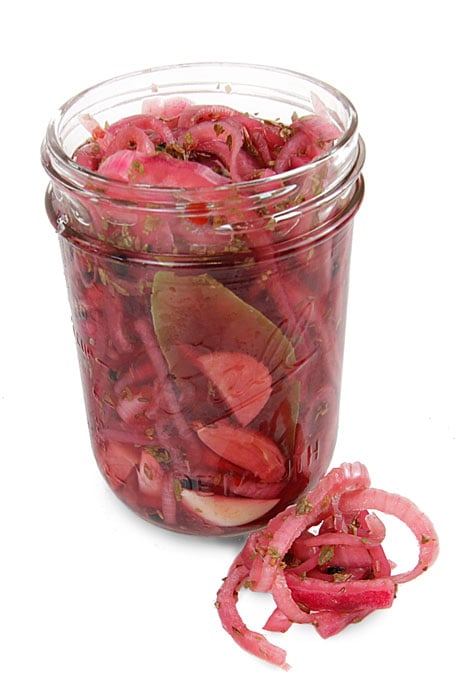 I fell in love with this traditional Mexican condiment from the Yucatán several years ago while noshing on tacos at my favorite little taquería. Complimentary bowls kept appearing as I greedily stuffed the pickled rings between folded tortillas. A harmonious combination of salty-sour-herby-sweetness gave the perfect pop of brightness to each bite and I was immediately smitten.
Last summer I decided to hunt down a recipe and became just a tad obsessed with making them at home. A must have for summertime barbeques and fiestas, I like to keep a jar on hand year round. The process is quick and super easy, plus you can play with different herbs and spices to customize the flavor. My recipe has a little kick from red chili flakes and black peppercorns. Try them on burgers, sandwiches, chopped into a relish for grilled fish, salads, pizzas, stews, bloody mary garnishes, cheese plates, and on and on!
Spicy Quick Pickled Red Onions
Ingredients
1 tbsp coarse sea salt
1 large organic red onion, thinly sliced
1 tsp organic whole black peppercorns
1 tsp organic dried oregano leaf
1 tsp organic cumin seeds
1/8 tsp organic red chili flakes
1 organic bay leaf
3 cloves organic garlic, peeled and halved
1 ½ cups organic red wine vinegar
Directions
Toss salt and sliced onions together in a bowl. Allow to sit for 20 minutes or until the onion begins to release juice. In a sterilized glass pint jar, mix together the peppercorns, oregano, cumin, bay leaf, chili flakes, and garlic. Add the onion, salt, and juice to the jar and pour vinegar to the top. Be sure to cover the onion completely. Seal with a plastic lid or a regular metal lid with wax paper between the liquid and the lid to keep the vinegar from corroding the metal and ruining your precious pickles. Refrigerate overnight before using. Enjoy!