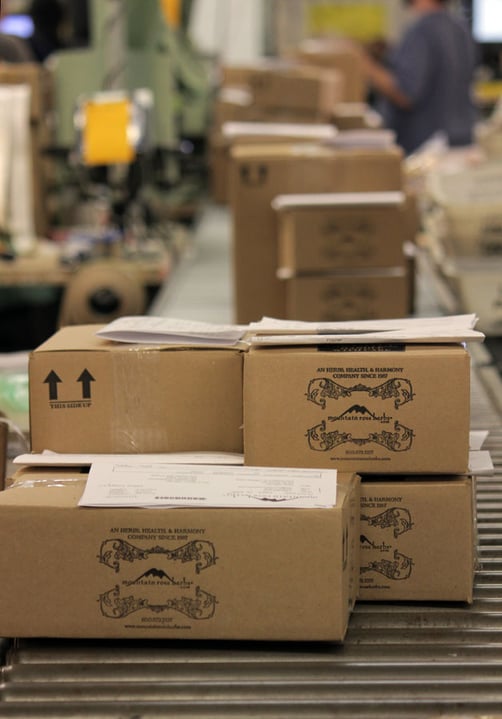 Once you place your order at Mountain Rose Herbs—either by phone or online—a very personalized process is jump-started. While we strive to do this as quickly and efficiently as possible, we also put thought and care into each box leaving our building.
Personalized, Hand Packed Orders
Your order is processed by one of our Customer Service Representatives, who creates the invoice you will later find in your package. This invoice converts your product choices into a format that includes the quantity, sizes, and other important details for the folks who will soon be pulling and packing all of your goodies.
When we say your order is "hand packed" we mean that the herbs you purchase are scooped, weighed, and put into bags only after you place your order. A label is then printed and affixed when the herbs have been packed for you. We don't have shelves of pre-packaged herbs waiting for possible homes, everything is prepared in real time only after you've told us what you need. This is how we ensure freshness and the best possible quality. People power!
Attentive Quality Control
The folks who fill orders retrieve each item by hand, making sure to carefully match the items on your list. Let me tell you, this can be a little tricky with items that have similar names or come in different versions. With my trusty reading glasses, I quickly learned to pay close attention to every label, lot number, and size. For example, the labeling and sizes for the organic unrefined virgin coconut oil and the organic refined coconut oil can look the same to the untrained eye. Our organic cocoa butter, shea butter, and mango butter are all packaged in the same durable jars that we also sell in bulk. Careful reading and double-checking, all with an eye on the time, are essential skills for an order puller.
For orders of bottles, jars, and other breakables, we hand bag and wrap these for you. Carefully counting out droppers, lids, and jars and then making sure to bag, wrap, and tape them so they will arrive intact and ready for your project. Only after all of your items are weighed, packaged, sorted, and wrapped do they make it to the folks who prepare to box your order for shipment.
Along the way, your order is read and checked by multiple people. For beginners, the training crew is not far away. Without a hint of exasperation, experienced team members never hesitate to answers questions and remind packers where extra packaging or double-checks are needed.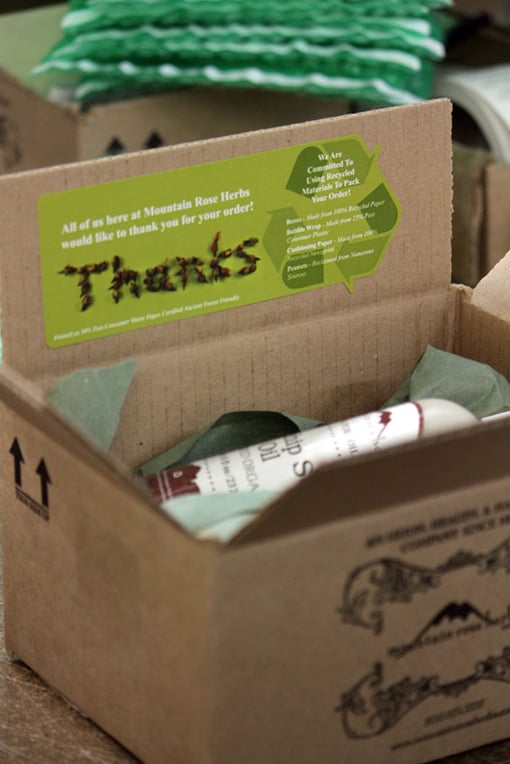 Sustainable Packing Materials
Mountain Rose Herbs is required to meet all sorts of regulations and laws that guide direct mail companies within the United States. Because we value beauty and thoughtfulness, we also want your package to be a delight for you to open! We include instructional pamphlets, product information, and affix our sticker of appreciation. Products are carefully packed with recycled packing paper and reclaimed bubble wrap to reduce our environmental impact. Your box is then sealed, labeled, marked with the appropriate stickers, picked up by the carrier, and sent into the shipping stream. This is all done by the person who is creating the box that will be the temporary home for your herbal treasures.
As many of you know, we challenge ourselves to complete this entire process in 2 business days. While there are sometimes obstacles such as items going out of stock, holidays, or other adventures we must tackle, it remains our commitment and the bar we've set for ourselves. We continue to create systems to help ensure you will be pleased with your order. After all, these lovingly grown herbal goods should be honored and our customers deserve only the best!
Want more about our Sustainability initiatives?
You might also enjoy: