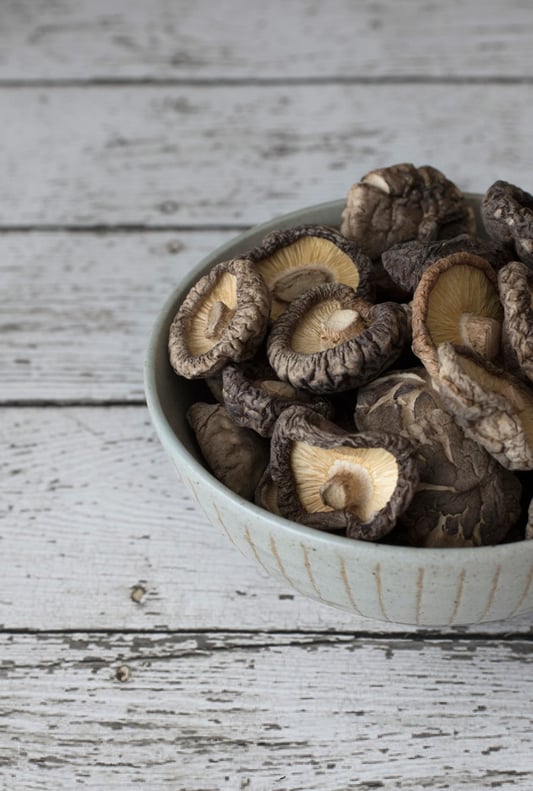 We have never met an edible mushroom we didn't like! While we truly adore freshly picked mushrooms like chanterelles sautéed in butter, wine, and garlic, there are so many wonderful ways to prepare dried mushrooms to enjoy year 'round!
Many people actually prefer preparing shiitakes from a dehydrated state as the deep, savory flavors are accentuated when the mushrooms are properly dried. They are also full of healthy goodness! As a food, shiitake mushrooms have all eight essential amino acids in a higher, more condensed proportion than soy beans, meat, milk, or eggs. Dried shiitakes are often used in the cuisines of East Asia and we've taken inspiration from some of our favorite seasonal meals, as well as from well-loved Japanese dishes, for the following recipes.

Shiitake Ginger Broth Recipe
A well-flavored broth is a beautiful treasure! This broth can be sipped and enjoyed on its own, or used as a base or ingredient for other dishes like ramen, pastas, soups, and stews.
Ingredients
Directions
Mix together shiitake mushroom powder, garlic granules, and onion powder in a small bowl.
Stir 4 Tablespoons water into the powders and stir to make a paste.
In a medium saucepan on medium heat, scoop in paste and gently whisk with 5 cups stock until smooth and well combined.
Add soy sauce and salt and bring to a simmer. Drop in dried shiitake mushrooms and allow to simmer for 30 minutes or more.
Remove the shiitakes and use for Pickled Shiitake Mushrooms. See pro tip.
Whisk in 1/2 teaspoon of ginger powder (more, if you like it extra zippy.)
Ladle into bowls or mugs and garnish with fresh green onion or chives.
Pro Tip
If you're using the shiitakes for the pickled mushroom recipe, you'll need to modify that recipe a bit. No need to rehydrate the mushrooms. And you'll be able to use 1 cup of this broth instead of 1 cup of soaking liquid when pickling them.
Pickled Shiitake Mushroom Recipe
While many of us at Mountain Rose Herbs are seasoned home cooks, we still get inspired to learn about new foods, flavors, and processes. While watching an episode of "Mind of a Chef" on PBS, we saw Chef David Chang make these pickled mushrooms from rehydrated shiitakes. We were inspired to see if the recipe would translate with our beautiful Certified Organic dried shiitakes, and we were so pleased with the result.
Ingredients
Directions
Rehydrate the shiitakes in 2 cups of warm water.
Once rehydrated, remove the mushrooms from the liquid, reserving 1 cup of the soaking liquid.
Cut the mushrooms into slices or bite-sized pieces.
Combine all ingredients (including soaking liquid and sliced shiitakes) in a medium saucepan.
Bring to a simmer over medium heat and allow to simmer for approximately 30 minutes.
Stir occasionally.
Turn off heat and let cool.
Compost the ginger (or use for some other purpose) and remove the mushrooms with a slotted spoon.
Pack shiitakes into a pantry jar and cover with as much of the remaining liquid as possible.
Eat these immediately or refrigerate for up to one month.
Toss into soup, noodles, or just munch as a snack.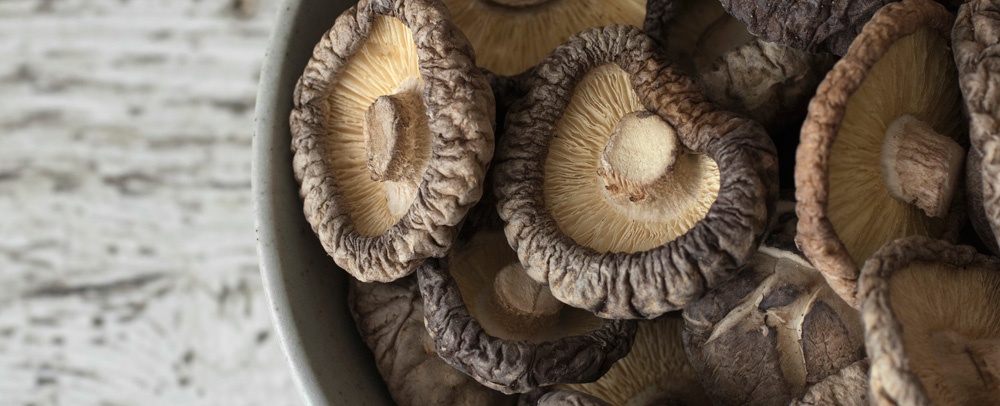 Shiitake Mushroom Gravy & Seasoned Smashed Potatoes Recipe
It is always handy to have delicious gravy recipes in your repertoire! Especially vegan or vegetarian versions of this classic comfort dish. This gravy makes up easy and holds its consistency well.
Ingredients
Directions
Heat sesame oil in a sauce or sauté pan.
Meanwhile, combine shiitake mushroom powder, flour, onion powder, and garlic granules in a small bowl.
Once oil is hot, but not smoking, whisk in the powder mix and combine to make a roux (a thick paste).
Add the wine or apple cider vinegar to de-glaze and whisk quickly and well.
Slowly whisk in the stock and stir well.
Stir in marjoram, thyme, and sea salt, and allow gravy to cook on medium heat until it thickens and just starts to boil.
This should take about 3-5 minutes.
Stir frequently during the heating.
Once gravy is a thick consistency, add freshly-ground pepper and serve.
For Sweet Potatoes or Parsnips:
Peel and cube sweet potatoes or parsnips. You can leave the peels on too, if you'd like! Cover with water and a pinch of sea salt and bring to a boil. Then lower heat to simmer, and cover. Cook until tender. Drain. Mash with a potato masher or put through a ricer. Add butter, if you'd like, but it isn't necessary. Add salt, pepper, and freshly grated nutmeg to taste.
looking for other delicious herbal recipes?
You may also be interested in: