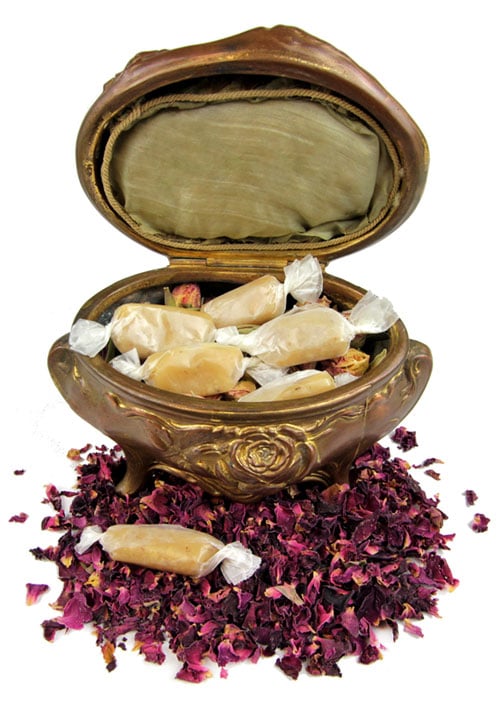 I absolutely love this time of year. People all over town are keeping warm and listening to the crackling sound of a wood stove, making home-cooked meals, and spending quality time with cherished friends and family.
There is something about soft, chewy caramel that conjures memories of this wonderful season. I remember childhood days at the pumpkin patch with my family. These pumpkin adventures always seemed to include handfuls of sweet treats! Along with our pumpkins, my brother and I would carry small, paper bags filled with sweet, chewy caramel delights. To this day, fall just isn't complete without a caramel or two, wrapped in festive wax paper.
This cozy season offers a perfect excuse to spoil loved ones with this creamy, chewy, rosy treat!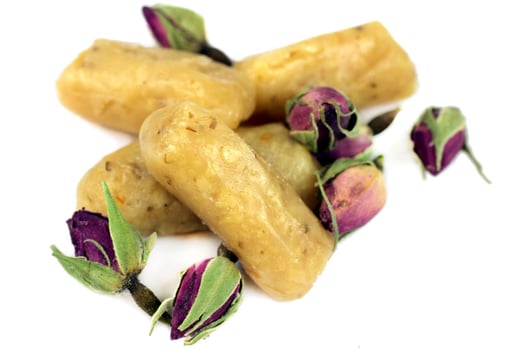 Salted Rose Walnut Caramels
Ingredients:
• 3/4 cup heavy cream
• 3/4 cup dried, organic rosebuds or petals
• 1/4 cup local honey
• 1 cup organic sugar
• 3 tablespoons butter
• 3 tablespoons finely chopped organic walnuts
• 1 teaspoon Cyprus flake salt
Preparation:
1. In a small saucepan, heat heavy cream until gently boiling. Add rosebuds, cover, and remove from heat. Let steep for 10-15 minutes. Strain cream into a small bowl.
2. Combine honey and sugar in a medium pot. Stir constantly over medium-high heat until the mixture liquefies, boils, and turns amber in color.
3. Turn heat to medium and quickly stir in the butter. Once the butter is mixed in, turn the heat to low and quickly whisk in the cream.
4. While stirring constantly, cook the caramel to 250 degrees. Quickly add walnuts and salt before pouring into a loaf pan lined with wax paper.
5. Cool overnight.
6. Pull the caramel and wax paper out of the pan and set it on a cutting board. Carefully remove wax paper from caramel and cut caramel into 1 inch rectangle cubes.
7. Cut wax paper into wrappers. To wrap: center the caramel on one side of the square paper. Roll to form a tube and twist to close on each end.
8. For best results, keep the wrapped caramels in an airtight container.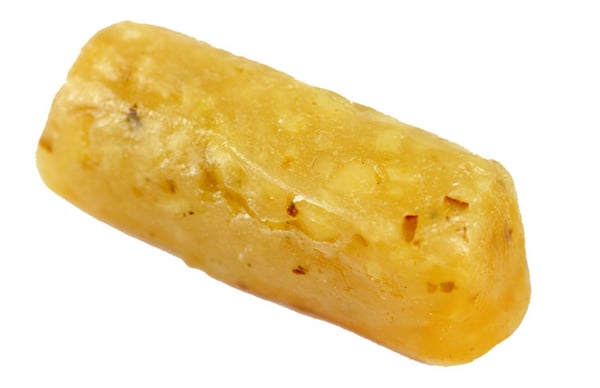 Enjoy!