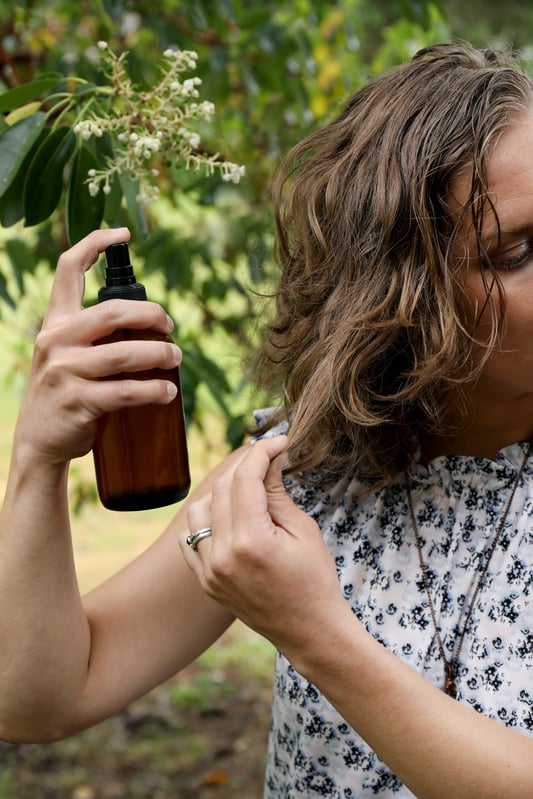 For many of us, the mention of summertime conjures up vivid memories of long, sun-drenched days spent beside the water—be it a community pool, a broad blue lake, a turtle-filled pond in the countryside, or an endless stretch of ocean waves breaking against a sandy shore. Those who have played and lounged along the coast know that few things awaken our hair's inner mermaid like a salty dip and a sea breeze air-dry. However, since few of us are able to make this treatment a part of our everyday haircare routine (or want to sport an algae-fresh scent on the daily), a homemade salt spray can make that beachy hair texture more easily accessible.
Salt sprays are easy to make, work for a variety of hair types, and actually boast some advantages over their true sea-water inspiration. Because the straight sea salt in ocean water can dry out hair with repeated use, many salt hair treatment recipes (including our own) opt to use milder salts like Epsom and Himalayan pink salt. As a bonus, you can also add the fragrance and nourishing goodness of pure essential oils and organic hydrosols to create gorgeous hair waves and scent waves at the same time! We love the freshness of our rosemary-peppermint fragrance combo (rosemary is often associated with happy hair), but you can easily sub in your own favorite plant essences in the same proportions (such as lavandin hydrosol with clary sage oil, or rose hydrosol on its own) to create your own signature scent! Just be sure to avoid essential oils that react poorly to sunlight, as these may cause irritation when applied near the scalp.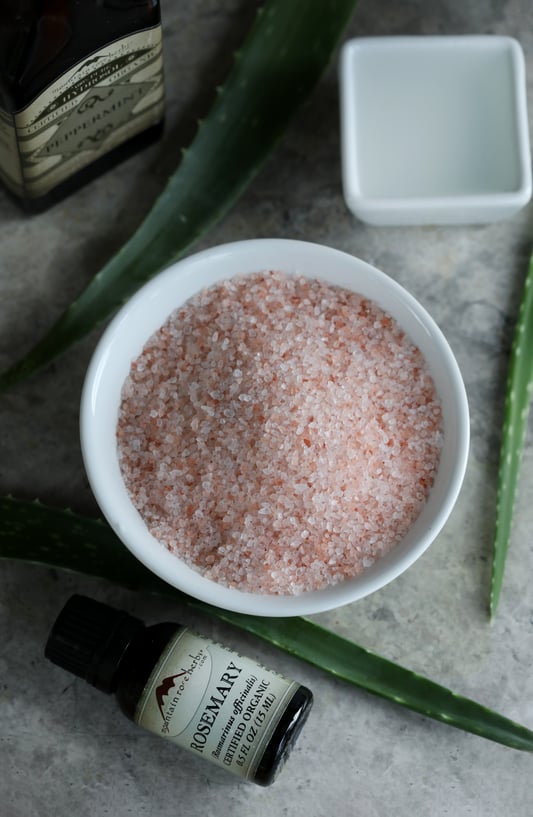 DIY Epsom & Himalayan Salt Spray for Hair
Makes about 8 ounces.
Active Time: 10 minutes
Ingredients
Directions
Heat water until just warm enough to dissolve salt.
Transfer water into an 8 oz. amber glass bottle with screw cap.
Add salts and swirl to dissolve.
Let sit until liquid is room temperature (about 15 to 20 minutes), then add hydrosol, aloe vera gel, and essential oil. Swirl to mix.
Store in a cool, dry place for up to 6 months. Decant part of the recipe into a 1 oz. or 2 oz. glass bottle with mister for ease of use.
How to Use Salt Spray Pro Tips:
SHAKE WELL before each use!
Folks with a variety of hair types can enjoy the benefits of salt spray. Those with wavy hair often find that a spritz or two helps give their natural curl more definition and less frizz, while straight-haired individuals use the spray to loosen up their locks. We recommend starting with less spray if your hair already tends to twist, or more if it likes to play it straight.
All salt sprays are a bit drying, so you'll get the best results when you apply to hair that already contains some of its natural oils. Avoid using directly after washing with a clarifying shampoo, or apply a conditioning cream or serum before spritzing with salt spray.
We find that this formula works best when applied to damp (not soaking wet) hair. If applying after a shower, comb hair through and let dry partway before application, and if not, spray dry hair with a plain water to moisten before using salt spray.
For natural, breezy waves, scrunch and let air dry, or blow dry with a diffuser attachment until almost, but not completely, dry.
Looking for More Homemade Natural Hair Care?
You might also enjoy: