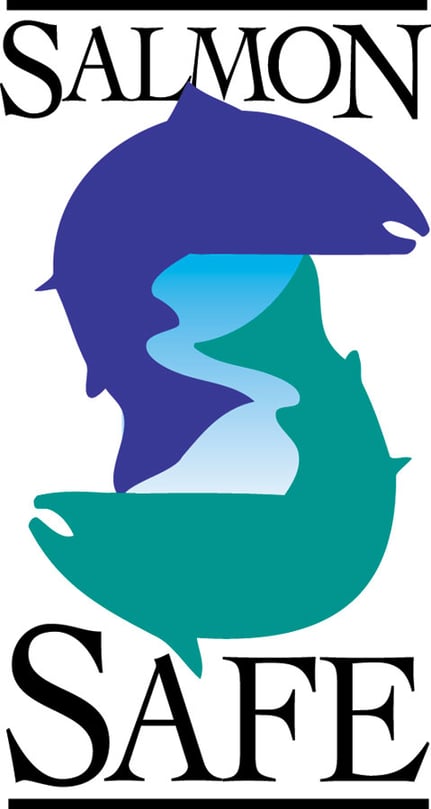 What an exciting time for us here at Mountain Rose Herbs! We are the first Eugene area business to be awarded Salmon-Safe certification!
"Salmon and water health are the cornerstones of environmental well-being here in the Pacific Northwest. Any conservation efforts must include rigorous changes in how we live and work at every level." – Shawn Donnille, Co-owner and Vice-president
Salmon species in the Northwest are not only significant ecologically but culturally and spiritually. They face many challenges due to habitat degradation, over-harvesting, and climate change. We feel it is our responsibility to protect them. Salmon-Safe is a non-profit that works with other conservation organizations to improve land management practices and ensure a future for our scaly friends. They have certified more than 60,000 acres of farm and urban lands in Oregon, Washington, California, and British Columbia.

Since we relocated to our current facility in 2010, we have dreamed of applying to Salmon-Safe. In July 2013, we took the first step. A team of expert scientists conducted a site assessment and looked at our overall wastewater management practices, water quality, and neighboring riparian corridors.
To gain this third party certification, we underwent a thorough assessment and evaluation. The good news is that we're on the right track. We conserve water with a satellite controlled irrigation system, maintain a pesticide-free facility, and utilize a bio-swale which naturally filters roof and pavement runoff. And now we have the tools to do even more!
At the end of the day, it's about being accountable. With the help of Salmon-Safe, we are working to achieve this kind of transparency by gathering the facts, analyzing them, and improving our policies and procedures. Mountain Rose Herbs has taken a firm stance on protecting aquatic life in urban ecosystems and we hope that other businesses, farms, and campuses will join us. Read more about our Sustainability Projects on the website!