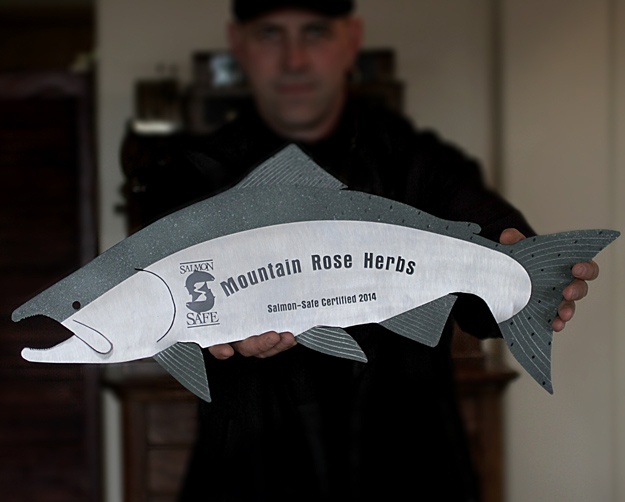 What an honor! Mountain Rose Herbs recently received a beautiful Salmon-Safe plaque for our work around watershed stewardship. Salmon are key indicators of ecosystem health, so what better way to protect water quality and Mother Earth than by protecting our scaly friends?
Salmon-Safe works across the West Coast to transform land management practices so Pacific salmon can thrive. Dan Kent, with Salmon-Safe Inc., joined us at the Long Tom Watershed Council's 17th Annual Meeting and Celebration to present the award. We were blown away when he told us that they repurposed a traffic sign and transformed it into this work of art! As a Zero Waste company, we approve!
We are committed to water conservation, riparian habitat restoration, elimination of conventional fertilizer use in landscaping, and improving stormwater treatment systems. In this effort, we have started some exciting enhancement projects. In 2015, we will install a rain garden to filter water runoff from impervious surfaces on our property. We will also plant 20+ native trees to provide shade to the parking area, bioswale, and outdoor employee break area. Should be a fun Mountain Rose River Project! Stay tuned for updates...
Learn more about Salmon-Safe and how you can get involved!