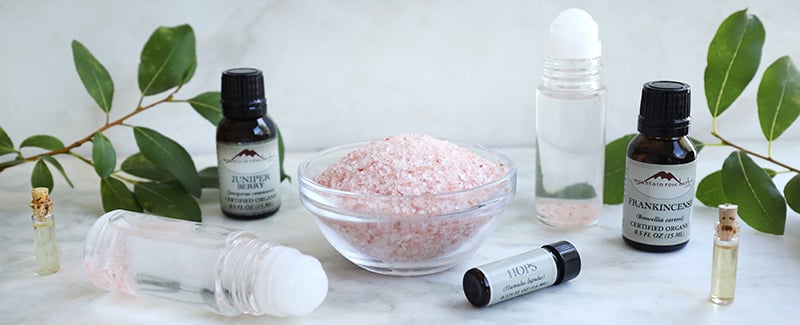 I like to feel fresh and confident during the hot summer months, but I find the synthetic ingredients in many conventional antiperspirants give me a whole new set of concerns to sweat about—and I'm not the only one! With growing consumer awareness about the potentially negative effects of certain questionable chemicals, particularly when used on our sensitive underarms, natural deodorants have become highly desired personal care products. While there have been lots of "natural" options on the market over the years, many popular brands are now manufactured by larger umbrella companies that might not be as concerned with true product purity or efficacy. Thankfully, our herbal allies are here to help!
Botanical formulations won't generally reduce sweat—which is fine, because sweating is actually healthy for us!—but some herbal ingredients can help you feel secure in any temperature by helping to neutralize underarm odors. That's what inspired me to create a recipe for a liquid roll-on deodorant that is low-mess, conveniently portable, and (most importantly) effective!
This recipe is easily customizable to meet your needs and preferences in a deodorant product. Feel free to add a dash of baking soda or organic arrowroot powder for a bit of natural absorbency or change the essential oils to work best with your skin and scent preferences.

Natural Roll-On Deodorant Recipe
Makes 1 ounce.
Ingredients

Directions
In a 1 oz. roll top glass bottle, combine witch hazel, glycerine, and salt (if desired).
Add essential oils one drop at a time.
Secure roll-top and cap.
Roll bottle between palms of your hands to disperse essential oils into the mixture.
Roll onto underarm as needed.

Want Another Way to Stay Fresh?

You might also enjoy:
• DIY Dry Shampoo Recipes with Arrowroot Powder
• Natural K-Beauty Tips & Propolis Moisturizer Recipe
• Fuss-Free Roll-On Perfume Oils