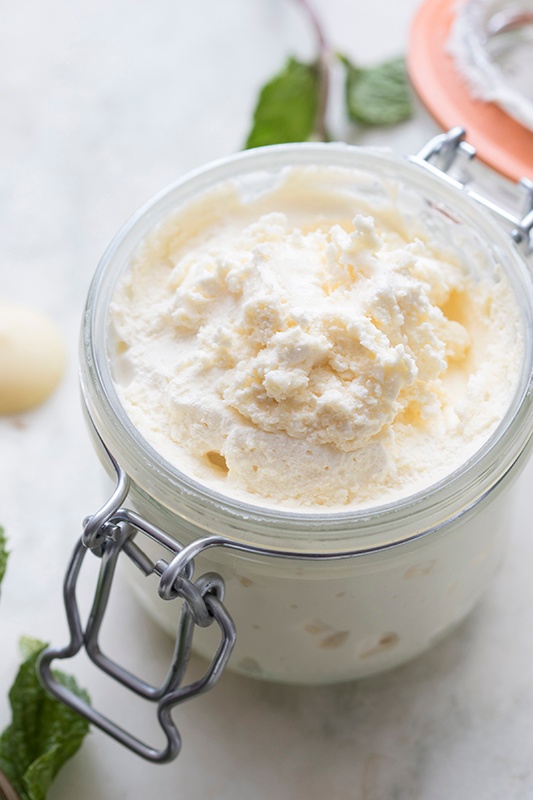 This luxurious body butter is a favorite from a recent catalogue. If you haven't been able to make it yet, we've added it to our blog so that everyone can enjoy this velvety delight. There's something about the combination of the minty aroma and creamy texture that's irresistible. It's like mint ice cream … for your skin!
Refined Shea Butter or Unrefined Shea Butter?
Refined shea butter has the same skin care benefits as our unrefined shea butter but with a more subtle scent. We prefer that distinctly pungent shea butter aroma, so we've used the unrefined in our recipe. But feel free to pick one or the other (or even mix the two!) to make this luscious body butter smell just the way you like it. Either way, this moisturizer will make you feel like you're floating on clouds!
Peppermint Cloud Body Butter Recipe
Ingredients
Directions
Combine the first five ingredients in the top of a double boiler.
Gently heat and stir until the butters liquify.
Remove from heat and allow the mixture to partially cool.
You can refrigerate to speed up this process.
Once the mixture has cooled and is beginning to solidify, add the essential oils and whip with a hand mixer or stand mixer until the body butter is fluffy.
Once stiff peaks have formed, spoon into cute jars.
This creates about one quart of whipped body butter.
And once you've got these ingredients on hand, you're in good shape to make our DIY Herbal Deodorant, our Rose Face & Body Lotion, and many of our other scrumptious body care recipes. We're tickled that so many members of our online community are able to take time to nourish their bodies with organic, sustainably harvested ingredients. It warms our hearts that you're able to bring health and harmony to your own lives, and we're touched to be a part of it!
Looking for more body care recipes?

You may also enjoy: