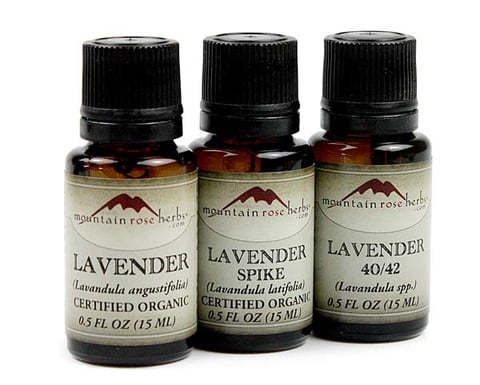 Lavender has been known throughout history as a strewing and bathing herb. Today it is widely used for its beautiful calming aroma.
Four of our favorite lavender products include
organic Lavender essential oil
,
organic Spike Lavender essential oil
,
Lavender 40/42 essential oil
, and
organic Lavender hydrosol
.
Let's take a look at all four a little closer ...

Organic Lavender Essential Oil
Our organic Lavender essential oil is distilled from the flowers of Lavandula angustifolia, which is the classic lavender known in aromatherapy. The natural habitat for this species of lavender is at a very high altitude over 3000 ft. This oil stands apart from other lavender oils because it contains almost no camphor. This gives it a very sweet floral aroma. This is the lavender oil that we recommend for calming aromatherapy blends and skin formulas. It blends well with a large variety of other oils, from spicy to citrus, and is wonderful used solo!
Organic Spike Lavender Essential Oil
Organic Spike Lavender essential oil is distilled from the flowers of Lavandula latifolia. This species of lavender grows at lower altitudes, and has a strong camphoraceous note. It is similar in many ways to the L. angustifolia with the addition of the camphor content, which gives it a spicy and camphoraceous, floral aroma. We recommend this oil for use in fragrance blends and soap formulations.
Lavender 40/42 Essential Oil
This oil is a standardized oil, meaning it should have the same aroma every time you purchase it. To accomplish this, two of the main constituents in lavender oil, linalool and linalyl acetate, are added to the oil to make up 40/42% of the oil. Un-standardized oils will naturally vary in these constituents each year depending on the growing condition and weather, which will create slightly different aroma profiles with each batch. You can find different types of Lavender 40/42 on the market. Most of them have synthetic or "nature identical" constituents added to the oil. These are made in a laboratory to smell like the natural constituent. You can also find oil with natural constituents added to them that have been extracted from other essential oils. Our Lavender 40/42 contains only natural oil and constituents, with absolutely no synthetic or "nature identical" additives. We don't recommend this oil for aromatherapy purposes, but it is a wonderful oil to use if you want your finished product to smell the same every time you make it. You will always have the perfect smelling candle, soap, or aroma blend.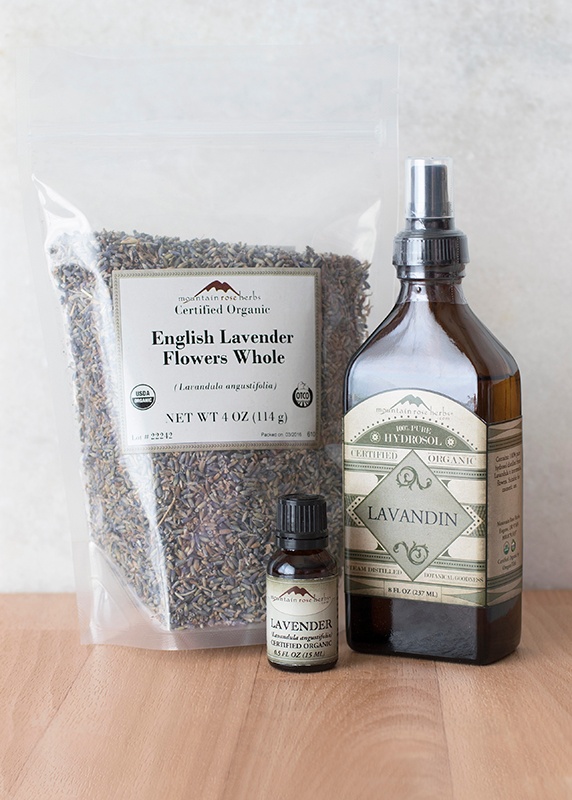 Organic Lavender Hydrosol
Lavender hydrosol is another great calming product. It makes a wonderful facial toner or body spritz. Our organic Lavender hydrosol is distilled from the flower of Lavandula angustifolia. It has all of the same properties as our organic Lavender essential oil, but is very different in aroma because hydrosols only extract the water soluble constituents in the botanical material. Lavender hydrosol has a very grassy aroma, with pleasant floral undertones. It is a refreshing product to use on its own, and makes a soothing base for aroma sprays and bodycare products.
I hope you enjoyed these little tidbits about lavender, and I encourage you to do more research. Visit our website to find a bountiful selection of books on aromatherapy and essential oils!